The coming of Spring means fresh asparagus is in season and bunches of the herbaceous stalks will start showing up in stores and farmer's markets. The Asparagus and Artichoke Heart Salad featured below is a delightful way to celebrate the season.
Enjoy this recipe for Asparagus and Artichoke Heart Salad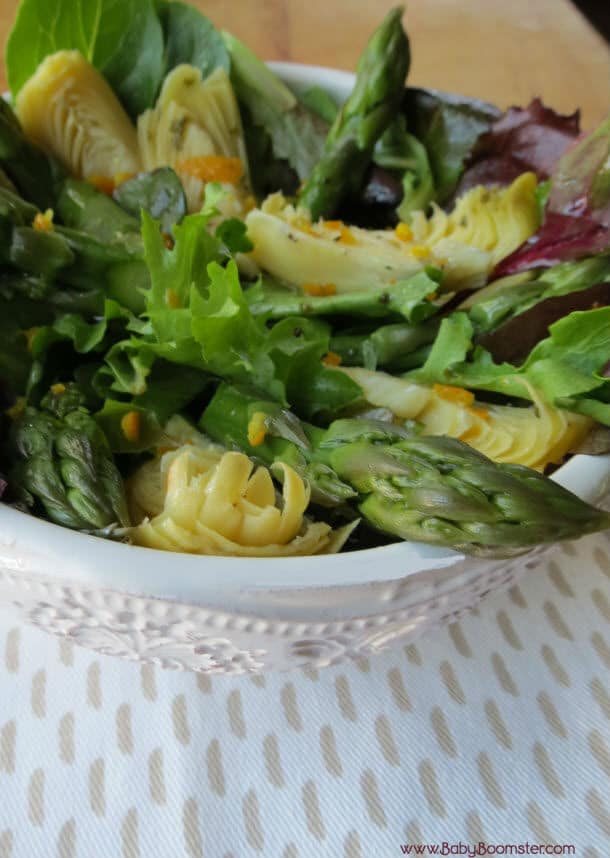 Asparagus and Artichoke Hearts Salad
Enjoy fresh spring asparagus and luscious artichoke hearts in this healthy and light salad.
Ingredients
1

lb

fresh asparagus spears

14

oz

artichoke hearts in water or marinated rinsed off

Mixed green lettuces
Dressing
2

Tbsp

fresh squeezed orange juice

1/2

tsp

of finely grated orange rind

2

Tbsp

of walnut oil

1

tsp

of Dijon mustard

salt and pepper to taste
Instructions
Trim and discard the woody ends of the asparagus spears

Slice the asparagus on the diagonal approx 2 inches long

Steam the asparagus pieces in a steamer basket over boiling water until tender, but not overdone (about 5-8 minutes)

After the asparagus is done, refresh the pieces by soaking them for a couple minutes in cold water, then drain

Cut the artichoke hearts into small wedges.

Fill each individual salad bowl with mixed greens

Arrange the artichoke hearts and asparagus pieces on top.
Dressing
Whisk the orange juice, orange rind, walnut oil, mustard and salt and pepper in a bowl

If serving the salad immediately, drizzle a little dressing over each bowl
This salad recipe is dressed in walnut oil and sweetened with fresh orange juice. Nothing beats freshness when it comes to asparagus. Flash-frozen is fine but isn't nearly as tasty as fresh.
The health benefits of eating asparagus salad
Did you know that along with avocado, kale, and Brussels sprouts, asparagus is a rich source of the detoxifying and anti-aging compound called glutathione?  Glutathione is a cancer-fighting powerhouse that breaks down carcinogens and free radicals.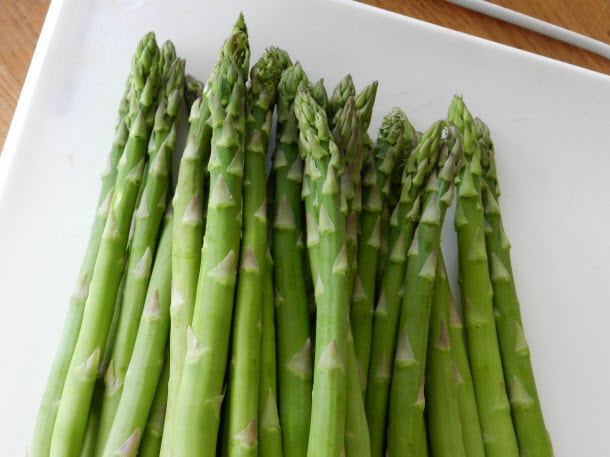 Why you should eat asparagus
It is anti-aging
It's an excellent source of fiber, folate, vitamins A, C, E K and chromium
It prevents mental decline
It is a natural diuretic that helps to fight edema "swelling"
It is low in calories
It contains calcium, antioxidants, and vitamins A and C to help keep your hair healthy.
In Ayurvedic medicine, it's known to be a kidney strengthener and an overall toning food for women
It is one of the richest sources of rutin (a natural substance found in plants) which together with vitamin C, helps to energize and protect the body from infections.
It is a source of iron, that boosts the immune system and prevents anemia.
It is said to be an aphrodisiac.
Asparagus is also one of the most ancient vegetables and was revered by the Greeks and Romans.
How to cook it
If you're boiling it, tie the stalks together and stand them up in a pot. Let the tops peek out of the water so they won't get mushy.
What's your favorite way to eat asparagus? Please leave a comment below.