Ayurveda skin brushing is an ancient practice that renews the skin, stimulates the lymphatic system and helps to eliminate toxins in the body. The science and practice of Ayurveda goes back 5,000 years, originating in India. Both Chinese, Tibetan, and Greek medicine have roots in the practice.
It's known as the science of life. (Ayur = life, Veda = science or knowledge) Three ancient books known as the Great Trilogy were written in Sanskrit more than 2,000 years ago and are considered the main texts on Ayurveda medicine—Caraka Samhita, Sushruta Samhita, and Astanga Hridaya.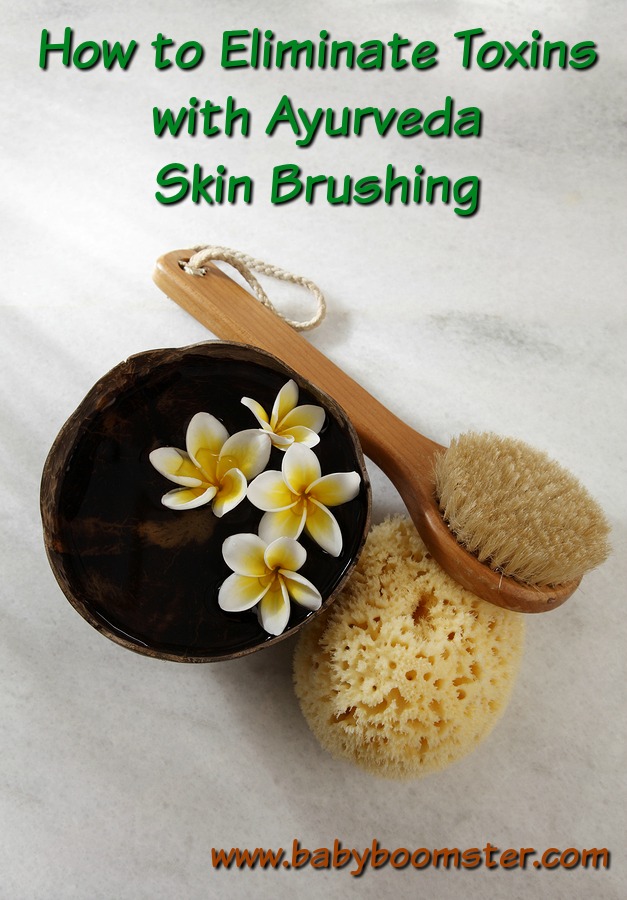 I've been going to an Ayurveda reflexologist, who focuses on the touchpoints of the feet, hands, ears, and head. She's been helping me with a neck problem that's caused my ears to pop. She felt that I needed to push out my lymph nodes and get more circulation so she suggested that I practice Ayurvedic skin brushing to eliminate the toxins from my body.
Skin brushing will renew your skin, stimulate the lymphatic system, and improve the nervous, immune and digestive systems.
The best brush for skin brushing
You'll want to purchase a natural bristle brush (such as boar bristle) or a loofah. Synthetic brushes are not as pliable and can be irritating to the skin. It's best to choose one with a long handle to make it easier to get to "hard to reach" places. It's best to buy your brush in-person, rather than online to make sure the bristles will be comfortable on your skin.
How to brush your skin
Start with the bottom of your feet. Brush in circular motions always moving toward your heart. Afterward, brush the top of your feet.
Move up the leg starting with your calves continuing with soft circular motions toward your heart. Brush all the way up to your bottom. Then, start with the front of your leg brushing in a circular motion up toward the heart. Avoid brushing sensitive areas like the skin on the inside of your thighs.
Once you've finished with the lower part of your body, brush the fingertips of one arm. Brush the palm, back of the hand, forearm, and bicep toward the heart. Repeat on the other arm.
Brush your back moving toward the stomach. Start on one side and then the other. (This is why you want a long-handled brush)
Brush your lower stomach and work up to your chest. (Avoid sensitive areas on your chest and décolletage) End gently at your chest in an upward stroke.
When you're done, take a bath or shower to rinse off. Even if you don't, your skin will still be clean.
You'll find that your skin glows and feels renewed.
Skin Brushing Tips
Don't brush your face because it's too delicate.
You can stand in the shower or bath as you brush your skin before you turn the water on.
As you shower, alternate between hot and cold water to invigorate the skin and improve your circulation.
Use natural soap. You may want to try peppermint, goat's milk, or tea tree oil.
After your shower or bath, massage your skin with almond, coconut, or jojoba oil.
Practice skin brushing, at least, two times per week.
Have you tried skin brushing? What results did you see? Please leave a comment below.