Do you love salmon but want a recipe that has a little zing? This Whisky glazed salmon recipe will tickle your tastebuds and may even make you a little tipsy.
Enjoy this recipe!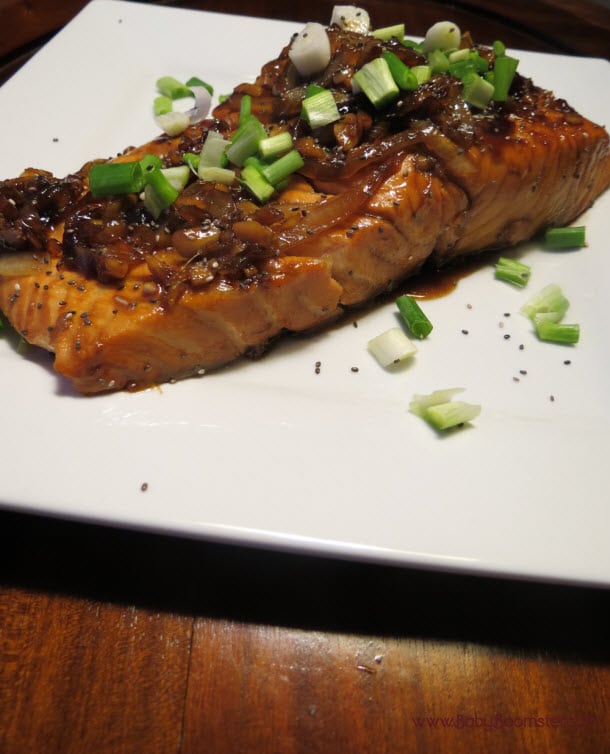 Whiskey Spiked Salmon
This recipe for Whiskey Glazed Salmon combines an amazing combination of ingredients that will make you a fish lover for life.
Ingredients
3

tablespoons

of brown sugar

1

tablespoons

of vanilla extract

2

tablespoons

of whiskey or bourbon

2

tablespoons

of soy sauce

1

tablespoon

of fresh ginger

1

tablespoon

of lemon juice

¼

cup

of thinly sliced onions

1

tablespoon

of chia seeds

3

minced garlic cloves

4

oz

fillets of salmon per person

1/2

cup

of scallions

minced

Cooking spray
Instructions
Use a large Ziploc plastic bag. Place the brown sugar, vanilla extract, whiskey, soy sauce, fresh ginger, lemon juice, garlic cloves and onions inside.

Add the fish to the bag and let it sit there for two hours in a refrigerator. Turn it occasionally.

Heat a nonstick pan over moderate heat. Use some cooking spray to coat the pan.

Add the salmon and marinade to the pan.

Cook the salmon for approximately five minutes on each side. The salmon will flake with a fork when done.

Place a serving size piece on each plate and drizzle it with sauce. Top the salmon with scallions and chia seeds.
In this delicious glazed salmon recipe, the fillets are marinated in an unbelievably yummy combination of brown sugar, vanilla, bourbon, soy, ginger, lemon, onions, and garlic. It's easy to make and you'll become a fish lover for sure if you aren't already. You don't have to use expensive bourbon either unless you want to drink some with it. LOL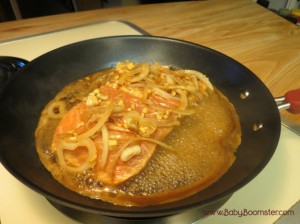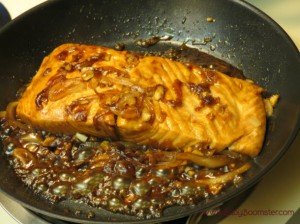 The benefits of eating salmon
This will sound very scientific but salmon contains small bioactive protein molecules that provide support for joint cartilage, insulin balance, and control of digestive tract inflammation.
The best wild salmon, with the least amount of contamination from pollutants, comes from Alaska because the waters there are pristine.  Try sockeye (red), coho (silver), pink (humpback), chum (Keta), and Chinook (King).  Each variety has a different taste and texture. The best salmon I ever had was when I went on an Alaskan cruise. On one excursion, we flew over glaciers on a floatplane to Taku Lodge in Juneau, where they hosted a salmon bake. It doesn't get better than that.
You may also enjoy this awesome Salmon Olive Dip.
Do you eat salmon? What's your favorite recipe? Leave a comment below.