Wild Salmon is truly KING when it comes to maintaining good health, especially when it's super fresh and that's why I wanted to share the Citrus Wild Salmon Dinner featured below.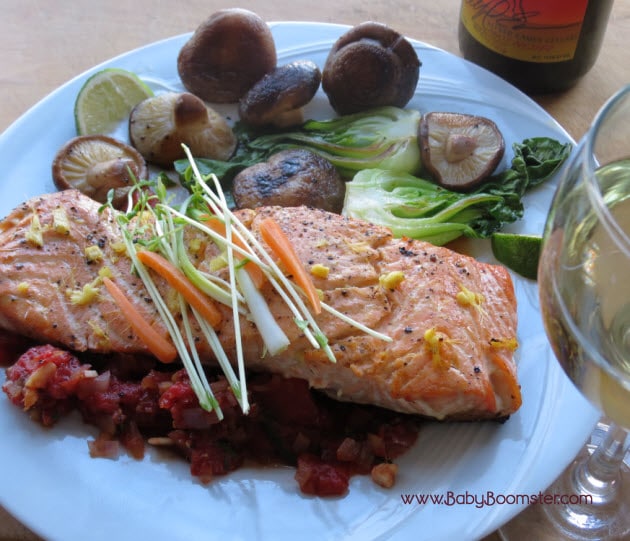 Citrus Wild Salmon Dinner
This is an elegant and delicious Wild Salmon dish with a gourmet touch. It's sweetened with citrus with just a little spice.
Ingredients
2-3

Salmon Fillets

6 oz

1 1/2

Tbsp

Extra Virgin Olive Oil
Tomato Compote
16

oz

can of chopped tomatoes

2

Tbsp

sugar

2

shallots chopped

1/2

Tbsp

chopped peeled ginger

1

clove

garlic chopped

3

Tbsp

white wine vinegar

1

Tbsp

chopped fresh red chili peppers

2

Tbsp

tomato sauce

2

Tbsp

chopped basil

Salt and pepper to taste
Orange Sauce
2

Tbsp

orange juice

1

lime squeezed

1/2

Tbsp

chopped fresh ginger
Vegetables
2

Tbsp

extra virgin olive oil

2

baby bok choy

cut in half lengthwise

1/2

shitake mushrooms

salt and pepper to taste
Garnish
1

small carrot peeled and julienned

2

green onion

julienned

pea sprouts
Instructions
Preheat the oven to 350 degrees
For Compote
In a saute pan over medium heat, melt the sugar and water and caramelize until it's golden brown.

Add the shallots, ginger, and garlic.

Mix well and cook for 2 minutes, then de-glaze with vinegar

Add the chili and tomatoes

Season with salt and pepper

Bring to a boil

Stir in the tomato juice

Reduce the heat and simmer for 10 minutes until the sauce is thickened

Adjust the seasoning with salt and pepper

Allow sauce to cool, then add chopped basil.

Mix and serve at room temperature
Orange Sauce
In a small saucepan over medium heat, mix citrus juices and ginger

Simmer for 15 minutes until it reaches the consistency of a glaze
Salmon
Season the salmon with salt and pepper

In a saute pan over high heat warm the olive oil and sear the salmon for 1 minute on each side

Arrange on a sheet pan and brush with the orange sauce

Cook for 12-15 minutes until the desired doneness
Vegetables
In a saute pan, over low heat, warm half of the olive oil and saute the bok choy for 5 minutes on each side,

Season with salt and pepper

In a separate saute pan over medium heat, warm the rest of the olive oil and saute the mushrooms for 3 minutes.

Season with salt and pepper

Arrange the salmon in the center of warmed plates, top with julienned carrots, green onions, and pea sprouts

Serve with lukewarm tomato compote
I'm lucky to live in Los Angeles, near the Pacific Ocean. I can't imagine how hard it must be to get fresh wild fish if you live in Kansas or anywhere else far away from the water. However, I had no idea how amazing true wild salmon was until I took a cruise to Alaska. Our first stop was in Seattle and even there it was clearly superior. When we got up to Alaska I was in Salmon heaven especially when we took a float plane over glaciers to a lodge in the middle of nowhere where they had a salmon bake. OMG! To die for.
For this recipe, I found a beautiful chunk of wild salmon at a favorite fish vendor.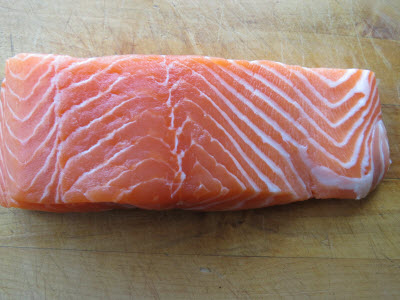 Enjoy this groovy Citrus wild Salmon Dinner Recipe and stay healthy!
What's your favorite way to cook salmon? Please leave a comment below.