If you're reading this blog, chances are you are on other social media sites as well. Baby Boomers are much more tech-savvy than younger people think. We're on Facebook, Instagram, Pinterest, and even Tik Tok. But it can also do a number on our self-esteem.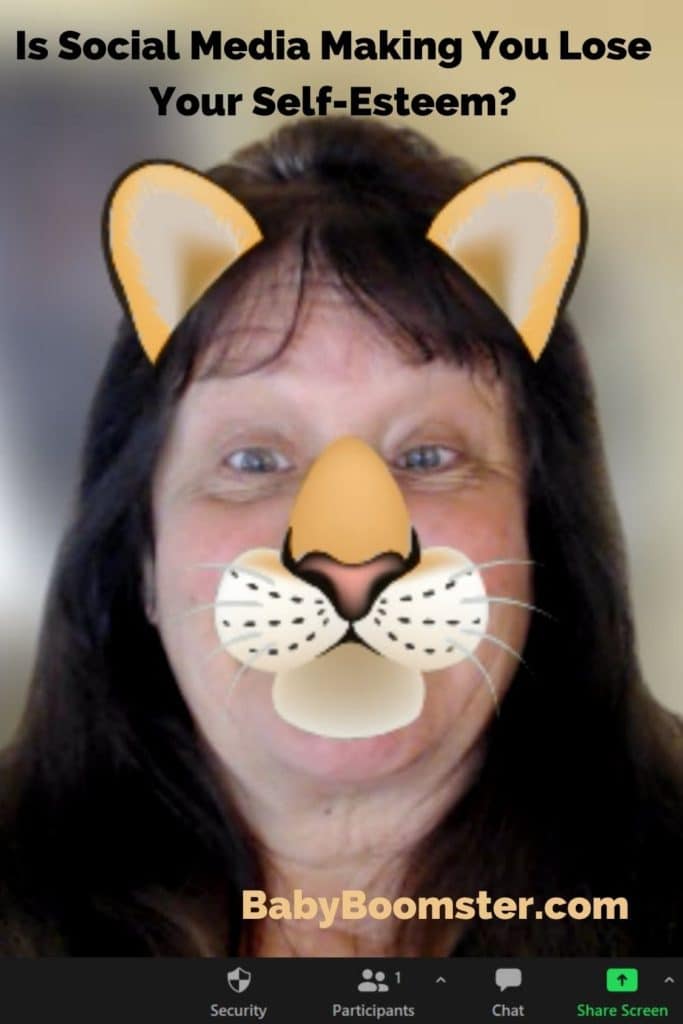 Trevor Noah did a hilarious video called How Social Media Filters Are Destroying Our Mental Health. In many ways, it's spot on, even for those of us who are over 50. People use filters to make themselves look better than they are. They can look skinnier, smooth out their wrinkles, insert backgrounds, and even add lipstick.
Did you know you can do a full makeover on Zoom without having to put any makeup on?
Do you compare yourself with those over 50 you see online?
Because I write this blog, I follow mostly women who are over 50. Many of them are fashionistas. Every day, even during the pandemic, they post photos in gorgeous outfits, show off their massive shoe closets, have gorgeous gray hair, and make food in Décor-like beautiful kitchens.
For those of us who struggle to fit the few clothes we have in our dinky closets this can take a toll on our self-esteem.
My big question during lockdown was always where are they going in those fancy clothes? Do they all live in Florida?
Then there are the travelers
I love to travel and even though travel has been waylaid for the last year and a half, I've seen some over 50 women on planes on their way to visit ultra-expensive resorts. Personally, if I'm going to spend money at a luxury destination, I want to take full advantage of their amenities. I don't want to be stuck in my room with the kitchen closed and all activities canceled. Thankfully, that seems to be over now. At least, let's hope.
I'm happy for them, though
Success is something to be celebrated. Some people believe successful people are evil and should be eliminated. I'm not in that camp. If you had a lucrative career, you have the right to go full out and enjoy the fruits of your labor. Fashion influencers over 50 are making a killing selling everything under the sun on social media. I was able to meet a bunch of them at an event and they are lovely people.
However, for those of us who screwed up financially, or life had a few downturns, seeing all that abundance flashed in front of you daily online can make your self-esteem melt like the wicked witch of the East.
It's easy to say "just be yourself"
Authenticity is certainly appealing. Just look at Lili Hayes on Instagram @lili_hayes. She is crude but is a total hoot. Her son films her in crazy outfits and she's usually yelling at him. He even caught her on the toilet. This is a woman who doesn't care about being beautiful and she has over a half million followers. They go wild with filters too, but they are funny filters.
Warning: Lili is not for everyone. She cracks me up, though.
The good thing is, over 50 influencers show that age is only a number
One over 50 Instagram friend, who I've also met in person, proves that the way the media perceives aging is way off base. Brands want to sell us adult diapers and scooters, but this woman is not only surfing but can flip around on gymnastic bars like Olga Korbut. She's also a fantastic photographer. Check her out at @Kymri
Don't let your deflated self-esteem get the best of you
If none of this affects you, good for you. You are comfortable in your own skin. But if you want to crawl into a hole thinking you're too fat, too wrinkly, impoverished, or limited in some way, remember you are YOU and no one else is like you. Some of the images you see are a façade so don't let them get to you. We all know that Kim Kardashian's waist is not as tiny as it looks, and she probably has cellulite for days.
How does social media affect your self-esteem? Please leave a comment below.