If I can order a shrimp salad at a restaurant, I almost always do. There are so many ways to make it and a multitude of dressings. The salad dressing below is made with turmeric, a spice often used in Indian foods.
Enjoy this Shrimp Salad with Turmeric Dressing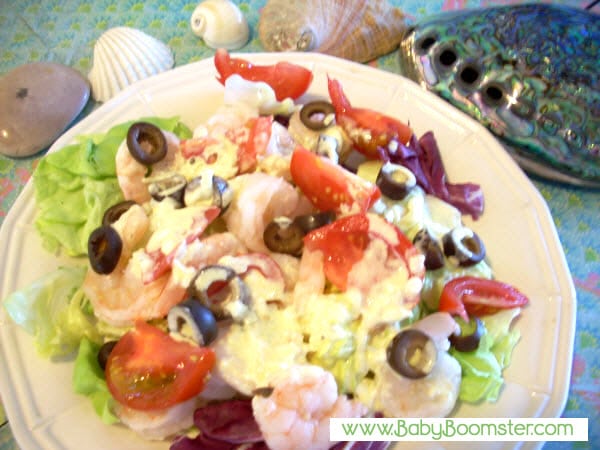 Shrimp Salad with Turmeric Dressing
A light and simple summer meal that is tangy and delicious.
Ingredients
1/4

tsp.

ground turmeric

2

Tbsp.

water

1/3

cup

Mayonnaise Use olive oil base –

Not Miracle Whip

4

Tbsp

White Onions grated

4

Tbsp.

lemon juice

1

tsp

Dijon Mustard

2

LB

large cooked shrimp

1

bag mixed salad greens

4-6

small Roma tomatoes cut into wedges

1/4

cup

black olives sliced

salt and pepper to taste
Instructions
Combine the mayonnaise, onion, lemon juice, mustard, and water together in a small nonmetallic bowl and whisk gently.

Season the dressing mixture with salt and pepper to taste.

Cover with plastic wrap and let it chill until you are ready to serve.

If you are using fresh cooked shrimp, pull off the heads and peel the shell off. Remove and discard the dark vein and discard. Rinse and pat dry with paper towels.

Arrange the salad greens on a large serving platter or on individual salad plates. Top with the shrimp and top with tomato wedges and olives.

Serve cold with the turmeric dressing.
Tumeric
The red rhizomes in the turmeric plant are often ground up and used as a curry or in curry mixes. Turmeric adds an exotic red color to food and an earthy peppery flavor to shellfish, fish, and egg dishes.
Turmeric has become popular in the wellness community because curcumin, which is the main active constituent of turmeric, helps prevent the onset of dementia and Alzheimer's disease. Testing has also shown that curcumin assists in the prevention of prostate cancer and keeps breast cancer cells from spreading into the lungs. Scientists in Japan have proven that it is a broad-spectrum anti-cancer agent.
What do you like in your shrimp salad Please leave a comment below.