The first time I made this seafood pasta salad it was for a birthday party I had for my 1-year-old daughter. That was in 1988. I've been holding on to the recipe for a long time because I adore seafood and love pasta salad. It's attractive, filled with a mix of seafood, savory herbs, olives, and lemony vinaigrette. Bring it along with you to potlucks, picnics, or serve it at parties.
Enjoy this Recipe!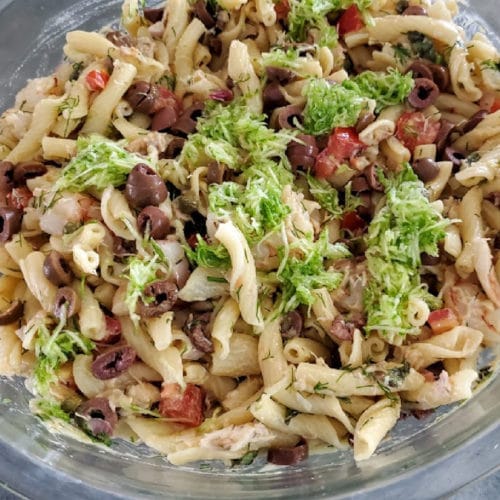 Seafood and Pasta Salad Pescara
A stunning pasta salad that's perfect for parties or picnics
Ingredients
1

LB

pasta

short penne, elbows, shells or swirls

3

cups

mixed cooked seafood shrimp

mussels, calamari, lobster, crab, whitefish, scallops (as available)

1/4

cup

tomatoes fresh

plum, diced and seeded

3

Tbsp

basil fresh

chopped

1/2

cup

dill fresh

finely chopped

1.2

cup

shallots diced

2

Tbsp

extra virgin olive oil

1/4

cup

ripe olives diced

1/2

cup

lemon juice freshly squeezed

1/4

cup

Dijon Mustard

1

Tbsp

vinegar

white balsamic or red wine vinegar

1/2

cup

Ripe Olives sliced

1/4

cup

zucchini grated

1

Tbsp

capers drained (optional)

1

Tbsp

Pimentos (optional)
Instructions
Cook the pasta al dente according to package directions and drain

Add the pasta to a large serving bowl and toss with cooked and cooled seafood, tomatoes, fresh herbs, shallots, capers, pimentos, chopped olives, and lemon juice.

Add olive oil and toss.

Mix the mustard and vinegar until smooth.

Toss all of the ingredients again.

Decorate the top of the mixture with ripe olive slices and grated zucchini

Serve at room temperature or slightly chilled
You can make this Seafood Pasta Salad ahead of time and serve it cold along with a fine glass of chardonnay.
It's best fresh out of the sea
I always try to find the freshest fish and shellfish available for this seafood salad. Sometimes I can find it at my local farmer's market because I live near the Pacific coast. Fresh seafood makes all the difference.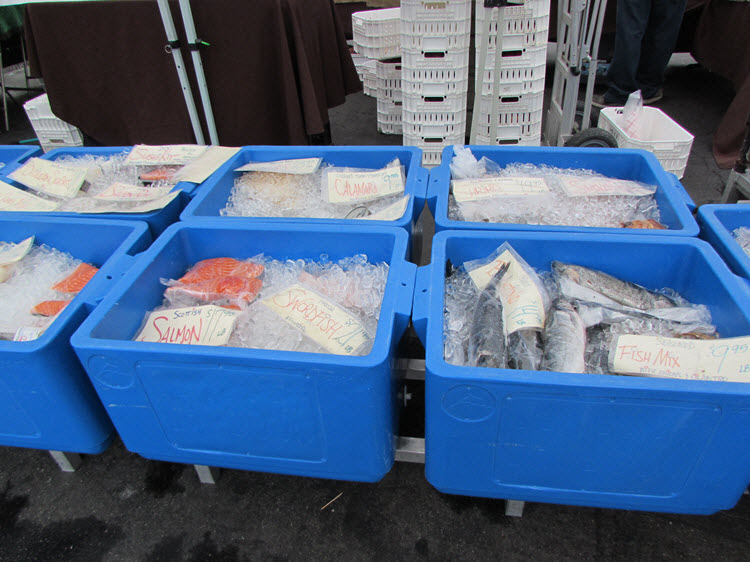 But, I realize not everyone lives near the ocean and has access to fresh fish. Flash-frozen seafood will work especially if it's wild-caught. Check the labels to see where it was caught and how it was processed.  Combine any combination of mussels, clams, lobster, crab, shrimp, calamari, oysters,  scallops, and fish of the day. Then, lightly steam or saute your catch and let it cool.
Do you like shellfish? What is your favorite? Please leave a comment below.