While perusing a booth at a local farmer's market I found a bag of greens mixed with edible flower petals at one of the vendor booths. It was such a beautiful mix, I had to take some home to make a salad out of them.
Enjoy this Edible Flowers Salad with Shallot Dressing Recipe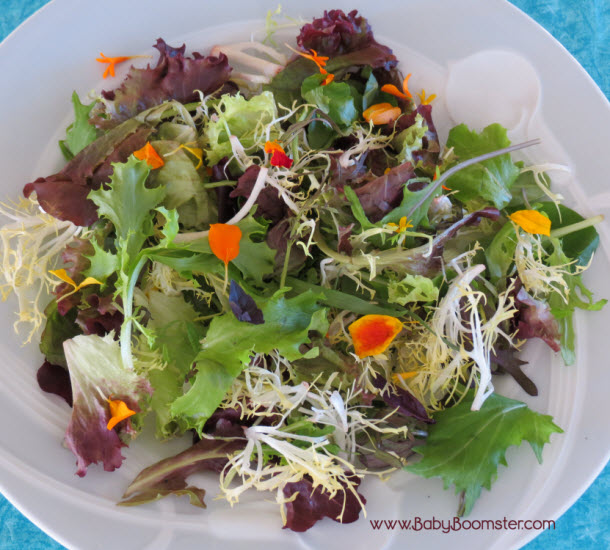 Flower Salad with Shallot Dressing
Try adding edible flower blossoms to a salad for an attractive party or potluck dish
Ingredients
1

shallot organic if possible and minced

1/4

cup

lemon juice organic fresh squeezed

1/4

cup

orange juice organic fresh squeezed

1/2

Tsp

Bariani Olive Oil or more to taste

lettuce leaves mixed greens

vegetables and even edible flowers such as Nasturtiums
Instructions
Whisk all the ingredients together and enjoy with your salad.

Try serving it with greens mixed with edible flowers for a pretty and colorful salad.
Flowers add a special touch to salads and other dishes. They make a gorgeous garnish for parties and spring luncheons. Whoever said, "Please don't eat the daisies" was wrong. You can safely eat daisies and all the other pretty blossoms listed below.
42 edible flowers
Allium
Angelica
Anise Hyssop
Bachelor's button
Basil
Bee Balm
Calendula/Marigold
Carnations/Dianthus
Chamomile
Chervil
Chicory
Chrysanthemum
Cilantro
Citrus (orange, lemon, lime, grapefruit, kumquat)
Clover
Dill
English Daisy
Fennel
Fushia
Gladiolus
Hibiscus
Hollyhock
Impatiens
Jasmine
Johnny-Jump-Up
Lavender
Lemon Verbena
Lilac
Mint
Nasturtiums
Oregano
Pansy
Radish
Rose
Rosemary
Sage
Squash and Pumpkin
Sunflower
Violets
Another way to make an edible flower salad special is to top it with a delectable dressing. My friend Michele the Trainer, who is a personal trainer in Los Angeles, shared her recipe for shallot dressing. She recommends using Bariani Olive Oil from California because it's pure and organic.
Please visit Michele's website.
Have you ever eaten edible flowers? Which ones have you tried? Please leave a comment below.