Dandelion leaves and arugula both have astounding health benefits. That's why the Dandelion and Arugula Salad featured below is so wonderful.
Enjoy this Dandelion and Arugula Salad!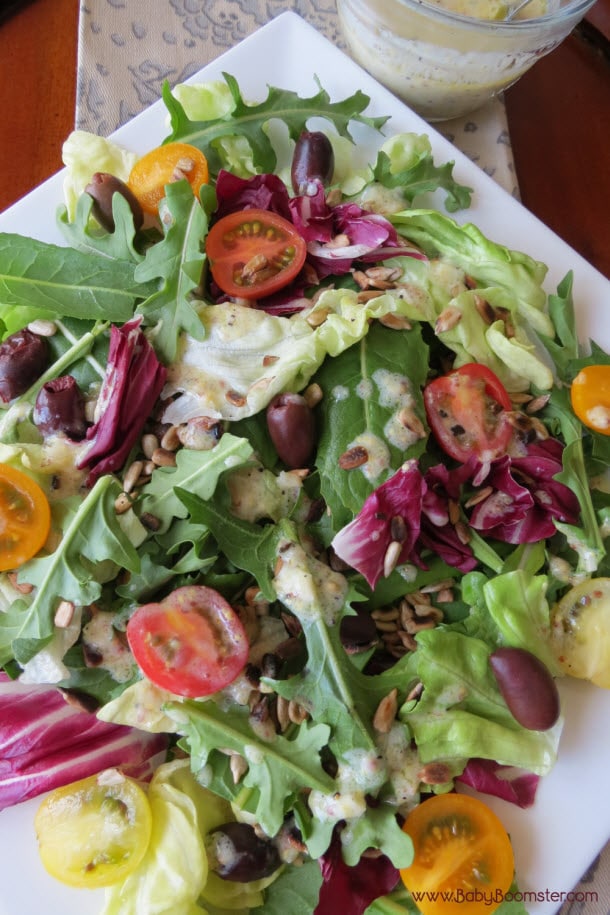 Dandelion and Arugula Salad
This salad is a colorful combination of greens that includes dandelion and arugula. Both are nutrition powerhouses.
Ingredients
Salad
1

cup

Dandelion Leaves torn into pieces

1

cup

wild arugula leaves torn into pieces

1

cup

of mixed lettuce

I used red radicchio and butter lettuce

6

grape tomatoes

I found a mix of multi-colored baby heirlooms cut in half

8-10

Kalamata olives

2

Tbsp

of dry toasted sunflower seeds
Dressing
3

parts extra virgin olive oil

1

part lemon juice

1/2

tsp

stone ground Dijon mustard

crushed garlic 1-2 cloves

1

Tbsp

plain yogurt

salt and pepper to taste
Instructions
Salad
On a salad plate, arrange the lettuce, dandelion and arugula leaves.

Add tomatoes, olives, and sunflower seeds
Dressing
Whisk together the oil, lemon juice, mustard, garlic, yogurt, salt and pepper

Drizzle over the salad and serve
To mellow out the strong flavors of dandelion, arugula, and radicchio in this salad I added in some butter lettuce. I also toasted a handful of sunflower seeds to sprinkle on top, Did you know that sunflower seeds will keep you calm? That's because they contain magnesium that soothes the nerves and eases stress.
I threw in some multi-colored baby heirloom tomatoes for color and Kalamata olives because they're so good.
About eating dandelion
I was reading an article on how, in the last 100 years, we've been breeding the nutrition out of our foods.
2500 years ago Hippocrates said . . .
"Let food by thy medicine and medicine be thy food"
The article goes on to say that wild dandelions, eaten by Native Americans, have 7 times more phytonutrients than spinach. Dandelion leaves are often used in detox teas because they reduce inflammation of the liver, purify the blood and act as a gentle diuretic, among other health benefits.
This gives new meaning to "partaking of the weed."
Forget the Roundup and start munching on the dandelions (weeds) on your lawn instead (That is if your dog hasn't been there first)
Wild arugula is equally rich in nutrients and has cancer-fighting compounds called glucosinolates that are extremely high in anti-oxidants.
What "weeds" do you like to eat? Please leave a comment and let us know.