After my trip to Italy and a visit to the Campo di Fiori open produce market in Rome, I was inspired to create a Radicchio and Arugula Salad. It's simple but contains Italian favorites like Gorgonzola cheese and fennel.
Enjoy this Radicchio and Arugula Salad recipe!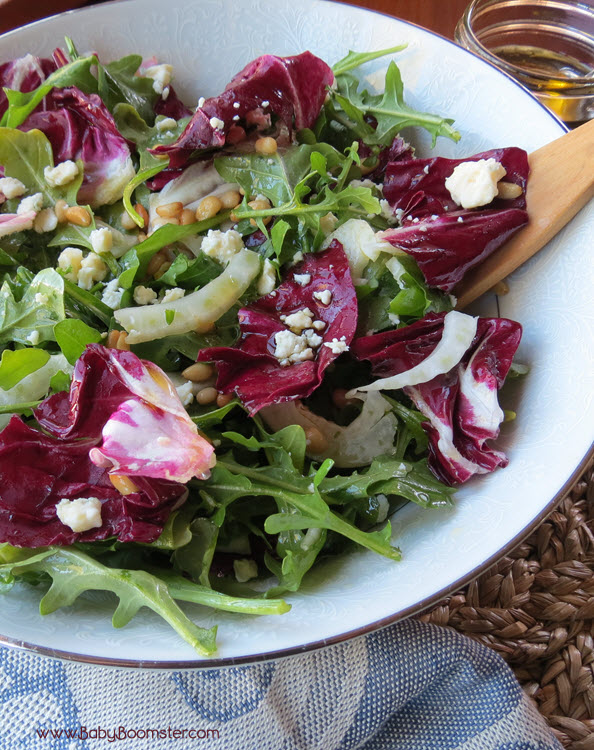 Italian Inspired Radicchio and Arugula Salad
An Italian inspired salad high in anti-oxidants and nutrition.
Ingredients
2

cups

of fresh baby arugula

1

small head of radicchio

washed, patted dry and torn into 2″ pieces

1/4

cup

of pine nuts

roasted

1/2

cup

of Gorgonzola cheese crumbled

1/2

of a small stalk of fennel – Cut the fennel lengthwise and cut out the core. Slice the fennel into very thin slices crosswise.
Dressing
1/4

cup

of extra virgin olive oil

2

Tbsp

Balsamic vinegar

1

Tbsp

red wine vinegar

1

tsp

honey
Instructions
Arrange the arugula and radicchio in a salad bowl

Top with pine nuts, fennel slices, and Gorgonzola cheese.
Dressing
Put the dressing ingredients in a covered jar and shake.

Toss dressing with the salad or serve on the side.
Notes
In addition to radicchio and arugula, you can throw in fresh sprouts to add additional micronutrients and anti-oxidants.
Salad isn't served before a meal in Italy, but rather after the meal as a digestive. You won't find it soaked in dressing either. Below are some of the gorgeous salad greens we saw while we were in Rome.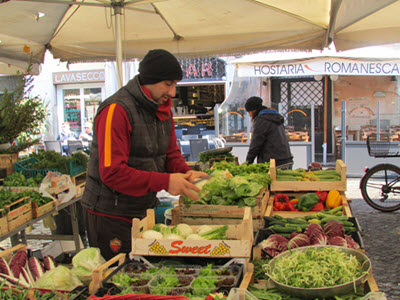 Eating salad in Italy
Italians eat seasonal fruits and vegetables, but due to their temperate climate, many items such as ripe tomatoes, eggplant, and zucchini were still available when we were there in November and December. The weather is somewhat similar to Southern California, where I live, except that Italy is a little cooler and has more rain.
I used radicchio and arugula in this salad. Both are popular in Italy and the leaves are often baked or sautéed. Radicchio has a sharp flavor and arugula is slightly peppery.
Arugula, also known as Rocket, is heart-healthy because it raises your level of nitric oxide. It's also rich in chlorophyll and will help prevent liver and DNA damage caused by toxins in your body. It's better to eat it raw rather than cooked, for this reason, because more chlorophyll is retained. It's a cleansing salad green that will keep your colon happy and healthy.
Radicchio is a member of the chicory family and contains a high level of plant compounds high in anti-oxidants. An ancient Roman philosopher, Pliny the Elder praised radicchio for its medicinal properties. He claimed it was a blood purifier and a natural sedative for people with insomnia. One cup of radicchio will give you 100% of your vitamin K needs, support bone health, and resistance to insulin.
What are your favorite types of lettuce? Please leave a comment below: