There are two key things in life that seem to inherently become difficult as we age and particularly once we pass 50. (Well, okay, there might be more than 2 things that become more difficult … but I'm only discussing two).
Let's face it, for many of us,
Maintaining our social circle as we age, is tricky and quite frankly, difficult. And making new friends after 50 can be intimidating
Keeping fit is another challenge. As we age, our bodies become more prone to injury and in some cases, our body just doesn't want to do what it once did so effortlessly
Redefining Your Day
Many people are consumed with the responsibilities of family and jobs and in some cases, juggling family and a full-time job either in the home or outside the home.
It can be all-consuming and exhausting.
Quite often we end up with very little energy or time for meeting with friends, making new friends, or exercising so we can stay fit and healthy.
These are things that we know are important in life and in particular, as we age.
I know for me, having even one opportunity during the week to meet friends so we can laugh and talk about things that matter or sometimes talk about things that don't matter – is something that I crave, a lot.
And exercise has always been my savior. I need some form of exercise to help clear my mind and stay fit.
As life whirled by me, I found these two so incredibly critical components of my life, dissipate.
As I passed fifty and I no longer had children who needed me as much as they once did, I found it difficult to re-define my days.
I no longer knew what a 'day in the life of me' looked like or what I wanted it to look like.
It's tricky.
Meeting New People After 50 Can Be Difficult And Intimidating
I knew that I wanted to be fit and socialize more often so I began to think really hard about how to fulfill these two needs.
How was I going to meet people so I could make friends and start to build a social network?
And, how was I going to get exercise so I could rebuild and maintain some level of fitness and health?
Working out at the gym and walking are great options but I found it difficult to motivate myself.
And these were both somewhat isolating ways to get fit which did not fulfill my second goal which was to meet people and develop new friendships.
And then I came across a game called pickleball. I must admit that I did not have a clue what pickleball was and the only thought I had was 'don't old-er people play that?' (without even knowing what 'that' was).
And completely oblivious to the idea that I might one of those old-er people.
What Is Pickleball?
So, I looked up pickleball on YouTube and watched a few videos. It turns out that pickleball is a bit like tennis. At least the basic concept is similar.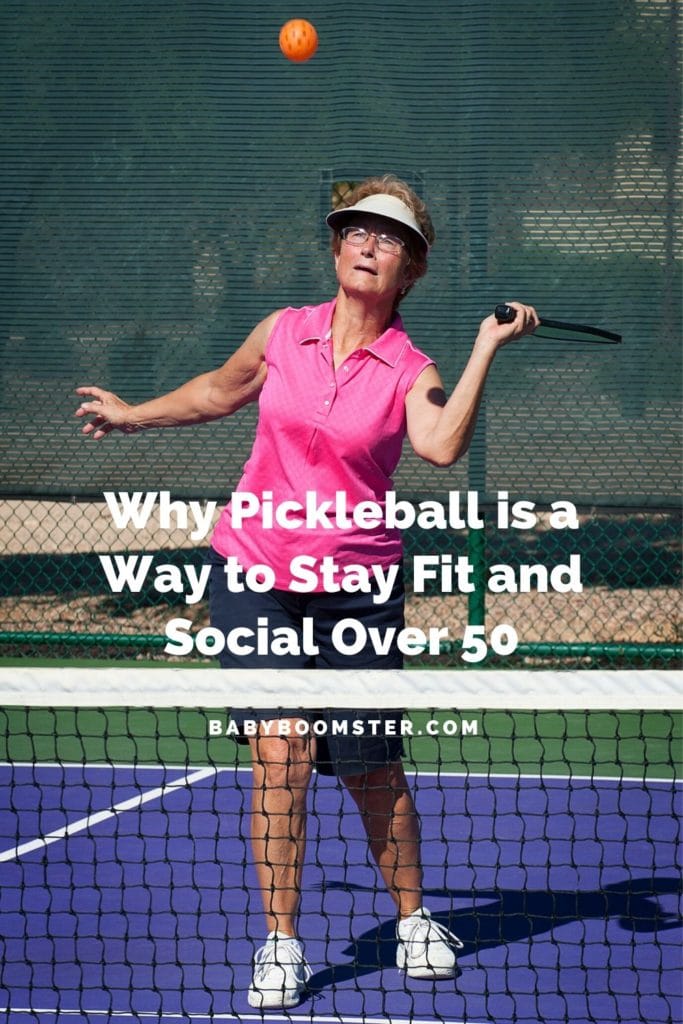 You play with 2 or 4 people on each side of the net and the goal is to hit the ball over the net to your opponent and they hit the ball back over to you.
However, there are some key differences:
A pickleball court is much smaller than a tennis court. A pickleball court is 20 feet wide by 44 feet deep and a tennis court is 27 feet wide by 78 feet deep.
The net is much lower than a tennis net and is at 36″ on the ends and 34″ in the middle
You play pickleball with a paddle (similar to a table tennis paddle but much larger), not a racquet.
A whiffle ball, a hollow plastic ball with holes, is used, which is larger and lighter than a tennis ball
Is It Easy to Find A Pickleball Court?
Most communities have at least one or more places to play pickleball. Quite often tennis courts are re-purposed or multi-purposed for pickleball by adding pickleball lines.
The USA Pickleball Association has a great search option on their website for helping you find pickleball courts in your area. There's also an Apple App called Places2Play which is fantastic for locating courts.
It turns out that the recreation center near me has multi-purposed their basketball and badminton courts with pickleball lines so I decided to go to a drop-in session.
Is Pickleball Difficult To Play? And Can You Really Meet People?
I thought, how difficult can it be? I had also heard that pickleball was fun to play, great exercise, and very social. So, on paper (or YouTube), it ticked all the boxes.
Before I arrived at the gym, I was worried about not having anyone to play with. Would anyone be there? Would anyone want to play with me? After all, I had never played.
When I arrived, I discovered that there were probably close to fifty people there to play on six courts!
Wow, that was a lot of people. Talk about intimidating!
But in my mind, leaving wasn't an option.
I could not believe how inviting people were. They welcomed me onto the courts.
They were friendly, helpful, and inclusive.
And I was happy to discover that it was not very difficult to get on the court and hit the ball.
Yes, I missed the ball too but it really was not so difficult (players were kind to me as well, making it easier to return the ball).
Since pickleball is played in a round-robin fashion we rotated between courts and played with different people.
I played for 2.5 hours which was a lot longer than I had planned. I went thinking I might be there for one hour, at the most.
That meant I was able to meet a lot of people and that was so, so wonderful.
Pickleball quickly became a big part of 'a day in the life of me' and I manage to play on most days. Sometimes for an hour and sometimes for two or more hours.
5 Really Good Reasons Why I Play Pickleball And You Should Too
Pickleball is:
Easy — almost anyone can play and it's easy to get on a court and play
Low impact exercise — less likely to cause injuries but you move around a lot (and can break a sweat too)
Fun and addictive — the more you play, the more you want to play
Easy way to meet people — interaction and socialization is a big part of the pickleball community
Recreational or competitive  — play with other people who are at your level or play with better players to satisfy your more competitive side or join tournaments
Have you ever played pickleball? Are you ready to try it? Please leave a comment below.