Looking for a smoothie recipe that will energize you, boost your immune system, and help balance your raging hormones?  Well, you're in luck because I've created a Peruvian Maca Root Smoothie using organic premium Maca powder and chia seeds making it even more beneficial for your health.
Enjoy this recipe!
Make it with unsweetened almond milk (vegan) or plain kefir for tanginess and probiotic goodness.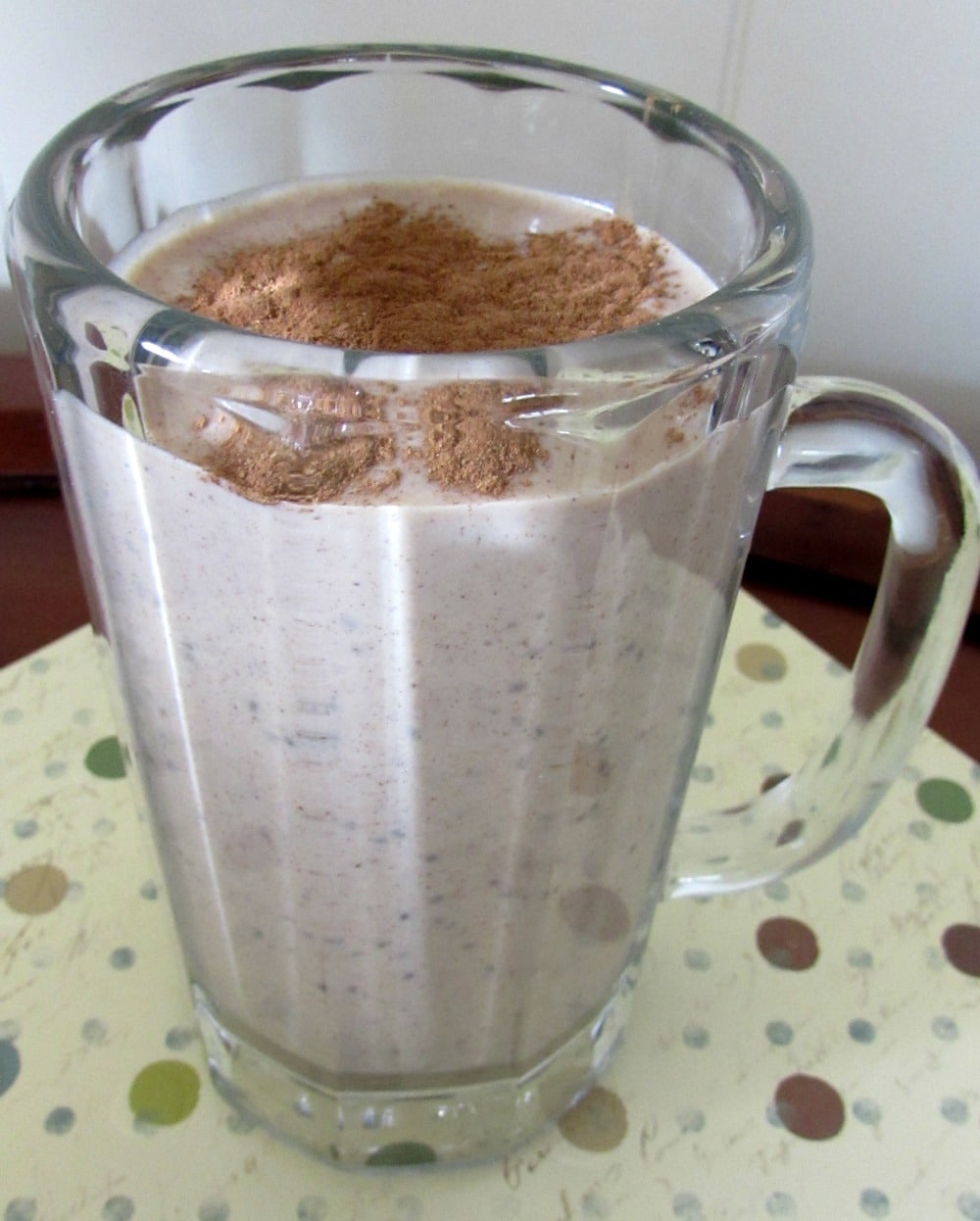 Peruvian Smoothie with Maca Root and Chia
Made with the goodness of Peruvian Maca Root – This smoothie will energize you and help balance your hormones.
Ingredients
2

frozen bananas

1

cup

unsweetened almond milk or plain Kefir

if you like it tangy

1

tbsp

almond butter

1

tbsp

maca powder (I used The Maca Team organic premium root powder

1

tbsp

of chia seeds

½

tsp

pure vanilla extract

½

tsp

ground cinnamon + sprinkling
Instructions
Add all ingredients to a blender.

Turn on the blender for 2-3 minutes

Sprinkle with ground cinnamon
Maca root, a Peruvian superfood, contains numerous benefits for good health. It's an energizing tonic, much like coffee, but it doesn't stress out your adrenal glands.  If you're over 50 and your hormones are out of whack make this smoothie recipe for breakfast or as a quick pick-me-up in the afternoon.
Here are some of the benefits of Maca powder in a smoothie for older women
It builds muscle (black variety)
Increases energy
Builds stamina
Boosts libido (red variety)
Helps your hair grow
Improves skin tone
Balances hormones during menopause (red variety)
Helps prevent Osteoporosis
Supports Thyroid health
Enhances mental focus and clarity
Reduces depression
I like to buy my Maca root powder from The Maca Team. It's a family-run operation that sells organic, fair-trade Peruvian Maca powder exclusively. All of their products are GMO-free, potent, and rigorously tested. Additional testing is done for pesticides and heavy metals.
So what exactly is Maca?
It's a plant that originated in the Peruvian Andes and grows at altitudes of 4,000 – 14,000 feet. Its hearty roots are cultivated in rocky soil and can withstand extreme weather conditions. The indigenous natives of Peru have been consuming and growing it for hundreds of years. If you're thinking about purchasing some, it's important to choose Peruvian maca and avoid buying Chinese grown products.
China has been known to produce a synthetic form that is contaminated by pollution and is low in quality. Peru banned GMOs until 2021 but the Chinese have not. Most of the Chinese seeds were smuggled illegally from Peru.
Although you can take it as a supplement, because it's a food, it works well in recipes. That's because it's an adaptogen, which is a substance that helps boost your body's immune system and resist disease.
To find out what type is right for your body, click here.
Check out all of the recipes The Maca Team has posted on their website by clicking here.
Have you ever used Maca root powder in a smoothie before? Please leave a comment below.