This bitter melon recipe called Goya Chanpuru originated in Okinawa, Japan, and is made with tofu and pork. It's a typical Japanese dish made in an area of the world with a large population of centenarians.
Enjoy this recipe!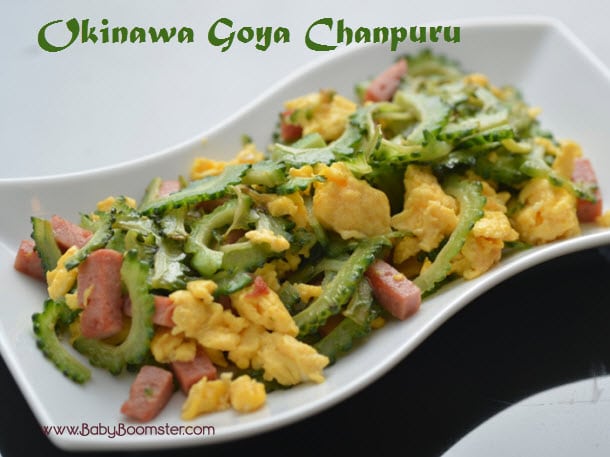 Okinawa Goya Chanpuru – Bitter Melon Stir Fry
Okinawa is a longevity hotspot. This is an example of a recipe a person from Okinawa may eat.
Ingredients
1

piece

Bitter Gourd

Goya Also known as bitter melon

1

block of Cotton Tofu

drained Also called Momen-tofu (firmer than silken tofu)

¼

lb

Pork

thinly sliced and cut into bite-size pieces

2

Eggs

beaten

2

tsp

Soy Sauce

2

tsp

Sake

Salt and Pepper

Vegetable Oil
Instructions
Slice the bitter gourd in half (lengthwise). Scrape the seeds with the spoon. Thinly slice the bitter gourd and sprinkle it with salt. Let it sit for about 10 minutes. Wash the bitter gourd slices and drain. You can squeeze them to drain them well.

Heat vegetable oil in a skillet. Stir fry the pork and add salt and pepper to taste.

Cook bitter gourd slices until softened.

Crush tofu into several pieces and cook with the bitter gourd and pork.

Add sake and slowly pour the beaten eggs.

Add soy sauce and let it simmer for a minute.

Serve
Misao Okawa, a centenarian from Japan, died in April 2015 at 117 years of age. She was verified as only one of 5 people who had lived to that age in the world as reported by the Gerontology Research Group. Globally, there are geographical clusters of people who have been able to live remarkably long lives. One of those locations is in Okinawa, Japan. Okinawans who live in the southernmost prefecture of Japan, have an average life expectancy of 81.2 years, as estimated by the Japan Population Research Institute.
Why there is increasing interest in Okinawa diet recipes
Dr. Craig Wilcox, an American gerontologist, summarized his findings of the typical Okinawan diet. "Okinawans have a low risk of arteriosclerosis and stomach cancer, and very low instances of hormone-dependent cancers, such as breast and prostate cancer. They eat three servings of fish per week, on average … plenty of whole grains, vegetables, soy products, (such as tofu), and more kombu seaweed than anyone else in the world. They also eat squid and octopus, which are rich in taurine –known to lower cholesterol and blood pressure."
You may need to shop at an Asian market to find bitter melon, also called bitter gourd. It's a tropical, sub-tropical vine grown mainly in Asia, Africa, and the Caribbean.
Some of the medicinal benefits of bitter melon are that it's excellent for treating blood disorders, cholera, diabetes, eye problems, psoriasis, respiratory disorders, toxemia, and will help boost immunity.
What is the most unusual fruit or vegetable you've ever eaten? Please leave a comment below.