In her book "French Women Don't Get Fat" author Mireille Guiliano boils down leeks and drinks the juice over the weekend. She says it's a good way to detox your body after you party too hard is to boil up some leeks and eat them to detox. This inspired me to create a detox leek soup.
Enjoy this recipe!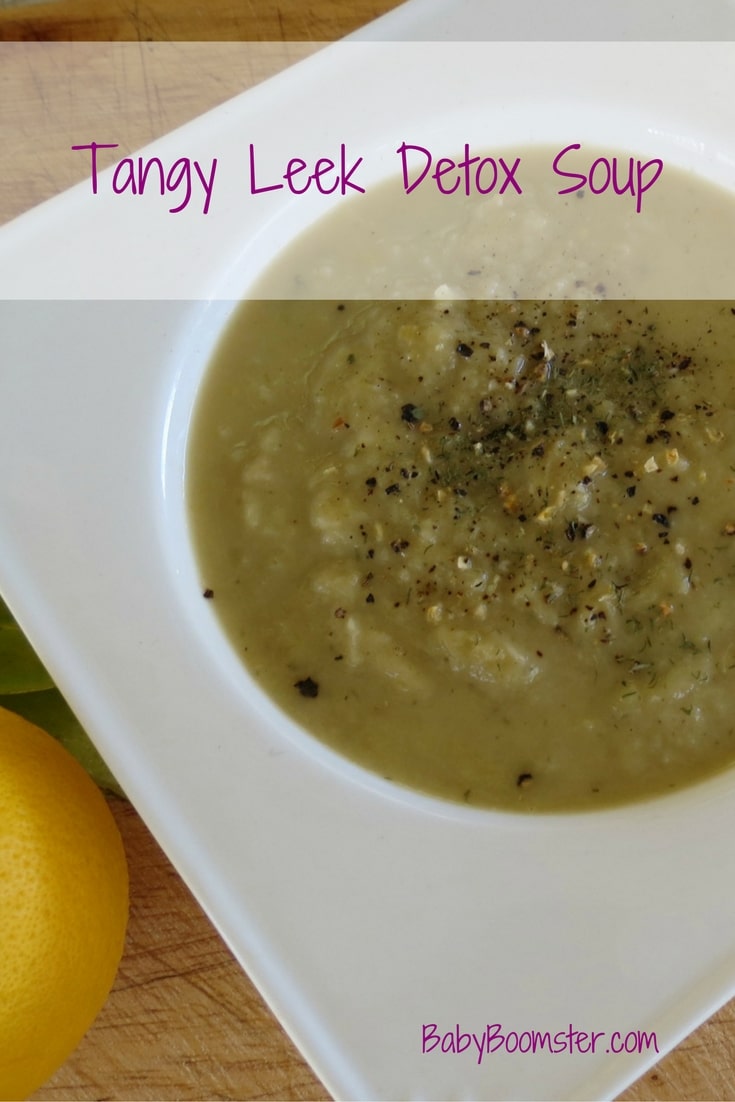 Leek Soup for Detox and Weight Loss
After the holidays or any time of the year, clean out your body with this tangy leek detox soup.
Ingredients
1/4

cup

extra virgin olive oil

3

lbs

leeks White part only

cleaned and cut into 1/4 inch rounds

1

lb

celery finely chopped – include the leaves

8

cups

vegetable stock or water

1/2

tsp

dill dried or fresh

1/2

tsp

cumin

lemon pepper freshly ground to taste

sea salt to taste

3

eggs room temperature

2

lemons -freshly squeezed

1

lemon sliced for garnish
Instructions
Heat 2 Tbsp of olive oil in a large soup pot. Add the leeks and celery. Stir with a wooden spoon until the leeks are translucent.

Add the vegetable broth (or water), salt, lemon pepper, cumin, and dill. Cover and bring to a boil. Reduce the heat and simmer over low heat for about 1 hour.

In a medium bowl, beat the eggs and lemon juice with a whisk until the mixture is frothy. Ladle in 2 to 3 cups of the hot soup very slowly to the egg mixture beating vigorously with a whisk to keep the egg from cooking too fast.

Pour the egg mixture into the soup and stir well with a wooden spoon.

Serve in individual bowls warm or chilled with lemon slices and decorate with fresh or dried dill and a little lemon pepper.
This leek soup recipe is simple to make and takes just minutes to whip up in a blender.
Why leek soup helps you detox and improve your immune system
Leeks are an excellent source of dietary fiber and will clean you out easily and gently. They're also energizing, help boost metabolism, and aids in digestion. They contain immunity-building vitamin C and antioxidants.
If you're feeling bloated or went on a binge, this is the perfect detox soup to clean out your system and feel better.
Do leeks help you lose weight?
Like most green vegetables, leeks are very low in calories but, according to Noom philosophy – a popular weight loss app, any type of clear and simple soup is great for dieters. Liquid fills you up so you don't feel hungry and it's better to sip soup that is full of nutrients for good health than drink diet soda with zero nutrients. The lemon, dill, and other ingredients in the recipe above give this soup a tangy and delightful taste. Give it a try
Do you detox?  Please leave a comment and let us know how you do it.