Have you ever felt spatially challenged, off-kilter or dingy?  You may have ear rocks or what is more scientifically known as Benign Paroxysmal Positional Vertigo (BPPV). It's a condition common for those of us over 50. Ear rocks are tiny crystals that form in your inner ear as a result of a head injury or virus.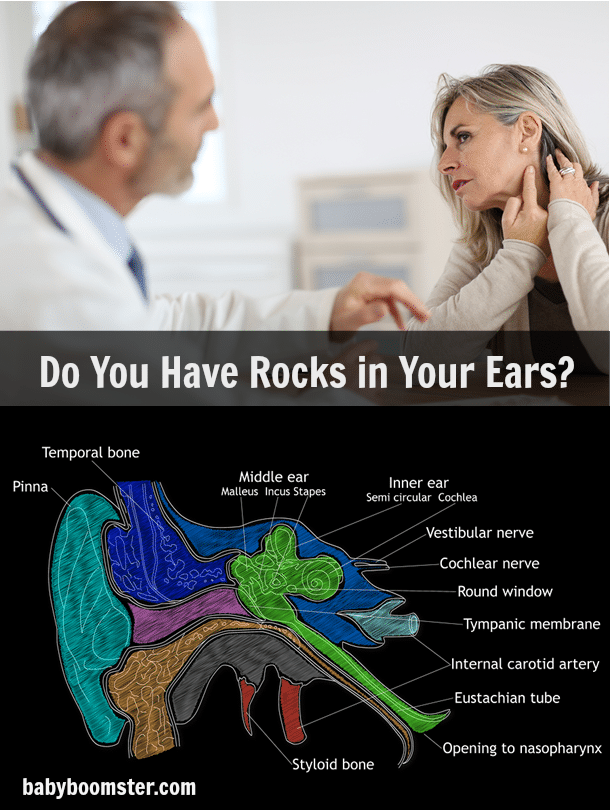 Inside of your inner ear is a pouch called the utricle.  It contains about 1,000 tiny crystals made out of calcium carbonate. They stimulate our nerve cells when we move our heads and help our brain determine our sense of up and down.
When ear rocks fall off into our inner ear canal, it throws us off balance and sometimes gives us vertigo. (Like James Stewart in the Alfred Hitchcock classic)
BPPV can be treated by a series of head movements designed to knock the ear rocks back into place. This technique is called the Epley maneuver.
Other conditions besides ear rocks that may cause similar symptoms of dizziness or imbalance
Meniere's Disease is an inner ear condition that causes vertigo, hearing loss, tinnitus (ringing in the ears), or fullness in the ears. These sensations may last for 20 minutes or several hours. It typically presents between the ages of 20 – 50 and is caused by an unusual amount of fluid in the inner ear. If you have this disease, you may be more sensitive to fatigue or stress. A physician will usually do a battery of tests that may include a hearing exam, an ENG, balance testing, and possibly an MRI.
Acoustic Neuroma – This is a non-malignant tumor that develops inside a section of the inner ear that helps you balance and transmits sound information to the brain.
Age-Related Imbalance or Dizziness – This may be the result of problems with the vestibular, center, and vision systems and is often caused by a fall. The vestibular system is a complex system of fluid-filled tubes and chambers in the inner ear. Nerve cells and blood flow tend to decrease after age 55.
Virus-related – If you have a weak immune system and it malfunctions after the onset of a virus, the virus can attack other parts of the body including the inner ear.
For more information and detail about inner ear disorders, click here.
The reason I felt compelled to write about this is that I had fullness in my ears for a while after I fainted. I wasn't dizzy, just a little spacey. It felt like I was spacially challenged. I could walk up and down hills for over an hour in the morning and feel fine. But when I sat in front of my computer for a while, I started to feel pressure in my ears, and sometimes my blood pressure spiked.
I told my regular doctor what was going on and he recommended that I take a Sudafed. Later, when it became more annoying, I went to urgent care and told the doctor about the Sudafed. He told me to stop taking it because it causes blood pressure to spike and was surprised that my regular guy had recommended it.
It's always fun when doctors disagree, isn't it?
It could have been a combination of a car accident I was involved in two years before, jogging for 6 months at a gym (not always a good idea after the age of 50), and then fainting and falling on my head. Each year between 20 – 40 percent of adults over 60 fall for some reason and between 12 and 67 percent fracture a hip. It's important that we learn to prevent falls as we grow older. If you fall and feel spacey it's a good idea to check to see if you have ear rocks or another ear condition.
If you suspect you may have ear rocks, make sure to have your doctor give you a referral to an ENT. I've had everything from a neurologist to a cardiologist check me out and tell me I'm perfectly healthy. Hopefully, it will be something easily treatable but always find out so you don't fall and can't get up.
Do you feel off-balance sometimes?  Please leave a comment below.