Moving into our new home was a delight. On clear days the views across the sea and the bay were breathtaking. I thought about how lucky I was.
The practicality of day to day living soon struck home when I realized that whichever way I walked outside the gate meant I was going downhill. Which is fine, but of course, walking home meant a trudge uphill.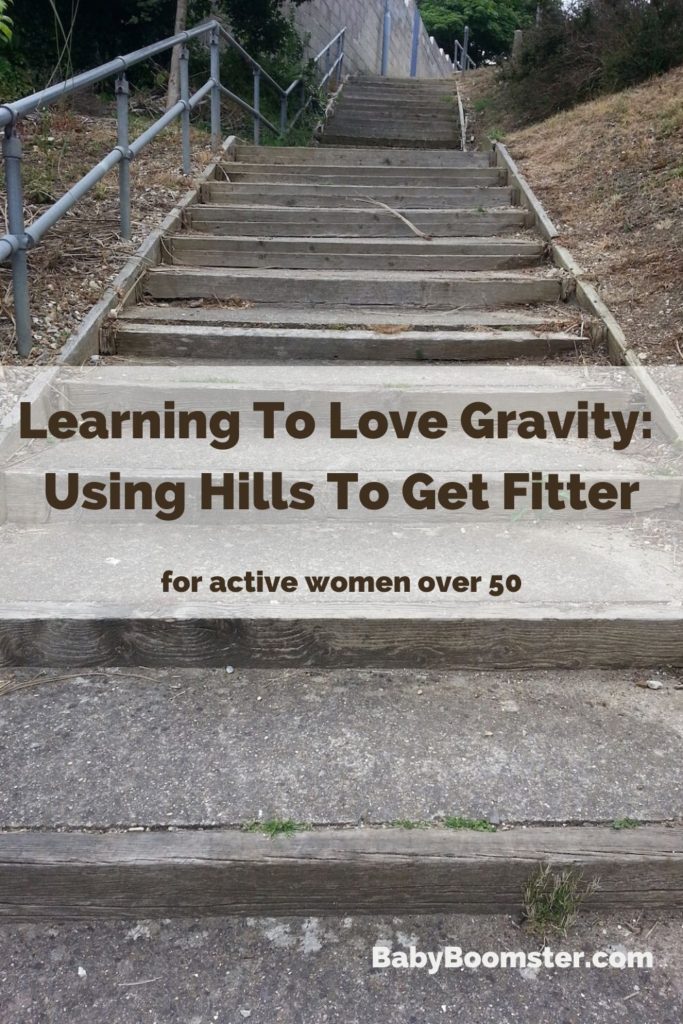 The shop is only 15 minutes away, but more like 18 on the return journey. On many occasions, I would curse Newton, his apple, and the whole gravity thing.
Gravity is supposed to be such a weak force but it seems to have an enormous effect on my walking uphill and getting home.
Having turned 50, after years of wearing and tearing my body through running, my knees and hips were suffering with, what I thought to be, normal aches and pains. Understandable.
After a few months of squaring the wonderful views with the uphill walking trudge, I realized that I was, increasingly getting up and down the mountainside more like a goat than a pack animal and my joints didn't feel like they needed oiling after each trip. In fact, they felt better.
Instead of shying away from the prospect of venturing to the local shop or gym I actively sought the steepest route and mentally compared the difference in my performance.
Gravity was certainly a force to be reckoned with but there was more of a skip in the old step. And the dreaded steps are what I started attacking, not 2 at a time may be – virtually impossible, but at least not like I was used to doing – half at a time, or 2 paces per step.
Then I began to gently exercise those parts that I had avoided in the past. I used low weights on the leg extension and leg press machines at the gym to activate my glutes and leg muscles. I assessed the result then and later in the evening and there wasn't any adverse pain. Just the nice, normal ache you get from working out.
Now, even though my days of running are behind me (or are they, the way things are going who knows) I embrace walking uphill as a means of exercise and getting fitter as I used to when training for an iconic race held in Sydney Australia.
This is an 8.7-mile fun run that starts in the city center of Australia and ends at Bondi Beach, imaginatively called The City to Surf. Before you dive down to the golden sands of the beach, like many coastal towns there is a climb and this one is called Heartbreak Hill so you might imagine what it was like if otherwise unfamiliar with the race.
Why you should try walking uphill to get fit
There are many benefits of walking uphill for training that's why it's a part of many elite athlete's regimes. But for those of us who want to get fit after 40 or even after 60, it's an easy and accessible way to help in getting there.
Walking briskly or running uphill is a more effective form of cardiovascular exercise and the benefits of regular cardio activity for the heart, respiratory system, and general well-being is well! well known.
But hill work can be extra beneficial through
Increased calorie burn helping in weight maintenance
Strengthening the glutes and leg muscle groups
Reducing stress on the joints
Increasing endurance and speed
Higher intensity sessions mean you get more for doing less
Tackling hills with form
There are some subtle differences when going uphill to running or walking on the flat.
I never believed in pumping my arms when running normally. The arms should act as balance mechanisms as your body rolls slightly with the change of weight emphasis. Otherwise, you are expending too much energy with little gain and not getting that relaxed rhythm that's required for distanced running or walking.
However uphill is a different matter. Arms should be pumping at an intensity commensurate with the effort.

Keep the legs and torso aiming forward and look ahead 30 feet or so in front to keep the frame up and chest out for better oxygen intake – you'll need all the air you can get.
Let's not forget the mountain inside
Apparently, stair climbing requires more energy per minute than jogging or rowing – quite a surprise.

So look no further than your own stairs or the steps in the mall to burn off some extra calories. There's a workout right there.
But don't pull yourself up by the handrails, attack the beast and feel victorious in the glory of making it to the top by stairs. Well, that may be overstating the case but it all helps for a fitter you.
And if you have access to steps in a park or in a less busy building infrastructure you can let your imagination run away with you.
Fancy a hill workout?
As an interval training session find a juicy hill preferably in a park or somewhere pleasant and green.

Warm-up with knee lifts or bum kicks and don't forget to get the blood running through the arms.
Obviously it depends upon your level of fitness but go for anything from a brisk walk to running hard up the incline for 30-60 seconds or so.
Turn around and use the walk or jog down to recover. Make it slow.
Keep going for as long as you feel comfortable – no wait, a little longer than that. Always push a bit over the barrier but not so that bits start falling off.
Once finished jog around on the flat to warm down.
The hills are alive with the sound of exhausted hikers
You don't have to do high-intensity exercise to get the benefits of walking uphill. Why not try a day's hiking or even a week. The National Parks are littered with peaks, but have no fear you don't need to be a mountaineer, many are moderate climbs or easily reached.
A little research would be required but apart from beautiful scenery, good honest exercise, and healthy mountain air there is one major factor that I have yet to mention about our friend, Gravity. It's simple, what goes up comes down.
And that was something I always kept in mind when climbing hills whether running or cycling – there's always going to be a high point and from there gravity works in our favor.
Let us know below your thoughts on the ups and downs of your fitness goals or the ups and downs of hills and gravity.