Just the thought of having a colonoscopy put me in a state of anxiety. However, it's hard to avoid if you're over 50. I had one 17 years ago when I hit the half-century mark. All went well, and I was determined not to have another one.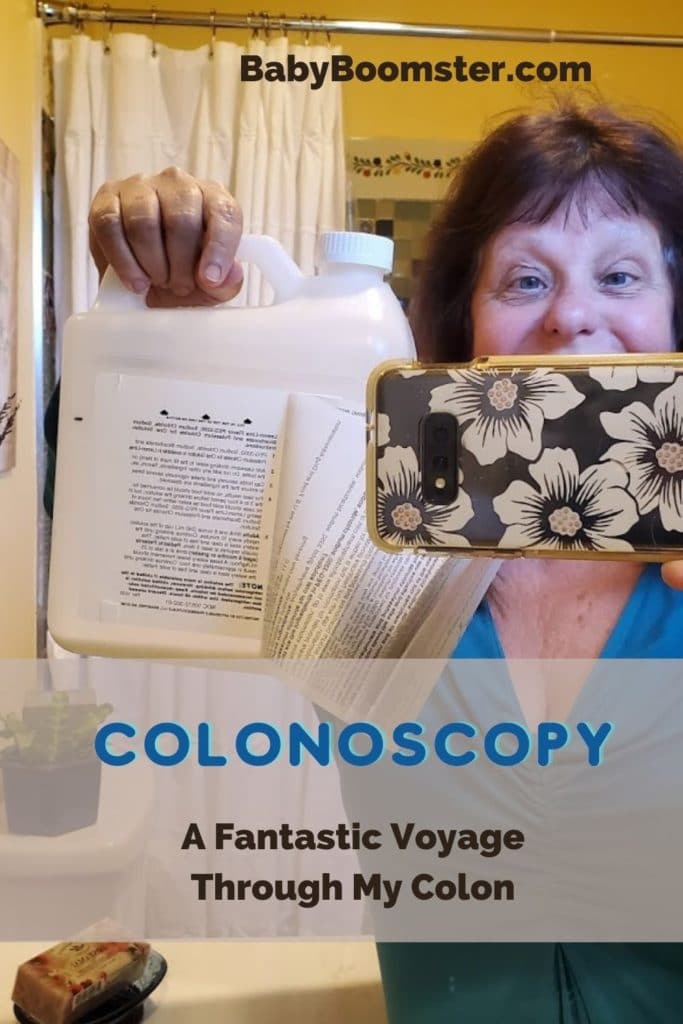 Up until my 2nd colonoscopy, my health care provider mailed me a fecal occult home test to take each year. They're easy to do. I won't go into detail, but once you collect your sample you pop it into the mail and wait for the results. Mine were always negative so a colonoscopy wasn't necessary and I was more than happy with that.
All was going well, until . . .
My stomach started giving me fits and by evening I sounded like a Tuba. Some nights entire symphonies would blast out of my butt and it was embarrassing. I couldn't figure out what was causing it and thought it must be a symptom of age.
Stress can often cause stomach issues and gas. As with many of us, dealing with the pandemic made it worse.
One night it got really bad. I must have gone to the little girl's room at least a dozen times and then I saw it. A spot of blood. ACK! My blood pressure went up, I started to sweat, and I was sure I was going to die. Hypochondria, anyone?
Low Fodmap for IBS
After I calmed down, I Googled irritable bowel syndrome (IBS) and put myself on a Low Fodmap diet to see if it made any difference. Within 24 hours I felt normal and not bloated. It was obviously some type of food sensitivity. The blood had disappeared too, so I figured I was fine.
Low Fodmap is an elimination diet. Certain foods can cause stomach issues like onions, garlic, dairy, wheat, and cruciferous vegetables.  Proteins don't tend to cause bloating and gas, so you can eat all the meat and seafood you want. Foods like tomato, eggplant, zucchini, potatoes, and corn are fine.  Once you eliminate high Fodmap foods from your diet for a couple of weeks, you are supposed to add them back one by one to determine what food causes the problem.
I did fine for about a week and then we had a party. I must have eaten a trigger food and saw a little blood again. That freaked me out so I made an appointment to see my doctor the next day. She recommended a colonoscopy which wasn't a surprise. I was expecting it. It tests for colon cancer and that's not something you ever want to have.
Getting ready for my colonoscopy
5 days before my procedure I was instructed to only eat low-fiber foods. If it was white, it was safe. I had to avoid fruits and vegetables with skin like grapes, raw, unpeeled vegetables, nuts, seeds, or anything red like beets.
The day before my appointment was a fasting day with only clear liquids allowed. I've never been good at fasting and I was afraid I'd faint, which happened to me twice before because of dehydration. I drank strained bone broth because it has more calories than plain broth and sipped white grape juice pretending it was wine.
At 6 pm it was time to drink the Glop, (my term) a 4-liter jug of electrolyte laxative. It wasn't as thick and awful as I remembered it when I had my first colonoscopy. Maybe it's been improved. I had to drink 8 oz every 15 minutes until I finished ¾ of the jug. To pass the time, I listened to comedy shows and stayed close to the bathroom.
In my opinion, the prep is the worst part of having a colonoscopy. It's not fun at all.
The next day I woke up at 5 am to finish off the glop and then I couldn't eat or drink until my procedure was over. My roommate drove me to my 9:30 am appointment because they were going to sedate me.
Countdown to blackout
When I arrived at the gastroenterology department, I felt a little lightheaded and thirsty but managed to stay upright. Then, I was called in to undress and lie on the gurney. My fear was waking up in the middle of my colonoscopy.
The nurses said they couldn't promise anything because propofol would put me in a twilight sleep. They wheeled me into a room that looked like an office, put oxygen tubes in my nose that smelled like weird ozone, and sedated me through my IV.
I blacked out but woke up toward the end and started yelling. They said, "we're almost done!" I don't remember the rest because they must have given me more propofol. After I woke up again, I told them I thought I had a bad dream. They wheeled me out, called my roommate, and not long after, walked me out the door.
During my first colonoscopy, the nurse made me stay until I farted, which was embarrassing, but part of my prep this time was to take gas pills when I finished off the glug. I guess that took care of the problem and I was glad because there were a bunch of other patients in the room waiting to have their procedures.
Before I was discharged, the doctor came by and told me everything looked great. All I had was internal hemorrhoids, and mild Diverticulitis, which is normal for people over 50 so I was thrilled.
A colonoscopy isn't a pleasant experience, but well worth it to know what's going on in your body whether it's good or bad.
After we left, my roommate drove me straight to Coco's Restaurant next to the hospital where I ate an entire omelet. I'm sure other colonoscopy patients have done the same thing.
I'm not even going to think about the view the doctor and nurses had. I just can't go there.
Have you had a colonoscopy before? What was your experience. Please leave a comment below.