Bama, China is known for its large population of centenarians and is considered to be a longevity hotspot according to the book, The Blue Zones. One of the secrets of Bama longevity is their recipe for longevity soup. It's made with flavorful locally grown vegetables and fermented miso. The soup's combination of life-extending ingredients and its delicious flavor makes it a wonderful treat to serve all year round.
Enjoy this recipe inspired by the Bama people!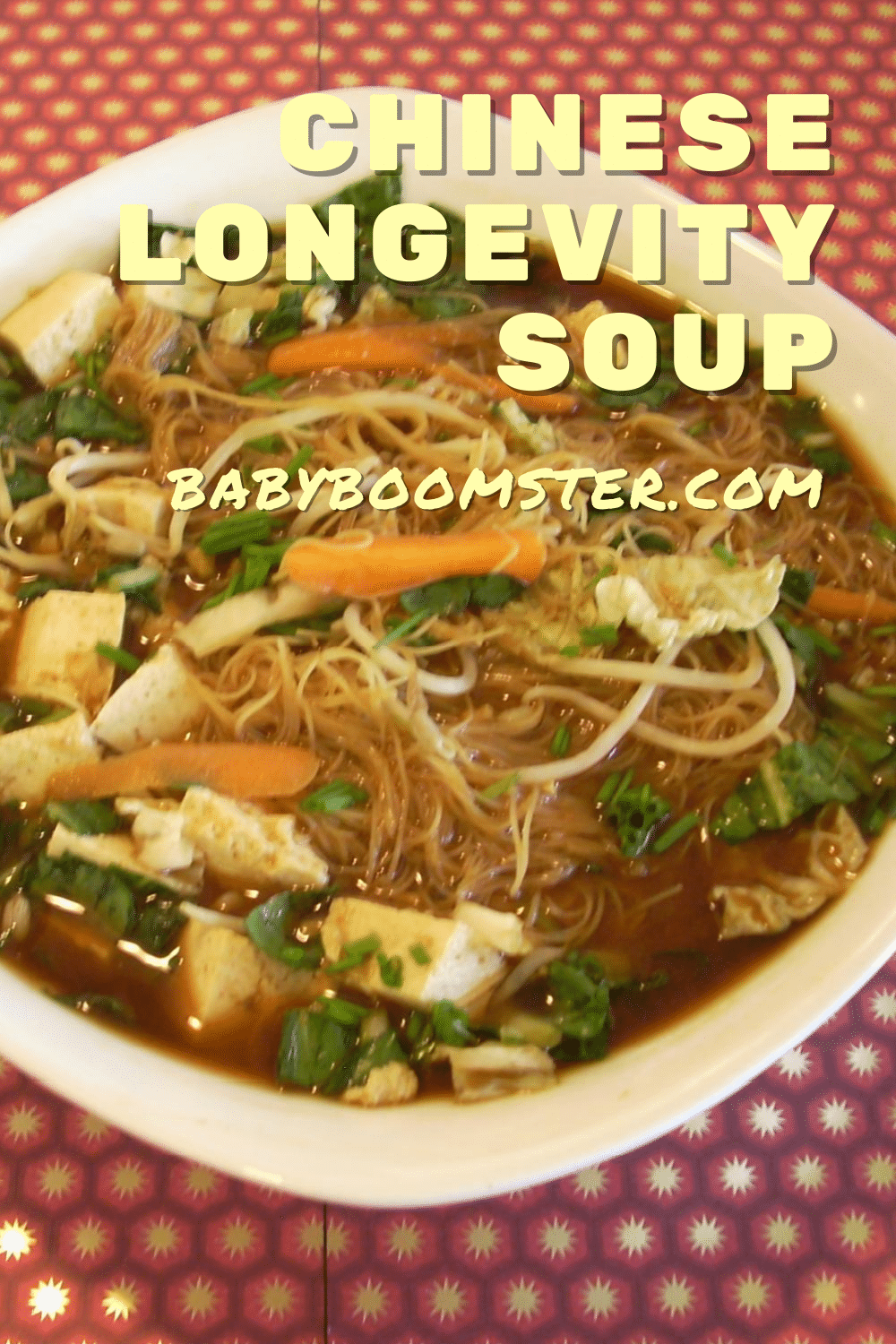 Chinese Longevity Soup
A delicious and life-extending soup from Bama, China
Ingredients
4

cups

of fermented miso broth

1

tbsp

fresh ginger minced

1

tbsp

fresh garlic minced

1

bag of rice noodles

2

cups

of mung bean sprouts

2

cups

Chinese cabbage finely chopped

2

cups

carrots julienned

1

package tofu

2

cups

bok choy leaves chopped
Instructions
Bring broth to a boil.

Add minced ginger and garlic.

Cook for 3 minutes.

Add noodles and cook until soft.

While noodles are cooking, fill soup bowls with equal parts of bean sprouts, Chinese cabbage, carrots, tofu, and bok choy leaves.

Add cooked noodles.

Bring the broth to a rapid boil and add broth to bowls. The hot broth should cook the vegetables just enough that they remain slightly crunchy, but not raw.

Garnish with chives.
Chinese cooks often add hemp oil to the mix, but you have to be careful and make sure that it's consumable because some hemp oil is toxic. Check to make sure it's certified safe for human consumption. This longevity soup recipe is best, and most effective for your health when you use organic vegetables and ingredients.
Fermented miso contains high levels of beneficial bacteria (probiotics) that aids in digestion and keep your body in balance. It's also rich in antioxidants that remove free radicals that cause disease.
Chinese cabbage and bok choy contain glucosinolates, brassinin (a potent anti-oxidant), beta-carotene, and fiber. Combined together they help to regulate your blood pressure and provide Vitamin A, which prevents vision loss, cataracts, and macular degeneration.
Ginger is always helpful in aiding digestion and it eases the symptoms of respiratory disease, arthritis, and muscle pain.
This powerhouse longevity soup is a perfect combination to prevent cancer, cardiovascular disease, diabetes, and the effects of aging. Xiǎngshòu! (Enjoy)
Another longevity soup you may want to try is Sardinian Minestrone.
This post was previously posted on 6/2012 and updated on 9/2021
Do you have a favorite Chinese soup? Please leave a comment and tell us about it.