I love tartines because they're small open-faced sandwiches that are light and delicious. I was inspired to re-create a recipe for Roast Chicken and Green Pesto Tartine after enjoying something similar at my local Le Pain Quotidien – a restaurant chain that originated in Belgium.
Enjoy this recipe for Roast Chicken and Green Pesto Tartine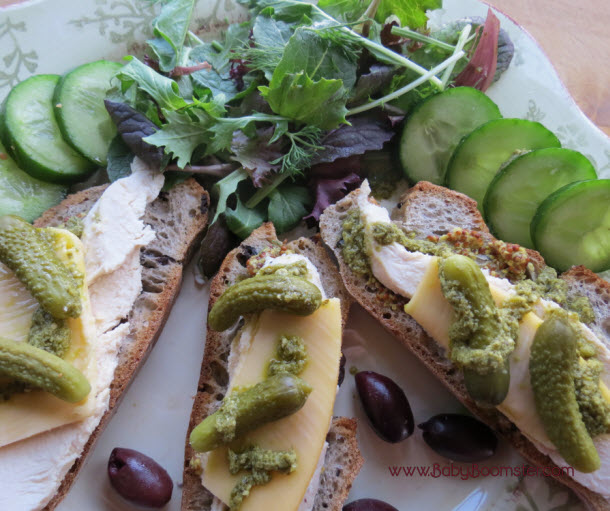 Roast Chicken and Green Pesto Tartines
A healthy and delicious sandwich you can eat without guilt.
Ingredients
2-4

slices

Artisan Bread sliced as thin or thick as you dare.

4

slices

roasted chicken Straight off a roasted bird is best or you can use sliced chicken from a package

mixed green salad

whole-grain Dijon mustard to taste

bottled basil pesto sauce

a few squirts

Cornichon pickles

1

Persian Cucumbers sliced

Greek Kalamata olives pitted
Instructions
On a plate, arrange 2-4 slices of Artisan bread.

This sandwich may call for a glass of chilled white wine or champagne before 5 PM. It's up to you. I'm sure that any true French person wouldn't think of eating this sandwich without it.

Top with roasted chicken and Gouda cheese slices.

Garnish the plate with Cornichon pickles, Kalamata olives, cucumber slices, and mixed green salad. (you can get creative with garnishes – radishes are good too)

Put some of the pesto into a squirt bottle. (You may have to add a little extra virgin olive oil if it's very thick) Squirt the pesto on the top of the sandwiches.
I'm convinced it's not so much the gluten that's in flour, but the wheat in the flour itself. European bread doesn't cause gluten intolerance as American bread does and it's higher in gluten.
All you can do is be more careful when you buy bread or make it from scratch. There is wonderful "consciously" baked artisan bread available to enjoy. I found this beautiful olive bread loaf at my local farmer's market. Isn't it beautiful?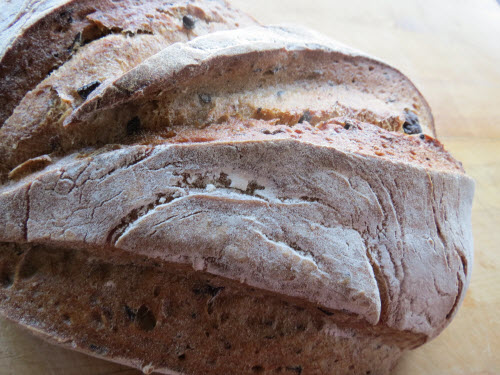 Have you made tartines? What are your favorite toppings? Please leave a comment below.