I used to get Bronchitis all the time and it sucked. That meant struggling to breathe and having to take antibiotics. But then, I stopped getting it and had a long run of good health until one summer when my throat started to feel scratchy.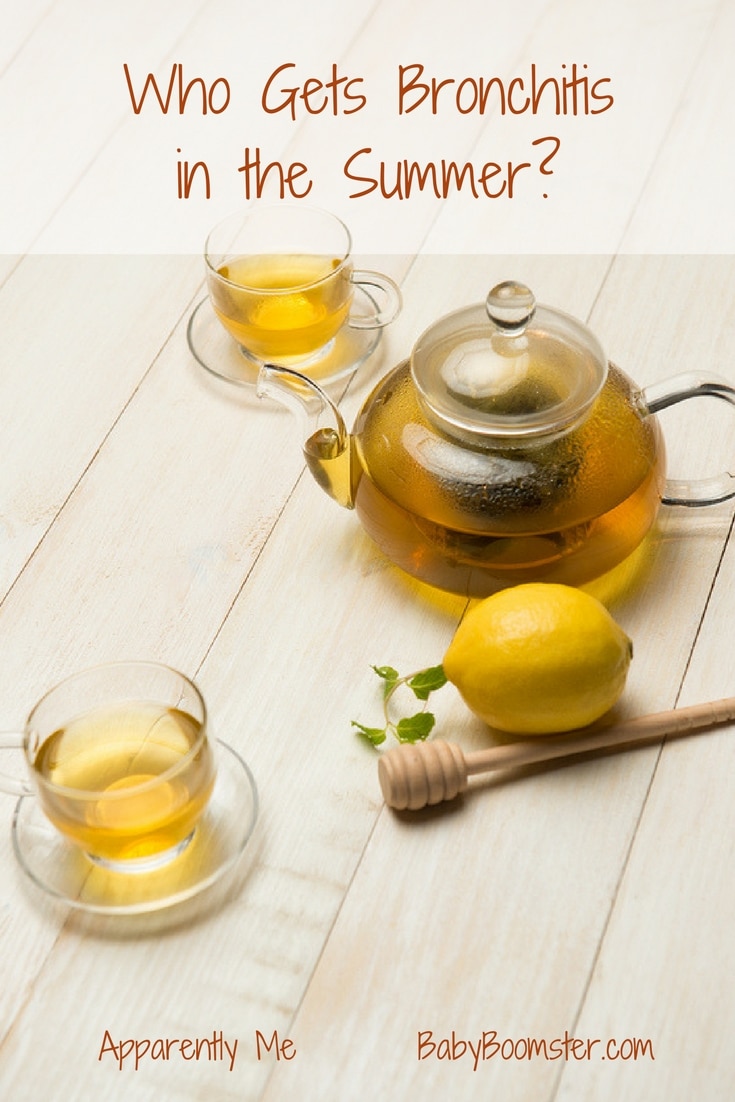 Usually, when the weather is warm, colds and flu aren't very active so I was hoping it would go away. But it transformed into the dreaded bronchitis cough. Uh Oh! I was screwed!
Meanwhile, I drank plenty of hot lemon juice and honey, (occasionally adding some bourbon) and kept up my walking routine, hoping to strengthen my respiratory system. A couple of days later, I woke up with my eyes glued together. They were filled with boogers and my right eyelid was swollen. I looked like the walking dead and knew I had to do something fast. Getting bronchitis after 60 isn't anything you want to mess with because no one wants pneumonia and conjunctivitis means you usually have an infection.
Can you get bronchitis in the summer?
I had just been in for a checkup a couple of weeks before I got sick and was perfectly healthy. My doctor held off on giving me a flu shot and told me to make an appointment for November when most people get the flu. The week before I had come in for a lipid panel. People were sitting in the lobby coughing and I tried to move away but someone must have infected me! Grrrrr!
The ER
I couldn't get an appointment with my doctor that day so I high-tailed it to the ER. The waiting room was almost empty. (Pheww!) I was in and out of there within an hour armed with the standard bronchitis treatment that includes a Z-Pak and cough syrup with codeine as well as an eye medication, and an inhaler if I needed it. Luckily, my breathing hadn't been compromised.
Why I believe walking helps clear your lungs
Walking regularly especially if you go up and down hills and other physical exercises is one of the best ways to keep your lungs clear and supply your body with oxygen according to the American Lung Foundation.  Try to get at least 30 minutes of exercise 5 days a week to protect your lungs.
At-home treatment tips for bronchitis
First, make sure to get your flu shot as soon as it's available so you can avoid getting sick in the first place.  If you're over 65 get your pneumonia shot as well.
If you feel like your lungs are congested, don't be stubborn and call your doctor ASAP. Homeopathic remedies are fine to a point, but once you cross the line don't mess around with Bronchitis or other respiratory illnesses. Older people die from pneumonia every day and it usually starts from something as simple as a cold.
Keep walking if you can, but if you are contagious walk in place at home.
If your illness is bacterial, don't rub your eyes otherwise, you could get conjunctivitis as I did. Use a separate tissue or eye pad to cleanse each eye to avoid contamination.  Throw away your contacts if you wear them and don't put on new ones until you finish your meds.
Keep bedding, towels, and dish towels clean.
Stay home so you won't infect others. If you have to go out, wash your hands often, generously use hand sanitizer, and wear a mask. No excuses.
Isolate until you aren't contagious anymore. Don't go to the movies or a party. It's amazing how many people do that and then cough on everyone else around them.
Avoid eating dairy because it will add to your congestion.
A little bourbon may help at first but don't drink alcohol if you're taking antibiotics and never with a cough syrup that contains codeine.
Drinking tea is always a good idea because it contains antioxidants and soothes your throat.  Organic tea that contains lemon and ginger or hot lemonade made with real lemons will help clear the mucus.
Eat a healthy diet to boost your immunity. Avoid junk food, alcohol in excess, sweets, and indulge in other habits that can compromise your immune system.
Stay well! What do you do when you get a cold or flu that turns into bronchitis? Please leave a comment below.