I interviewed Jan Mitchell, an AFib (Atrial Fibrillation) patient who currently has a Watchman device implanted to protect her against possible stroke. It's the only FDA-approved implant proven to reduce the risk of stroke in patients whose AFib was not caused by a heart-valve problem. The advantage to the patient is that there is no longer a need to use blood-thinning therapies that increase the risk of bleeding, and there are no dietary restrictions or constant monitoring.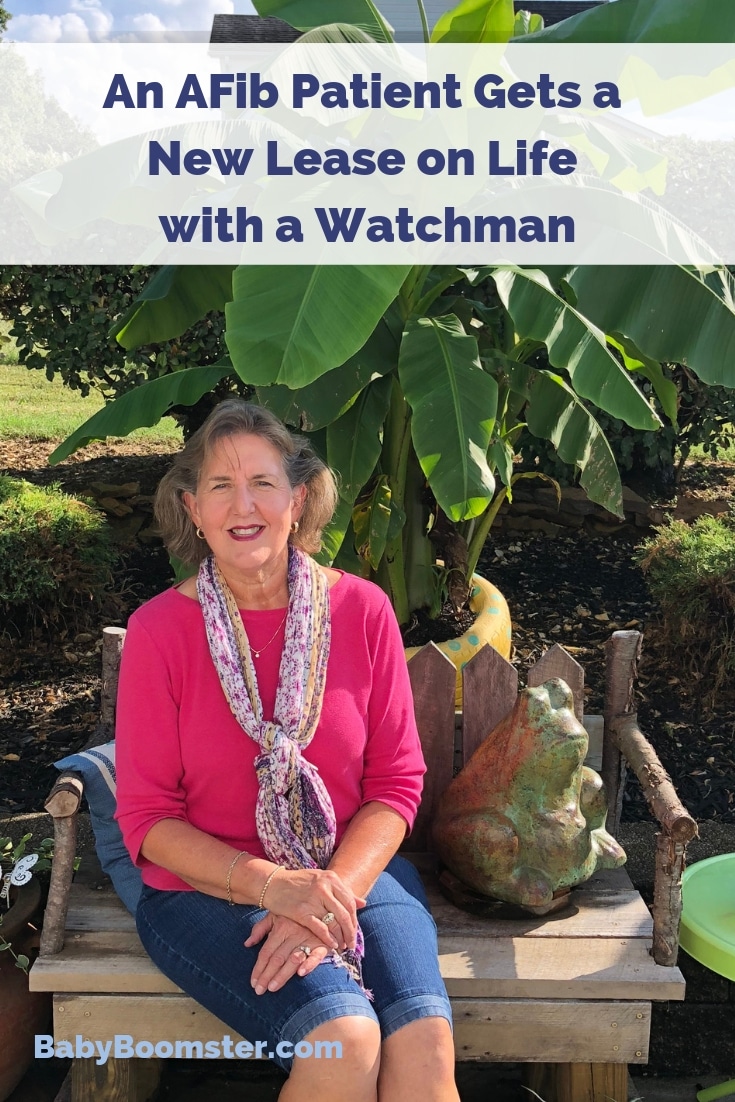 Jan Mitchell's AFib story
In 2009, Jan underwent surgery to remove a benign tumor inside her heart that was the size of a racquetball. It was found by accident because she was having stomach trouble. Thinking she had gallstones, her doctor ordered scans that detected the tumor. If it hadn't been found Jan could have died. Not long after the surgery was completed Jan began to experience AFib episodes.
She lives in the town of Paris, Tennessee which is about 2 hours and 15 minutes from Nashville. On 3 separate occasions, she had to be transported by ambulance back and forth to Nashville due to an irregular heartbeat. At first, she was told to take baby aspirin which was fine for a while but around 2013 – 2014, she began having more episodes of AFib and was prescribed a blood thinner.
A girl's trip that ended badly
During that time, she took a girl's trip to New Mexico for a few days. When it was over she flew back to the airport in Nashville but was feeling so fatigued she could barely get her car out of the parking lot. It was 2 am in the morning when she arrived so she assumed she was exhausted from her trip. Rather than drive all the way home, she rented a room at a hotel.
In the morning, she drove home but was still so tired she thought she better go to the clinic for a checkup. She managed to call her husband at work but didn't have the energy to get to the clinic. He husband rushed her to the local ER where they discovered she had a brain bleed.
Her diagnosis required that she be transported by helicopter to Nashville where she stayed in the hospital for four days. She was taken off her blood thinner because of the bleed which scared her because of her AFib. After numerous appointments with neurologists and cardiologists, it was recommended she have the Watchman implanted.
Getting the implant
Jan agreed to have implant surgery in 2017. The Watchman has been inside her ever since and she's had several doctor appointments in between. So far it's been working well and has given her peace of mind.
The one thing she determined from having open-heart surgery is that ". . . it's a blessing to have it if you need it, but you may get left with "little treasures." (side-effects) Her irregular heartbeat was one of those treasures. Since the Watchman was implanted, she hasn't had to go back on blood thinners, which makes her happy. Even when she has an AFib episode it doesn't become an emergency as it did before.
Jan is making lifestyle changes for better overall health
Jan loves being outdoors but when she was on blood thinners she had to be careful not to hurt herself. If you get a cut or bruise it can bleed profusely which is dangerous. She's glad she doesn't have to worry about that anymore and can once again enjoy her outdoor activities.
I asked her if she could feel the Watchman implant and she said she isn't aware of it at all. She also has a loop monitor that was implanted. It monitors her AFib and she can feel it a little bit.
What's it like having AFib?
Jan described what happens when she has an AFib episode.  She told me it's different for every individual. Hers was caused by scar tissue from her heart tumor.  When she has an AFib episode it feels like her heart is coming out of her chest. It beats fast and pounds hard.
On a mission for better health
Since the Watchman was implanted Jan's been working on achieving a healthy weight. So far she's lost 75 lbs. She eats fruits, vegetables, lean meats, and fish and walks three miles a day.
"If the good Lord left me here after the brain bleed, and all that I've been through, I kinda have to do my part."
What the Watchman does
The Watchman doesn't treat the symptoms of AFib but cuts a patient's chances of having a stroke, which can be deadly. It's about the size of a quarter and sits in an area of the heart called the left atrial appendage. Doctor's sometimes call it a little chicken wing. The irregular heartbeat that comes with AFib can cause the blood to clot and pool in that area. Then, it can break loose, travel to the brain and cause a stroke.
Usually, a patient will be given blood thinners to reduce the risk of a stroke. The Watchman sits in the appendage so that the blood can't pool, break loose and travel to the brain.
For more information about the Watchman, how it works, and its benefits, click here. If you are experiencing AFib and do not have a heart valve problem, you may want to ask your doctor about it.