Being able to travel the world is a dream come true for most. As you get older, you might have more time and resources to actually make it happen! But, traveling can also come with several challenges.
When you're over 50, one of the biggest challenges is staying energized when you're on the road or in the skies. If you tend to feel worn out after a trip, or even during, you're not alone. Research has shown that travel fatigue is a very real thing, and it can get worse as you get older.
Thankfully, there are things you can do to boost your energy during your travels and fight back against fatigue. Staying energized will make it easier to enjoy your adventures. So, what should you be doing to preserve your energy while you're away from home? How can you fight fatigue every day?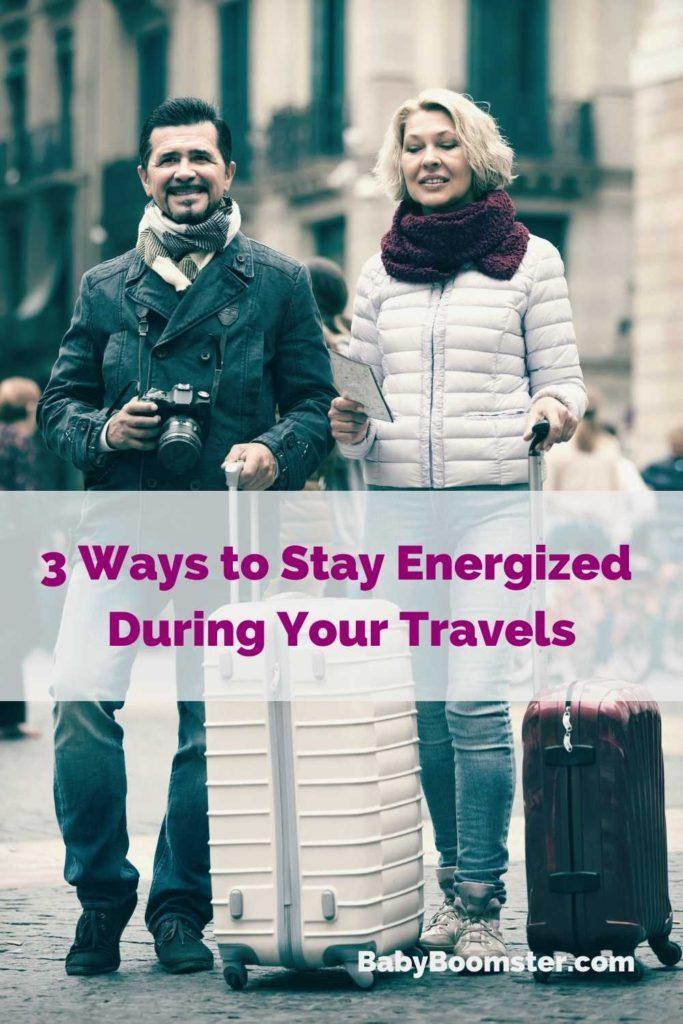 1. Practice Self-Care
Staying energized during your travels starts with preventative care. Long before you book your next trip, taking better care of yourself should become a top priority. Developing healthy habits every day can improve your energy levels and reduce fatigue in your everyday life. When those habits become part of your routine, you can continue them throughout your travels, so you'll have enough energy to enjoy everything.
Some of the easiest ways to stay proactive with your health and feel more energized include:
Eating naturally high-energy foods
Staying hydrated
Exercising
Managing your stress levels
It's easier to take care of yourself when you set aside time for it. Even if you're busy, you can find time to exercise. Try getting up earlier in the morning to do some stretches, yoga, or a cardio routine. Take time out of your day to practice mindfulness or to meditate for stress reduction. Meal prep one day a week so you have healthy options to choose from every day even when you're busy.
Self-care can take up more time than most people realize, which is why it's often put on the back burner. But, it's incredibly important, especially as you get older, to prioritize your well-being. Not only will it keep you healthy and energized at home, but you'll really notice a difference in how good you feel while traveling.
2. Understand Your Fatigue
There's a difference between feeling tired after a long day of travel and having trouble keeping your eyes open on any given afternoon. If you're feeling constantly drained, you might be dealing with an underlying condition like chronic fatigue.
There are a variety of different health conditions that can contribute to fatigue, including:
Anemia
Diabetes
High blood pressure
Thyroid issues can also zap your energy. Not only can they make you feel tired, but they can impact your sleep, creating somewhat of a vicious cycle of exhaustion. Your thyroid can also impact hormone regulation in your body, which is often another contributor to fatigue.
If you're taking care of your health and can't understand why you constantly feel tired, there may be something more serious going on. Talk to your doctor about your concerns. Getting to the bottom of any medical issues quickly will allow you to receive the treatment you need to feel better and enjoy more of your travels.
3. Stay Active
We've already talked about the importance of exercise as a form of self-care. Staying active at home and while you're traveling is a great way to boost your energy levels (and your mood!). But, what can you do when you're taking a long trip and you're "stuck" on a particular mode of transportation for hours?
If you've ever had to take an overseas flight, you know how easy it is to feel exhausted by the time you land. It's ironic since all you've been doing is sitting, right?
Unfortunately, that's the problem.
Whether you're on a bus, plane, boat, or even riding in a car, staying sedentary for too long can trick your brain into thinking it's time to relax or sleep, no matter the time of day. While you might not be able to get up and do jumping jacks in the aisle of a plane, there are little things you can do to wake your mind and body up and keep your energy boosted.
Try simple stretches like pointing and releasing your toes or rolling your shoulders. Massage the back of your legs and your calves. These are things you can do almost anywhere, but they'll get your blood flowing and let your mind know that you need to stay awake. If you're a yoga enthusiast, there are even a few helpful poses you might be able to do from the comfort of a plane or bus seat. Get creative with your movements – anything is better than nothing when it comes to boosting your energy.
If you love traveling, now is the time to do as much of it as possible. Don't let past experiences of fatigue or low energy levels keep you from globetrotting and going on new adventures. Use these tips to keep you energized every day, so you can fully appreciate the sights, sounds, and cultures of every destination.