After splurging during the holidays and with the flu going around, nothing feels better than a nice bowl of soup. This zesty Indonesian chicken soup contains fresh ginger, which is wonderful for curing tummy ills. You might want to call it Indo-Penicillin. It's low-calorie and yummy.
Enjoy this Indonesian chicken soup recipe!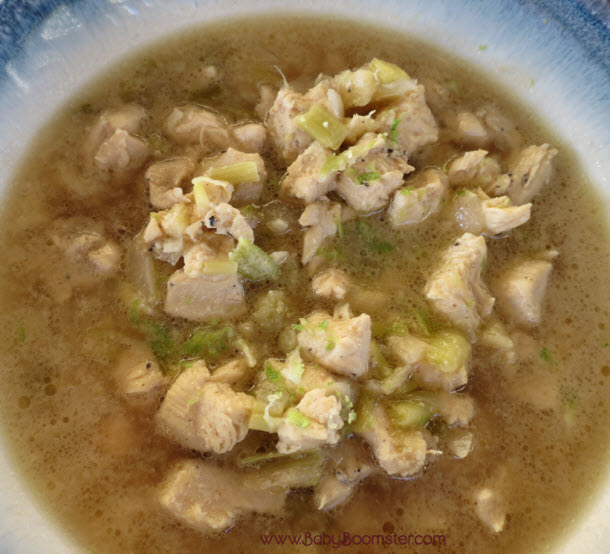 Indonesian Chicken Soup
This is a zesty light soup with ginger to calm any tummy ills. Indo Penicillin?
Ingredients
2

lbs

chicken breast skinned and boned

2

Tbsp

lime juice freshly squeezed

2

Tbsp

sweet butter

1

cup

onions chopped

1/2

cup

Scallions

green onionwhite part only finely chopped

2

cloves

garlic finely chopped

4

tsp

ginger fresh

chopped

3

cups

chicken broth

salt and pepper to taste

lime zest optional
Instructions
Cut the chicken breasts into bite-sized pieces. Season to taste with salt and pepper

Place the chicken in a bowl and cover it with the lime juice.

In a large pot, saute onions, scallions, and garlic in butter for 3 minutes.

Add the ginger and chicken, stirring constantly until the chicken turns white.

Add the broth, bring to a boil and simmer for about 15 minutes.

Add more salt and pepper if desired.

Serve in individual bowls and sprinkle with lime zest
About ginger
Ginger is a powerful spice that's known to treat everything from cancer to migraines and is anti-inflammatory. It's also antiviral, anti-fungal, and anti-toxic. In fact, it has over a dozen anti-viral compounds that help ward off and treat colds and flu.
It's recommended as a treatment for nausea and helps with digestion.
When you buy fresh ginger make sure it's firm and has smooth skin. Don't buy it if it has wrinkled skin, soft spots, or mold.
What kind of soup do you love to sip when you have a cold? Please leave a comment below.