The inspiration for this post came from a woman I met at an event. She was talking about survival tools that women over 50 need to make it through the next few decades. I also added my own.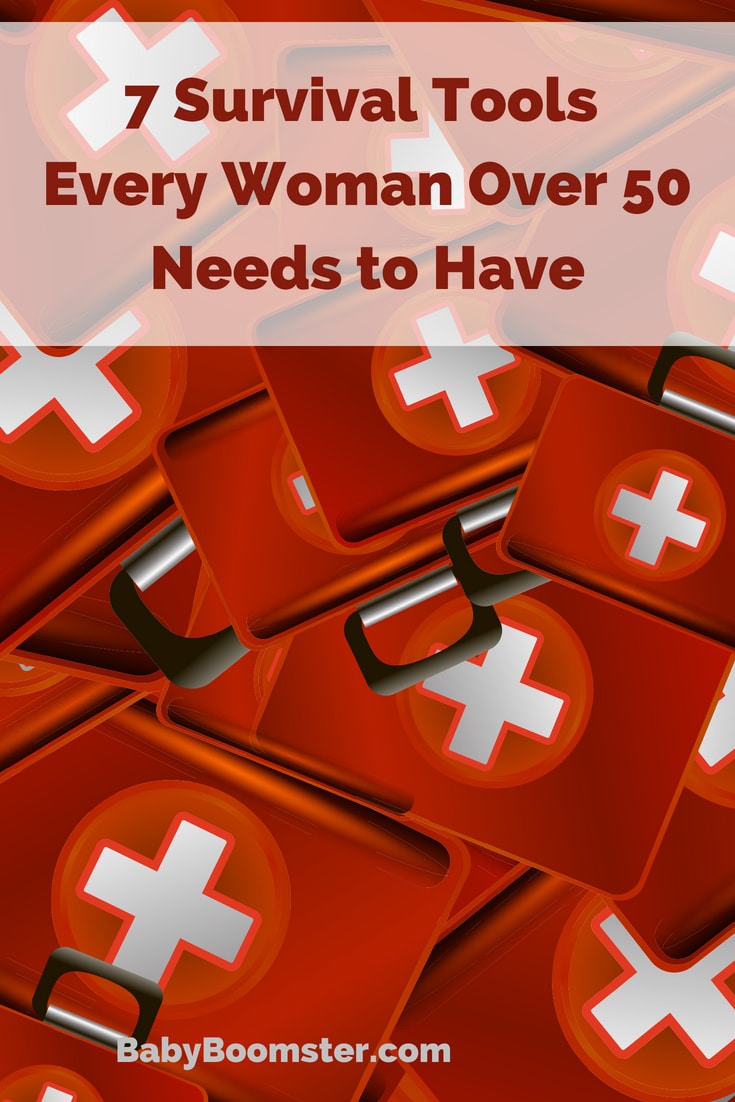 7 survival tools every woman over 50 needs to get through the next few decades
If we're lucky, LOL
1. Your own bank account
When I was married, my husband and I had a joint bank account, but I also had a credit union account of my own. I used it to finance my acting career and to buy things I wanted for myself.
But, the real reason women should have their own bank account is that "shit" happens. Your husband may run off with a 20-year old, gamble away your nest egg, or make you feel guilty every time you spend a dime. Your own account will give you independence and security just in case.
2. Three months of cash saved for emergencies
That sounds easy to do unless it isn't. However, even the smallest percentage of your income put away consistently will add up over time. We all need an emergency fund because we never know what will happen. Just do it.
3. A source of passive income
If you are over 50, you've probably spent decades working and/or taking care of your family. Retirement accounts (if you're lucky enough to have one) are volatile. The economy may be doing well temporarily, but things can change in an instant. You may even want to dabble in the stock market, albeit cautiously.
Passive income is when you earn money while you sleep. It may come in small increments at first, but the goal is to have it grow over time. You can earn passive income in a variety of ways, but the important thing, especially as you get older, is to not overspend on overhead. Beware of "get rich quick" passive income schemes that prey on the Baby Boomer demographic.
I switched from direct sales (which promised passive income) to blogging and affiliate income (adding links to products I love), because there is almost no overhead other than setting up and maintaining my website. When I was in direct sales, I had to pay for inventory, conferences, and team meetings. Even though I was successful and became a sales director, I put out way more money than I took in.
4. An organized way to get your affairs in order
It's important to have a system in place in the event that you pass away, even though most of us hate thinking about it. My friend Karen O'Neil created a workbook called A Guide to Getting Affairs in Order.
Inside, you can write down all the information your loved ones need to know to find your important documents, passwords, financial information, final wishes, etc. It's not an estate or medical plan, which you also need, but rather a directory that makes it easier for your loved ones to deal with final arrangements. When it comes to survival tools for your family, this is one you need.
5. A passion project
Partners come and go, either through a breakup or death. Often women compromise using their talents and the ability to achieve their full potential as a way to please their partner. If there is something you've always wanted to do, give yourself the time to at least explore the possibilities. This may require further education or simply giving yourself the space to do it.
6. A well-cared-for body and mind
It's easy to put ourselves last when it comes to caring for our own health. As part of the sandwich generation, we may still be taking care of children, spouses, and parents and neglect our own needs. Schedule regular doctor checkups and time for self-care. Go to a spa if that's what you enjoy and carve out time for exercise to stay fit and flexible. Focus on eating "real" nutritious food to prevent chronic illnesses or other health issues. You can't help others if you are a mess yourself.
7. A fabulous black bra
OK, this survival tool was a suggestion from that brilliant woman I mentioned at the top of this post. Just because we're over 50 doesn't mean we aren't still sexy. I'd like to amend that idea to a fabulous "wireless" bra because I can't stand bones sticking into my ribs, even though the "girls" are heading south. I wear a black sports bra most of the time. My mom, eventually, did away with her bra altogether and I can understand why.
I'd also like to add owning panties that don't fall off. Mine tend to slip down when I walk. I guess my butt is flattening as I get older.
Here's something we all need. It's a device that gently gets rid of chin hairs called Flawless and you can use it every day! I adore mine!
Keep track of business expenses with Freshbooks, by clicking here.
What are some of your survival tools for women over 50? Please leave a comment below and share this post.