The idea of "retirement" isn't the same for everyone. Not all of us who are over 65 worked a 9-5 job, put money away in a retirement account, or have means of support other than Social Security. You may be at retirement age but don't want to stop working and want to try new pursuits. There are a wide variety of interesting side jobs that will not only generate extra income and give you more freedom, but are fun to do as well.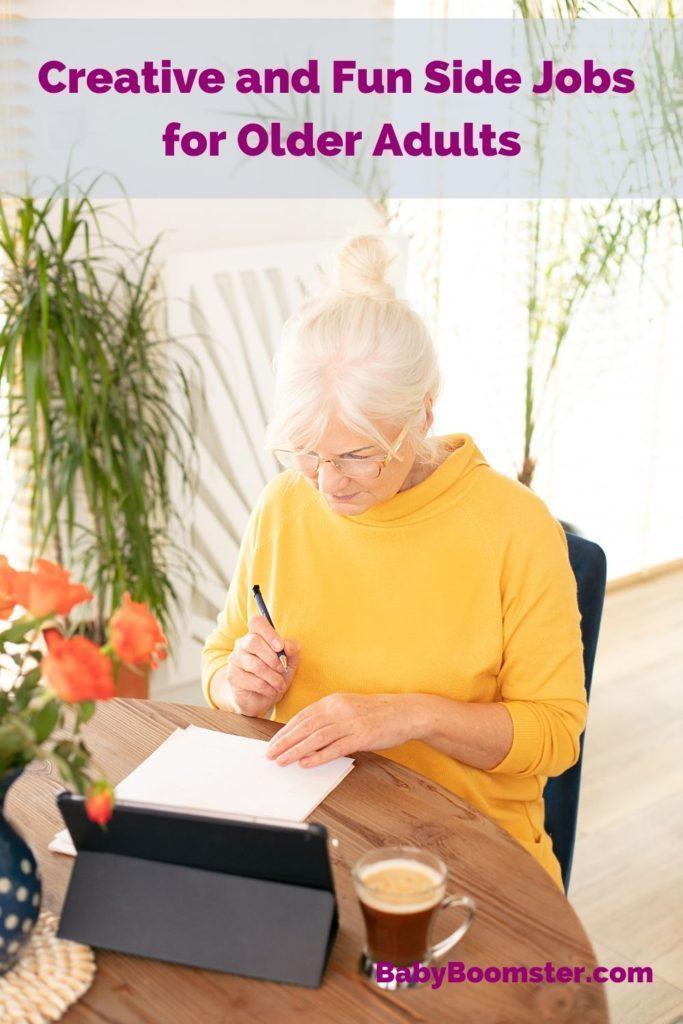 Watch me talk about ways to make extra money in the video below
Side jobs can be creative, stimulating and can even help make your dreams come true. For instance, if you are dying to travel, but need to cut back on expenses, you can become a pet or house sitter by becoming a member of TrustedHousesitters.com. You won't get paid but can stay in a home in another state or foreign country in exchange for your services.
That doesn't mean you can drop your suitcase and take off all day on a tour of the town or country you are in. A petsitter must meet their responsibilities to feed, walk, and care for the pets in their charge. But, it's still a great way to get to know locals and immerse yourself in the area you are in.
Below are creative and flexible ways to generate extra income that can be applicable to any age group.
Paid pet sitting
If you love animals, what better way to make extra income than taking care of fur babies? You can sign up for paid side jobs taking care of pets at Rover.com or Petsitting.com. Opportunities include boarding pets in your home, house sitting with drop-in visits, working at a doggy daycare, and dog walking, which is a great way to get exercise.
Babysitting and caregiving
Rent-a-Grandma places older women in homes as nannies, babysitters, caregiving providers, chefs, tutors, and companions. It is free to sign up but you may need to pay $25 for a background check in nonfranchised locations.
Mock juror
Lawyers often hire mock jury members to get their input on upcoming cases. Mock jurors do this online at home on their computer. If you watch the TV series "Bull" you will have an idea of how this works. A site like eJury.com pays $5 – $10 for each verdict, which isn't much but can add up over time. OnlineVerdict.com and JuryTest.net pays approximately $20 – $60 per case.
Blogger or social media influencer
Guess what? You don't have to be young to make money online. Many older people are successful bloggers or social media influencers.
One way you can get paid as a blogger is to promote affiliate products by inserting tracking links from brands you believe in into your content. If a reader clicks on a link and purchases something, you will receive a small commission. This can range from a few cents to 20 dollars or more depending on the brand and how much they buy.
An affiliate tracking link has a cookie that lasts a certain amount of time. If a customer purchases during that window you will continue to get paid. An Amazon cookie lasts 24 hours but some affiliate tracking links last much longer.
Brands commission bloggers to write sponsored posts and reviews of their products and services. They will usually pay a flat fee or send free products to try.
Another way to make passive income on a blog is to run ads from an ad network like Google Adsense. When a reader clicks on an ad you get paid. Bloggers also sell physical products, promote online courses, sell eBooks, or ask for donations.
To set up your own blog, click here.
Online influencers get paid by companies and brands to promote their products on social media sites like Instagram, Facebook, and YouTube. The amount depends on on how many followers you have and your engagement statistics. YouTubers with large followings who make videos in popular niches can make substantial income when viewers click on ads that pop up on their channel.
The overhead to work as a blogger, social influencer, or YouTuber is minimal.
Content Writer
If you do not want to set up your own blog you can write content for other blogs or magazines. The Writer Magazine and Writer's Digest are excellent resources to find work as a freelance writer. ProBlogger.com has a job board for bloggers and content writers.
Product Reviews and Focus groups
You can get paid to write product reviews and also give feedback or ideas to companies and brands. Survey Junkie will reward you for taking product surveys. Also, check out Swagbucks, ProductReportCard.com, and Thrifty Pig. I have tried out these sites. Sometimes all you earn is 10 cents if you don't qualify. It is a little time-consuming, but if you have nothing else to do, it can be interesting and eventually profitable. You can earn larger amounts if you try some of their offers.
Rewards for doing focus groups may include Amazon gift codes and free products. Focusgroup.com also offers incentives in exchange for your opinion on products that include reward points or visa debit cards.
Love to read?
Get paid $5 – $60 to read and review books by signing up at OnlineBookClub.com. You can also get work as a proofreader for authors or website owners if you have excellent grammar and spelling skills. Try ProofreadingServices.com.
Entertainment services
Do you love to dance or know how to call a Square Dance? Bands, singers, speakers, children's party characters, comedians, other entertainers, and event personnel can list their services and find gigs at Gig Salad and other entertainment-related side jobs at Gigslist.
Online techies
Are you tech-savvy and know how to set up websites, manage email lists, social media profiles, create graphics arts, or do virtual assistant work? You can easily build a freelance business by selling your services online.
To promote your business, you can join small business Facebook or Linkedin groups, sign up at your local chamber of commerce, or attend business networking meetings. Websites like Upwork or Fiverr will allow you to sign up for free, set your own prices, and list your services online. When a customer makes a purchase they take 20% of the price. You will also need to build up credits to be moved forward on both platforms.
Are you a hot shot photographer?
If you love taking photos and are good at it, you can shoot headshots for actors or business owners. Photographers can also do well by selling stock photos to sites like Adobe Stock, Shutterstock, Alamy, and Foap.
Teach what you know
As an older adult, you may have gained expertise over many decades that you can teach to others. Do you play piano, know a language, are good at math, chess, or pottery? Set up an online or offline consulting business to share your skills and knowledge with others.
If you love to travel, you can fund your vacations while you are away by teaching English online.
You can also provide useful information about topics you are an expert in on YouTube and monetize by earning ad income or upselling products.
If you are qualified, you may consider taking a side job as a substitute teacher.
Set up an online shop
Do you sew, make jewelry, crafts, create art, design notecards, or collect vintage items? Etsy makes it simple to set up a shop on their popular platform to sell your goods. They make a small commission off your sales.
Set up a print-by-demand business such as tee shirts, mugs, etc., by using a service called Gelato, then sell them on your website or other platforms like Etsy, Shopify, or Woo Commerce.
Declutter and make money doing it
Are collections of clothing, furniture, or objects taking up space in your home? Do you love to haunt flea markets? Make money selling collectibles, clothing, books, and even "junk" on eBay, Offerup, or Facebook Marketplace. They are all busy and effective platforms. Just be careful and aware of scammers.
Transcription services
If you are a decent typist you can transcribe audio recordings to text for medical and healthcare companies and other industries starting at $15 per hour. Check out TranscribeMe!
Baby you can drive my car
My dad, who loved to drive, drove a van that took seniors to doctor appointments well into his 70s. If you are like him, check with local senior ride services.
Many older adults have side jobs driving for Lyft or Uber, including my roommate. All you need is a decent car that passes inspection and the ability to deal with navigating and driving through traffic. All transactions go through the app so there is no need to handle money and you get paid through direct deposit.
If you prefer not to drive long distances, you can deliver groceries with Uber Eats or Instacart.
Want to work as an actor?
Test out your acting chops by appearing in a Murder Mystery. Murders always include eccentric older characters, right? American Immersion Theatre may have a part for you and some are even on Zoom.
Rent out your living space
Do you have an extra bedroom, guest house, or vacation home? Rent it out on Airbnb or VRBO. You can meet interesting people and get paid for your hospitality.
Side jobs I do not recommend
There are opportunities for side jobs out there that will get you to spend more money than you make. This is not something we need to deal with as older adults. They may include direct sales or multi-level marketing companies, real estate flipping scams, and sketchy cryptocurrency schemes. If an opportunity sounds too good to be true, run like the wind.
I worked in direct sales for 10 years and even though the products I sold were high-quality, they came at a cost. It included buying inventory, promotional products, booking meeting venues, attending seminars, etc. Few people become successful and make money and expenses add up fast.
Keep track of business expenses with Freshbooks, by clicking here.
There are many creative ways that you can make extra money doing side jobs. If you know of other side gigs appropriate for older adults or have thoughts about any of the above, please leave a comment and share it.