Are you frustrated because your Social Security payments only go so far and you want more fun and flexibility in your life? Does hanging around the house make you feel invisible while young people are getting things done? Have you thought about becoming an online freelancer to use your life-long skills to help others?
I interviewed Winton Churchill who is an author and business coach.
"What if, even in these crazy times, you could get paid to retire?"
That's the tantalizing question at the heart of the just-released book by earn-from-anywhere expert and author, Winton Churchill titled, The "New" Retirement: The Rise of the Gig Economy and How You Can Profit From It.
The answer Churchill delivers is straightforward: With more income in retirement, a person could enjoy life more….and there's an easy, accessible way to generate that income today, from home, that almost nobody talks about.
Source: Internationalliving.com
An apology to Winton
I told him I wasn't going to publish our Zoom interview but it was so delightful I just had to. You can watch it at the bottom of this post. He didn't get to fully set up his bluescreen and you'll see it behind him. I'm not wearing any makeup and my gray hairs are sprouting out but that's life during the pandemic.
About the author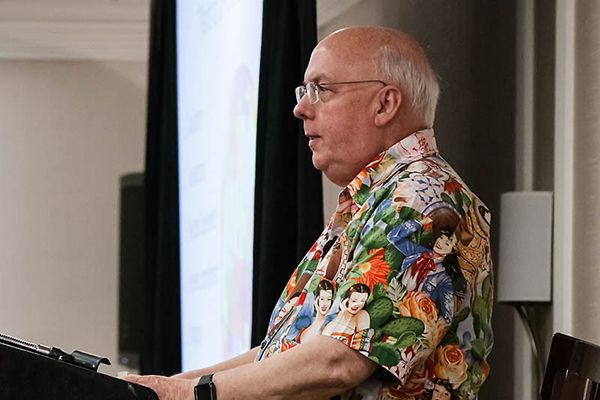 Winton Churchill is an author, speaker, and business coach and has been featured in numerous publications, podcasts, and other media. He is the founder of The Churchill Method, an international training and consulting company. Previously, he was President of the South Bay Association of the Chambers of Commerce which serves 18 Chambers and more than 53,000 businesses in Southern California.
His book is in collaboration with International Living Magazine which has been the leading authority for global retirement and relocation opportunities. Winton is involved with the magazine's Fund Your Living program.
Temporarily stuck in limbo
For the past decade. Winton has been living in Huatulco and San Miguel de Allende, Mexico. He was on a trip to the U.S. the day before the pandemic lockdown and hasn't been able to get back home. For the past two months, he's been staying in an Airbnb in Dallas waiting for the Mexican government to let him cross the border.
Why you may want to become an online freelancer
When you're not doing something to stay sharp, you're going backwards.

Winton Churchill
Baby Boomers often complain that they're out of work or bored with retirement. What they don't realize is that there is a multitude of ways to make money online as a freelancer or entrepreneur.
One advantage to working online is that you can do it from anywhere as long as there's an Internet connection.
One client Winton has coached works as a mock juror. If you watch the TV series Bull you'll know what that is. A mock juror replicates a real juror in a trial and is chosen based on that juror's personality traits. They help lawyers strategize how to win a case.
Another one of his clients accepted a contract to fill out a survey for money and made $45 before she got out of bed.
What prompted Winton to write about freelancing?
His coaching clients are mostly Baby Boomers and he often gets asked, "What can I possibly do online?" His answer: "What can't you do online?"
Baby Boomers have decades of experience doing things, solving problems, and plying their skills. Some have thousands of Power Point presentations or spreadsheets under their belts over the course of their career. But even though they have those skills and talents, they're like fish swimming in water. They don't realize they have such a rich and valuable skill set.
The biggest objection Baby Boomers have to get started is that they aren't acclimated to the virtual world like younger people. Winton helps Baby Boomers get through that portal.
He might ask:
What skills do you have that will make you useful online?
Then he will take them "through the tube and bring them out on the other side."
Once they realize they are doing the exact same job they did previously and begin to feel comfortable, they flourish.
In the world of freelancing you create a profile rather than a resume. A resume is chronologically oriented, and a profile is skills oriented.
Your domain of knowledge – the secret to working as a well-paid freelancer.
A coaching client may tell Winton they want to be a proof-reader because they used to be an English teacher and are good at it.
They may be an excellent proofreader but there are millions of others out there who can do it too. What will set them apart and make them the most money is if they are able to harness the uniqueness they have in their background.
What if you used to be an engineer, volunteered for fundraising for 20 years, or know everything there is to know about camping with Scouts? If you marry those skills with your domain of knowledge you'll make more money as a freelancer in the long run.
Working with the networks
The biggest obstacle that Baby Boomers and other freelancers deal with is not understanding how freelancing networks work. They may complain about how low the pay is or think the job is too small, not realizing that a "small job" is how they audition for bigger opportunities.
A company may hire a bunch of writers for the same assignment to see what they come up with. One writer may have done a cut and paste from Wikipedia. Another may not know anything about the field they're writing about.
Eventually, it narrows down to one or two writers. Those writers can then negotiate new terms and possibly form an on-going compensated relationship.
International Living's Fund Your Life program will teach you how to play the online freelancing game. So far, over 40,000 people have taken the course.
Every time you solve a problem you create a template. The more problems you solve the more templates you have.

Winton Churchill
What kind of freedom will extra cash give you?
When you earn $200 – $300 per week along with your Social Security check it can offset an expense like your phone bill giving you less stress and more freedom.
An extra $500 to $1500 per month will not only take away financial stress, but it can also be rewarding because you are helping others.
What's in the book
If you have been thinking about earning extra cash to take a vacation, pay some bills, or pursue a venture that you love, here is what Winton's book, The "New" Retirement: The Rise of the Gig Economy and How You Can Profit From it, will include:
22 questions to answer that'll expose the income-earning skills a reader has, but may not realize are monetizable and available to them.
23 one-click online resources most people have never heard of where, at the simple click of a mouse, they can source paying clients looking to pay people to do all sorts of things.
4 essential apps that make a portable income simple to manage—so freelancers always have what they need at their fingertips, it's a cinch to keep track of projects, and it's possible to earn from anywhere—no high-tech skills required.
3 "portable-income enablers"—free tools to parlay a go-anywhere income into a go-anywhere life and earn with ease on the road.
The vacation-rental strategy that makes it easier to book the right place at the right price—with special consideration for older travelers.
8 cool, free resources that connect freelancers around the world.
Revealing, real-world examples that show readers exactly how a bunch of people from different backgrounds took their "careers" and translated their skills and experiences online.
How (specifically and truly step-by-step) it's possible to find clients today.
More information on The "New" Retirement: The Rise of the Gig Economy and How You Can Profit From It, including a Q&A with the author, can be found: The "New" Retirement: The Rise of the Gig Economy and How You Can Profit From It
Please watch the video of our Zoom interview below and enjoy my delightful conversation with Winton Churchill.
Keep track of business expenses with Freshbooks, by clicking here.