Aging is inevitable, but it does not have to be awkward. Approaching retirement gives rise to many debates and one central question is what are your housing choices are going to be? The great news, now, is that downsizing is not the only option available to you. Enter the practical, stylish, yet affordable private residential elevator marketplace.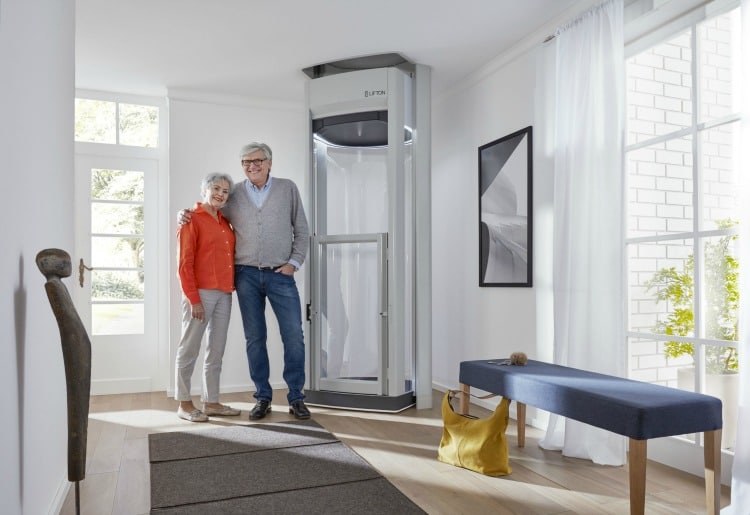 More and more homeowners are installing a residential elevator in their properties to allow complete freedom and independence to access all areas of their homes now and in the future.
Elevator companies are leading the charge with sleek designs and fast, smooth travel experiences. Designs are made to work in the home and functionality means the stairs need never limit your ability to move freely around your home again.
Through-the-floor home elevators, specifically, are creating a buzz as, usually, they are modular, versatile and no major building modifications are required. They install in around one day, and there is no lift pit, shaft or noisy machine room. Some are even self-supporting and plug straight into a domestic plug socket, meaning placement choices are endless and operationally the elevator is very energy efficient.
Technical excellence is being matched by design in equal measure, so homeowners will not expect to see the bulky, clunky designs of days gone by. Instead many of the home elevators available to buy are capsule-shaped with ambient lighting and available in a selection of beautiful finishes.
Popular configurations for installing a home elevator are from your main living area to master suite, or hallway to landing or from cupboard space to cupboard space if you prefer total discretion.
There is even one national residential elevator company by the name of Stiltz who has installed a home elevator in the void of a turning staircase.
Mark Blomfield, president at Stiltz Home Elevators explained: "A Stiltz home elevator is modular and slimline and that makes it supremely versatile. Our customers tell us where they would like the elevator and it is almost always possible.
"The elevator arrives in modules and is assembled on site. Some are transparent so natural light floods through and there is a range of models to suit your specific needs – such as a two-person standing model or a model that accommodates a wheelchair or walker.
"Our customers are delighted with the flexibility of our elevators and they tell us after installation that it has quite literally changed their lives."
Having a residential elevator in your home is becoming a more and more popular alternative to downsizing as Americans favor 'home improve' over 'home move'.
Previously, a traditional residential elevator would have taken up a large area of space in a room and would have required electrical wiring, a supporting wall, and noisy hydraulic equipment. Now a home elevator can take up a minimal space, comfortably carrying two passengers up one level in under 30 seconds and the style and design are reflective of the existing living space.
Moving from your home can be stressful and expensive. Now with these various types of new-generation residential elevators, homeowners can stay at home and stay put.
This post has been sponsored by Stiltz Home Elevators and I have been compensated for posting it. However, all my opinions are my own.