I love how colorful Rainbow Swiss chard is. It's also known as "bright lights!" My farmer's market was ablaze with it and I had to grab some. The Rainbow Swiss Chard Sauté recipe below has a Spanish influence.
Enjoy this Rainbow Swiss Chard sauté recipe!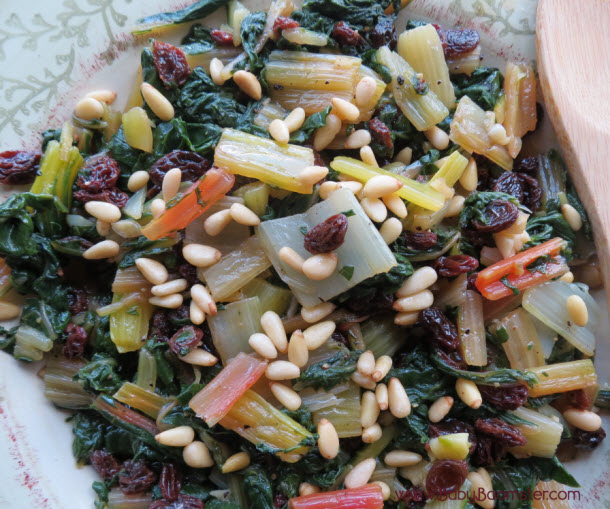 Rainbow Chard Saute
A colorful side dish made with nutrient-dense rainbow chard.
Ingredients
2

bunches rainbow chard chopped. Stems and Leaves

3

Tbsp

extra virgin

3

cloves

garlic chopped

3/4

cup

Seedless Raisins

soak in water for 10 minutes

handful pignolis

pine nuts toasted

salt and pepper to taste
Instructions
Chop the chard, both stalks, and leaves – remove strings

Place the chard in a large pot of boiling, salted water and cook until tender. (about 25 minutes)

Drain the chard and set it aside

In a skillet, saute the garlic in oil until it is slightly golden. (about 1 minute) Don't overcook.

Drain and add the raisins and cook for 1 minute.

Add the chard. Season it with salt and pepper and toss in the skillet for another minute or two.

Serve it hot and sprinkle each serving with the pignoli's (pine nuts)
I used Malaga raisins from Spain, although any raisins will do. They're made from Muscatel grapes that grow in Andalusia and are known as "black pearls." Make sure to remove any seeds if they aren't already seedless. Organic raisins are always best.
Swiss Chard is less bitter than spinach, is a Mediterranean favorite, and one of the world's healthiest vegetables.
Eat your vegetables and enjoy Rainbow Swiss Chard!
Rainbow Swiss chard contains at least 13 anti-oxidants, including syringic acid that helps regulate blood sugar levels. It also has many cardiovascular benefits. Betalains, another nutrient found in chard, will detoxify the body and reduce inflammation.

If you're looking for extra energy, chard fits the bill as it's an excellent source of vitamin B1, B5, biotin, niacin, zinc (immune support), and folate (heart-healthy). It's high in calcium and bone-building nutrients such as vitamins K, A, and C.
Try cooking with chard instead of Spinach for a colorful and different taste.
What's your favorite way to cook Swiss chard? Please leave a comment below.