So, you're retired or nearing retirement age and looking for new paths to conquer. Many of us seek reinvention opportunities to add purpose to our lives while others want to improve their situations. The process can be exciting, stimulating, and fun. But, did you know you can be easily bamboozled by salespeople using techniques such as NLP?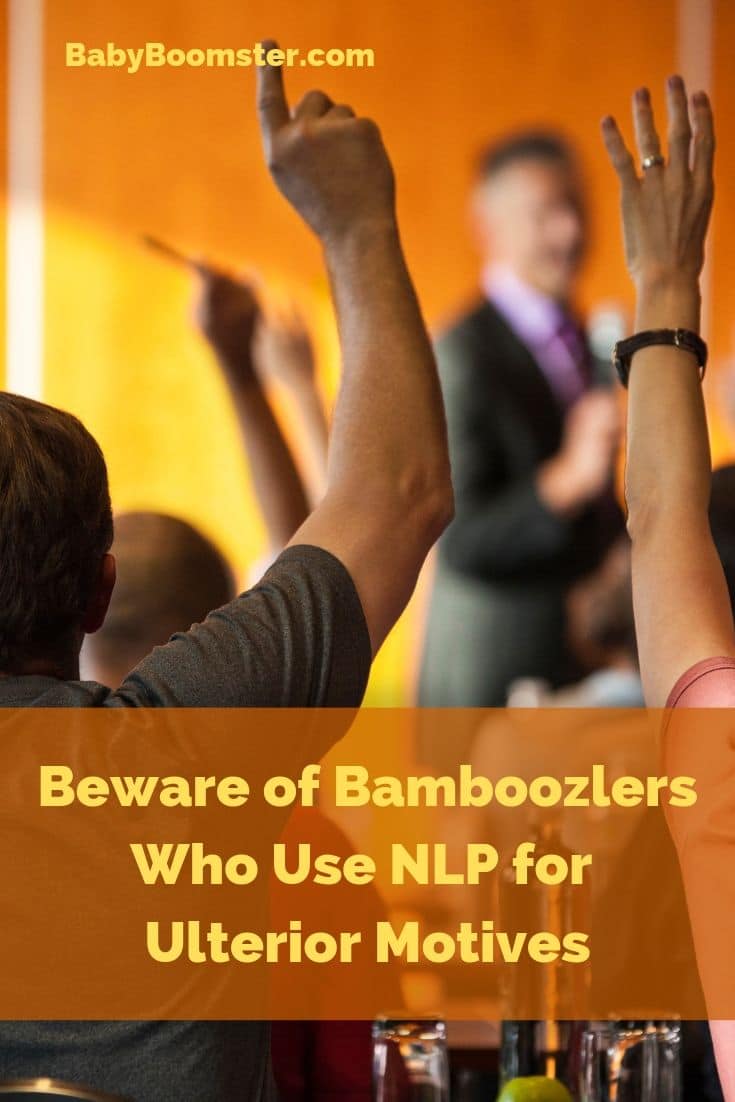 It's important that you know what to look out for, and even more importantly be separated from the money you dearly need, especially as you grow older.
My father was a salesman and I worked in sales for over a decade. I'm familiar with the scripts, strategies, and manipulating techniques that go into making a sale. If you're not aware of them your money will fly out of your pocket and into someone else's before you even know it.
Neuro-linguistic programming – NLP
Have you ever been to a seminar, time-share presentation, or sales meeting where you are coerced to purchase whatever the speaker or salesperson is hawking. At "motivational seminars" sometimes thousands of dollars in transactions are completed in minutes.
Seminar speakers often use a technique called neuro-linguistic programming (NLP) that was developed in the 1970s as a hypnotherapy modality. It's a method of communication that combines psychotherapy, motivation, and behavior patterns to achieve the desired outcome.
The original intent of NLP was to be used for a good purpose as a way to program the brain for self-development or to break bad habits. However, shady marketers embraced it to offer vulnerable "victims" huge promises (like becoming a millionaire overnight) as a way to increase their wealth.
Older people are often targets of these marketers because they have retirement accounts, property, or other means that can be easily drawn from.
How do you know if a "salesperson" is manipulating you?
I've attended several so-called seminars. Who can resist a pitch to give you a millionaire mindset, right?
Speakers often end sentences with "Yes? Yes?" "True? True?" This method of repetition is meant to program the audience that what they are saying is an absolute fact. Once they've been indoctrinated, they're convinced that the "program" offered is answer to everyone's prayers.
Excited and encouraged audience members then rush to the back of the room to purchase the "must-have" products. I sawy some who bought $5,000+ programs without even taking time to think about it.
Most of these people are charming, positive, and excellent salespeople. It's easy to get sucked in but you have to be aware that they're out to make big bucks.
The reality
About 99% of people who purchase seminar speakers expensive programs never become successful and most don't even act on their purchase. I've also seen people spend money on items that could have easily been purchased at about 1/10th of the cost.
A friend bought a program that promised to create an online website business. The company she purchased it from helped her set up her website but had complete control over her content. When she decided she had enough, she had to jump through hoops to get her content back. She could have built her website for almost nothing, which would have allowed her to have complete control of everything.
I attended a real estate flipping seminar. The person I went with spent ¼ of his pension payout buying a membership and never did bupkis with the business.
The truth about network marketing
Many Baby Boomers go into direct sales or multi-level marketing businesses as a reinvention opportunity. Network marketing offers a pre-made business plan with specific steps to follow if you want to achieve success. It's much easier and less expensive than starting a brick-and-mortar business and there's always tons of support.
But those companies incorporate NLP as well and lure people in with promises of success and camaraderie. I'm not saying they're bad as I was quite successful for a decade in one of them. I went to the seminars, learned the scripts, and bought and sold the products just like everyone else.
I loved that company and still do. Their positive outlook on life helped me get through the death of my husband and there's nothing wrong with that. But, after coming out of my hypnosis (NLP in action) I realized I was spending money I didn't have to, I was bothering all my friends and trying to recruit them, and I wasn't making a whole lot of money even though I made it to the top 2 percent of consultants.
Almost all network marketing companies have a cookie-cutter method for success. If you follow the steps, you will reach your goals to some extent. But, again, only about 2 % who sign up follow the plan. Most get frustrated, drop out, and some even get pissed off. If you do decide to join a network marketing company make sure it's well established because even some of the big companies have gone under leaving their consultants hanging.
How to know if you are being bamboozled by NLP
I'm not a neurolinguistic programming expert by any means but there are certain "behaviors" to look out for. Salespeople first determine what side of the brain a person uses most. People are either left-brained (logical, analytical) or right-brained. (creative) They may even encourage you to take personality tests for more information.
Then, they study a person's body language and speech patterns and attempt to mirror them. This makes their "victim" feel comfortable and the salesperson relatable.
If they notice a person is visual, they may say, "Look at it this way" or "Do you see what I'm saying?" If they are auditory, they will say, "Hear me out" "Doesn't that sound good?"
They use manipulation to create an emotional state like financial stress and then anchor it with a word, sound, or something physical so that it will be felt on command.
Certain phrases are repeated frequently so they become embedded in the brain. They may not even be true.
In case you didn't know, some cult leaders, news outlets, religious organizations, and politicians use NLP techniques.
NLP is an effective technique when used for a good purpose
Hypnotherapists use it to help people with stress, fear, confidence, and grief. I've been through several sessions and always love how I feel afterward. Affirmations, visualizations, positive self-talk, and anchoring are all part of it and are powerful self-help tools. If you've never had a hypnotherapy session, I recommend that you try it but make sure you use a certified hypnotherapist.
Pay attention and don't take the bait
Be aware when NLP is being used to bend your mind toward a certain opinion or an action like a sale.
If you feel someone is using NLP, untowardly, ask yourself these questions:
Are they repeating phrases?
Is what they are saying true?
Am I being manipulated by what they are saying?
Is what they are offering too good to work?
Can I get the same or better results elsewhere?
Will I follow up or am I just kidding myself?
The last thing vulnerable older people need is to lose their nest egg especially when it can be avoided. Next time you're listening to a time-share presentation (we all get talked into them) attend a motivational seminar or watch a TV show, commercial, or news show, take a moment to determine if you are being programmed, especially if you're the impulsive type:
Take a breath. Maybe take several breaths.
Sleep on it before you take any action. (forget about the HUGE discount if you order today – it will probably be there tomorrow)
Make sure what they are saying is true and do your research.
Ask others for advice who are not also under hypnosis.
Use your common sense.
Have you ever purchased or done something because a person used NLP on your in a shifty way? Please tell us about it by leaving a comment below.