To all of you in long committed relationships, I applaud you, but it isn't always the case for older women. You may have gotten divorced, been widowed, or are in an unsatisfying relationship and have lost interest in love because of it.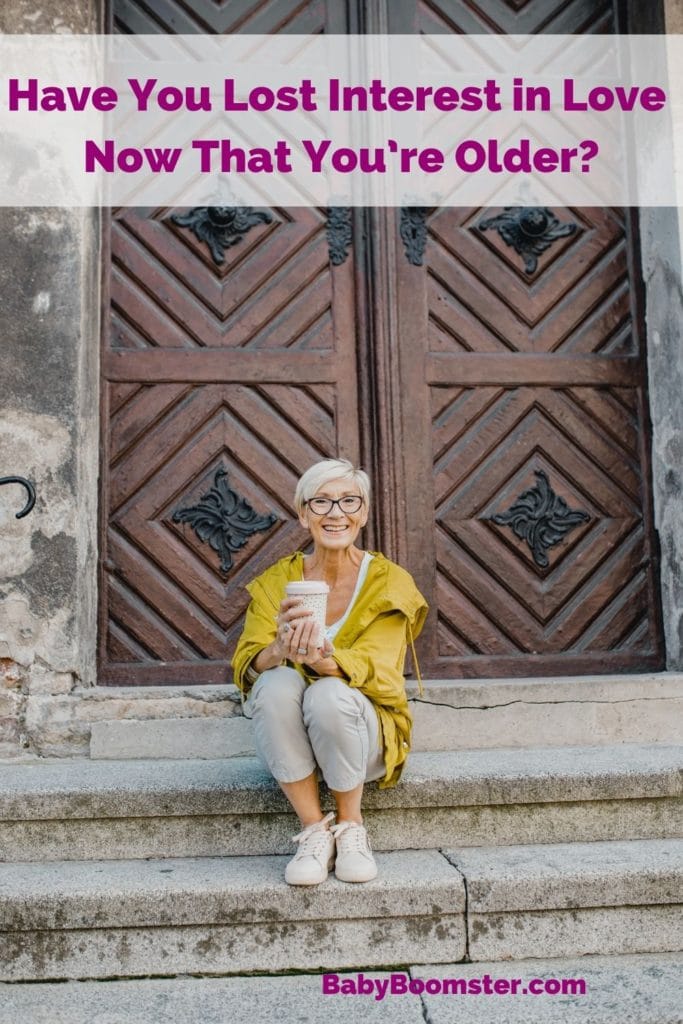 Don't beat yourself up
Being in a relationship isn't the end all be all. I was in two long-term relationships. Though it was nice it wasn't perfect. Both died of cancer, which was difficult and sad. Now I'm on my own and enjoying it because it's incredibly freeing. I don't have a desire to look for love right now because I finally have time to discover who I really am. If you're in a similar situation, I recommend that you enjoy YOURSELF for a while.
Living with other women
I have always flown by the seat of my pants financially being an actress for 40 years and now also a blogger. The guys I was with were in the film industry and left me nothing, or mostly nothing because their profession was always unpredictable. The last one never bothered to divorce his wife, even though they were separated for 35 years. I did all the work, and she got his pension. I will NEVER do that again.
It's tempting to find a man for financial reasons but now that I live with two other women in two side-by-side homes on the same lot, I can manage living in Los Angeles, which is a wonderful but incredibly expensive city.
A friend of mine who is in her 60s and lived alone had a stroke. She is now in a care facility for dementia. She sat there for days in her home before someone discovered something was wrong with her. That's a scary thought. At least if something happened to one of us, we would know about it right away.
You don't have to live like a nun
Losing interest in finding a love relationship doesn't mean you can't have fun. If a guy turned me on, I would be open to exploring it but would prefer he went back home afterward so I can sleep in my own bed. I'm done with snoring, closing the lid on the toilet, sneaking packages into the house, and dealing with fussy idiosyncrasies. I'm also not sure I was made for monogamy.
Done with caregiving
There's no way I want to nurse a sick guy again if I can help it. I've done that for two men and two dogs. However, I might get a dog once I pay off my vet bills because dogs can't talk.
Do I see a pattern here?
My roommate is bossy and likes to direct things like how to design a cheese plate, or what art goes on the walls, but most of the time she's in her room watching TV so it works out. The odd thing is, both of my love relationships and my roommate were all cinematographers, who are notorious for being bossy. If I do get into a new relationship, he better be laid back, healthy, and rich. I know that sounds shallow but otherwise, why bother?
The joys of traveling solo
I may have to win the lottery first, but I would jump on a plane in a second by myself. The only reason I would want a man along is to pay for it and to figure out international currencies because I suck at it. I like being on my own timetable so I can enjoy the sights in depth. My late boyfriend loved to travel and was good at currency, but he would throw embarrassing tantrums when he drank too much, putting a damper on the experience.
My only issue with traveling solo is that I don't love to drive. That may get better after my cataract surgery but right now having spots in front of my eyes makes driving across town scary. Planes, trains, subways, tour buses, and walking are perfectly fine with me.
In the meantime, I enjoy traveling with my daughter. She always off somewhere and I'm her official dog sitter. She treats me to occasional trips in return. We always have fun but she walks incredibly fast and I get out of breath trying to keep up.
The real reason older women lose interest in love
There are other reasons, besides menopause that women lose interest in love.
I could never understand why a young woman would want to date an old geezer. I knew women in Hollywood as young as 21 who had 70 or 80-year-old boyfriends. It always seemed gross and even though I'm in my 60s it's still kind of gross. Maybe I'm weird. Besides, there are battery-operated solutions that are much more reliable.
I'm sure my days with young studs are over, especially because I need to lose weight, but would that be so bad?
How about you? Have you lost interest in love or are you pursuing the dating scene full throttle? Please, leave a comment below.