Relationships change over the years and if you are a woman over 50 you may have experienced this. The romantic fervor you had as a couple may have fizzled and now you are more like roommates. Does your now platonic relationship with your spouse or partner make you feel like you need something more, or are you content with it?
It can be frustrating to see long-term couples who are still madly in love when you and your partner are sleeping in separate bedrooms. You may worry that your private parts are getting old and atrophied. Or, you may find yourself sleeping better by yourself and are happy that you have someone as a companion rather than a lover.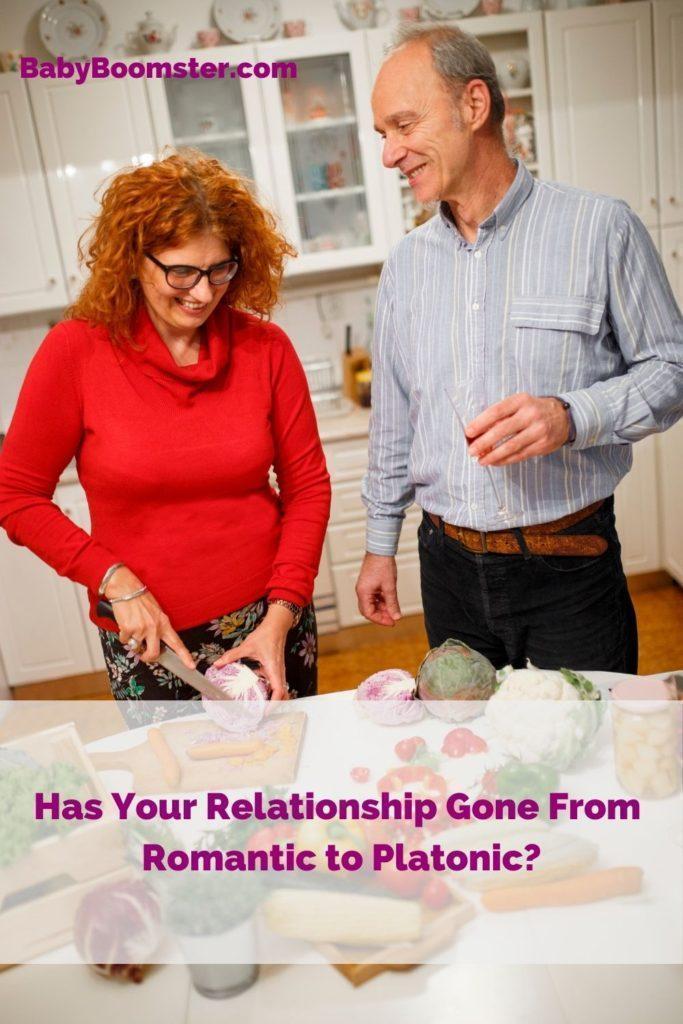 There are benefits to both types of relationships. It's all about what makes YOU happy
Menopause often makes women lose their desire but not always. It could also be that your spouse can't perform anymore, and it stresses him out to try. There are medical or psychological conditions that make lovemaking difficult as a person ages. A couple who is happy together can still cuddle and coo but sometimes the fire is no longer there.
Divorce or moving out may not be feasible for a variety of reasons
One reason older women stay when their relationship turns platonic is because of finances. It may be too expensive to live on your own especially if you do not have money put away. Your relationship may be even toxic but leaving would be harder and more taxing for you.
If you are in a safe space, meaning your partner is not abusive, you can make it work by living as "roommates." It's not the best of situations but may give you time to either leave or work out your issues.
If you are in an abusive relationship, you MUST get out. It puts you in constant danger and is not worth the stress.
Your relationship is no longer romantic but you are best friends
Companionship is often more important to older people than maintaining a romance. As "friends" you never have to go out alone, you have someone to accompany you on vacations, help you with chores, take care of your pets, or play with your grandchildren. If you enjoy each other's company, why mess up a good thing?
It's safer to be with someone than to be alone
I'm sure you've seen the commercial "I've fallen and can't get up!" As we age, it's safer to live with someone than live alone. You or your partner could become ill, fall, or you could both experience a natural disaster. If you stay together there will always be someone there to call 911, cook meals when you are sick, or be there to help in an emergency.
You can decide on dating boundaries
Dating after 50 is exciting for some people and terrifying for others. Nowadays, everyone is using dating apps which is fine, but if you are happy with your "companion" why bother? You can still go out, have fun, and not be alone.
However, if finding a lover is important to you, which it is to many women, you could go the unconventional route and make an agreement with your partner to have an open relationship. We grew up during free love, so that could be appealing depending on how you both can tolerate it. It's not for everyone but works for some.
Why simply being friends may have some drawbacks
You may get pushback from others who may feel you deserve better. That may be true, but it all depends on what feels right for you and how you are able to deal with it.
I was in a relationship that went from extremely romantic to platonic due to my partner's alcoholism. We lived together for 15 years until he passed away from cancer. He could be a big pain in the butt sometimes but was not physically abusive, although he could get obnoxious sometimes when he was drunk.
We slept in separate bedrooms but shared two dogs we both loved. It wasn't the best situation, but it served me financially and I had a great travel and event companion for a while. I was there to take care of him when he became ill and was able to live in a nice area of Los Angeles because he had a pension.
If I had to do it over again and could afford it, things may have been different. But, for many reasons, I don't regret it.
Do what feels right for you
Being together in a platonic relationship when you are older can be satisfying and enjoyable.
Has your relationship become more platonic than romantic? How are you dealing with it? Please leave a comment below.