Beginning in October early winter squash is in abundance. They're in all shapes and sizes, each tasting delightfully delectable. Delicata Squash is grown at the beginning of summer and is ready to pick within 80 – 100 days. There are so many ways to serve it but I was inspired to create this recipe using gouda cheese and fresh thyme.
Enjoy this recipe!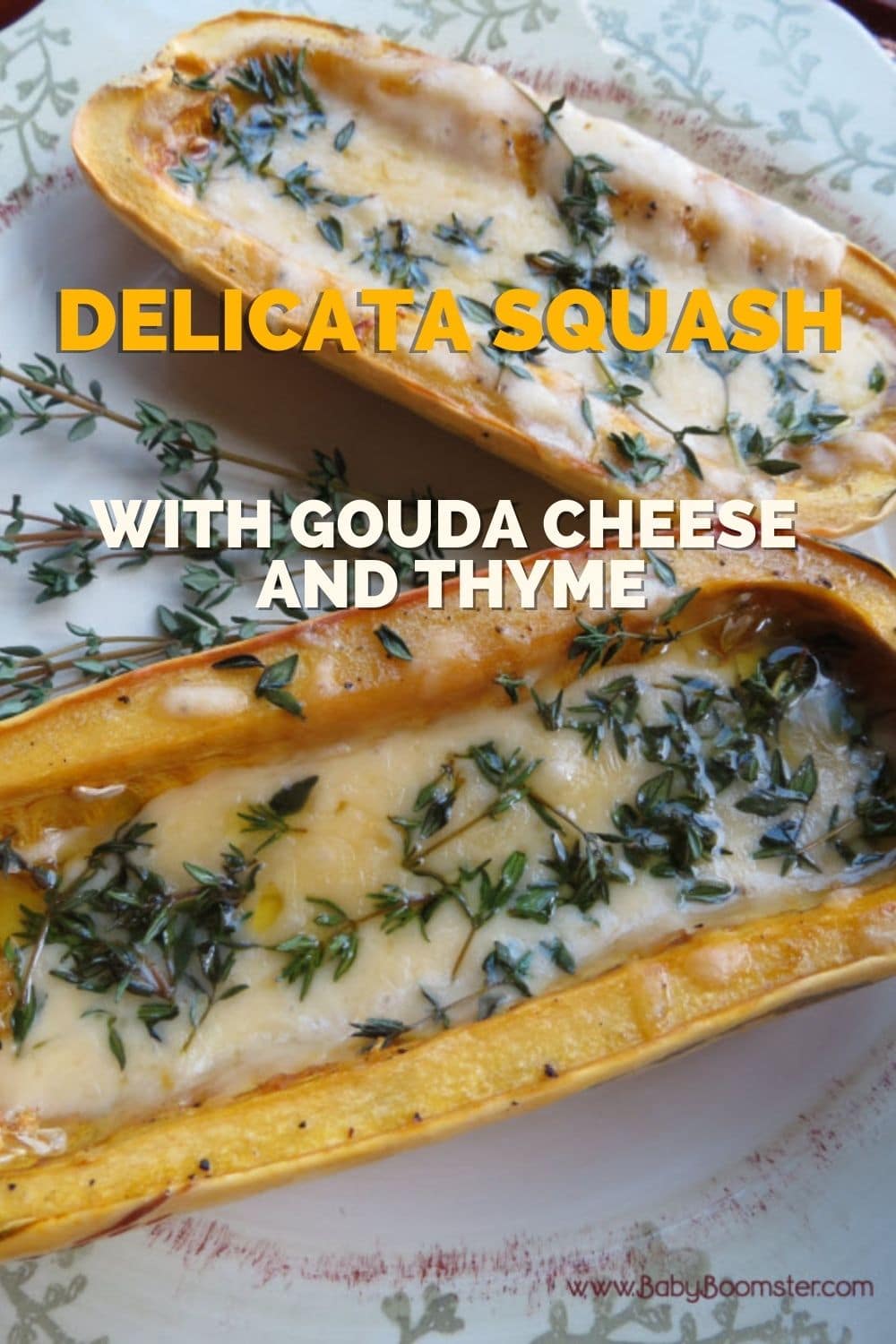 Delicata Squash with Gouda Cheese
Enjoy piping hot Delicata Squash half with melted Gouda cheese and thyme for a savory and light lunch or side dish for dinner.
Ingredients
1

Delicata Squash

1

Tbsp

extra virgin olive oil

sea salt

pepper

1/2

cup

shredded Gouda cheese

1/4

cup

of chopped fresh thyme
Instructions
Preheat the oven to 350 degrees

Split the Delicata squash in half and scoop out the seeds

Place the squash halves into a baking dish

Drizzle the tops of the squash with olive oil

Season with sea salt and pepper

Bake the squash for 45 minutes

During the last 5 minutes, take the squash out of the oven and fill the cavities with the shredded Gouda. Sprinkle with chopped thyme.

Continue to bake until the cheese is melted.

Serve
It's delightful and perfect for a light lunch and a savory treat.
Delicata squash and other winter squash are some of nature's healthiest foods.
Winter squash is an important source of carotenoids, which are antioxidants. The carotenoids in winter squash include alpha-carotene, beta-carotene, lutein, zeaxanthin, and beta-cryptoxanthin.
Even though we think of it as a type of starch, it comes from polysaccharides found in the cell walls. They are anti-oxidant, anti-inflammatory, anti-diabetic, and will regulate insulin. One cup of baked winter squash will provide you with approximately 340 milligrams of omega-3 fats in the form of alpha-linolenic acid (ALA). Although it doesn't contain an as high amount of omega-3 fats as food like walnuts, it's still beneficial and not as fattening.
If you're an official cheese head like me, you'll find it hard to resist. But you can stuff it with just about anything like quinoa, nuts, seeds, etc.
Looking for more vegetarian recipes? Try this garbanzo bean salad or this kale and quinoa casserole.
This recipe was originally published in Oct 2013 and updated in Oct 2020
What do you like to stuff in squash? Please leave a comment below.