I interviewed Matt Schultz with Compare Cards who gave me insight into the ins and outs of choosing credit cards for Baby Boomers. As we get older, we may want to reassess the cards we have and make changes to give us better benefits. His tips were enlightening to me and I hope they will be for you.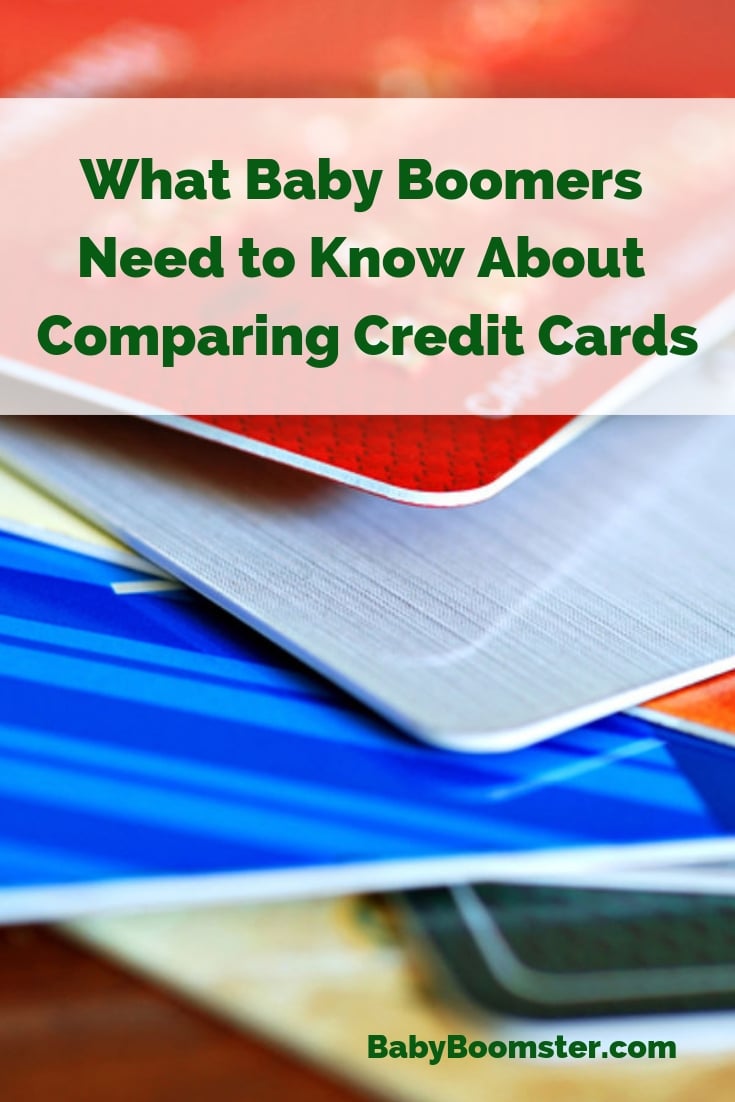 Have you changed cards lately?
Baby Boomers are the age group most likely to never change their primary credit card. In a recent survey, 37% of Boomers said they haven't changed cards compared to 31% who have. What that means is that there are an awful lot of Boomers who are missing out on the best deals for credit card rewards.
Deciding to make a switch
If you have a credit card that's working well, gets you all the rewards you're looking for, and has an interest rate that's reasonable, then you probably don't need to make a change. But the truth is, a credit card that's over 10 years old is a little like a decades-old pair of pants or jacket. It probably doesn't fit you as well as it used to.
If you haven't changed cards in a long time, you may want to look around to see if you can get more out of the card you currently have.
Should you get rid of an old card?
It depends. If your card doesn't have an annual fee associated with it, you don't need to get rid of it. You can either stick it in a drawer and not use it or put a small recurring charge on it, like your Netflix subscription, to keep it alive for credit reporting.
If it has an annual fee, and you're not going to use the card anymore, you may be better off canceling the card. The impact on your credit for closing the card won't be so substantial that it warrants still paying the fee. If it's your oldest card, and you've had it for a long time, then the calculus changes a little bit. It all depends on your situation.
What typically hurts your credit the most when you close a card is damaging your utilization rate. The rate is determined by how much debt you have, compared to what your available balance is. If you have a $5,000 balance and $20,000 in available credit, your utilization rate is 25%, which is fine. If you close one of those cards and all of a sudden your available credit is only $10,000, your utilization rate goes up to 50%, which can hurt your score.
What you can do to mitigate that is to ask one of your available credit card issuers to increase your credit. Or, you can apply for a new card that has more benefits to replace the one you're closing.
What kind of card should older people look for?
There isn't a one-size-fits-all answer. The best advice is to "know thyself." How will you use the card and what do you want to get out of it? Once you know, that will help you decide what you should do. If you're a retiree on a tight budget and you just want to get cashback to extend your budget, then a cashback card might be a good choice. If you're newly retired and want to get out and travel, and you want to reduce your costs, then a travel points or miles card may be the way to go.
Cashback or travel rewards card?
A cashback card may be the best deal in the long term but also consider that travel cards often offer a hefty mile bonus when you sign up. It could get you a free airline ticket or a couple of free hotel nights. On the other hand, a good cash back card can be as good as any card out there and you don't have to jump through the hoops that may come with a travel rewards card.
What should you look for in a card?
If you're someone who carries a balance on a regular basis, a rewards card probably isn't the best fit for you. The interest you'll pay will often outweigh any rewards you earn. Instead, focus on rates and fees. If you pay off your balance each month and are looking for rewards, then go with a card that fits well with your lifestyle and travel goals.
There are cards that are specific to a single airline or hotel chain, which is good if you're loyal to them. There are also cards that give you generic points or miles that you can apply to any travel purchase. It doesn't matter what hotel or airline you use. For most people, flexibility is the most important factor in choosing a rewards card.
For Baby Boomers specifically
As a Boomer, your peak earning years are most likely behind you. Make sure you don't overspend just to get rewards regardless of how lucrative they may be. The math will work against you if you end up carrying a balance. Signup bonuses are generally given after you spend anywhere between $3,000 to $5,000 dollars in the course of 3 months after you initially get the card. If you don't feel comfortable spending that much to get the bonus you should look for a different card.
About Compare Cards by LendingTree
Compare Cards is a marketplace where people go to look for credit cards and get information on how to acquire and use them wisely. The company does deep dives into the fine print on cards. They also do public polling and research on various topics studying people's perceptions and behaviors on how they use their credit and debit cards.
What is the advantage of using Compare Cards?
Compare Cards gives you the option of comparing credit cards side by side. Under each card, there's a block that reads "add to compare." You can see any cards you choose on a single page as well as the most important information you need to compare them.
You can also choose cards based on your credit as well as by category – That includes cashback, travel rewards, various banks, and credit quality.
Have you updated your credit cards lately, or are you still using cards you've had for decades? Please leave a comment below and I hope these tips have been helpful.
Need a trust or will? Click here.
Disclaimer: I DO NOT have an affiliate relationship with Compare Cards or Lending Tree but I thought the information that Mr. Schultz imparted would help other Baby Boomers wisely choose their credit cards.