Can I have a little more, please? That's how I feel when I eat Chunky Crab Gazpacho or any gazpacho for that matter because it reminds me of my trip to Spain.
Enjoy this Chunky Crab Gazpacho recipe!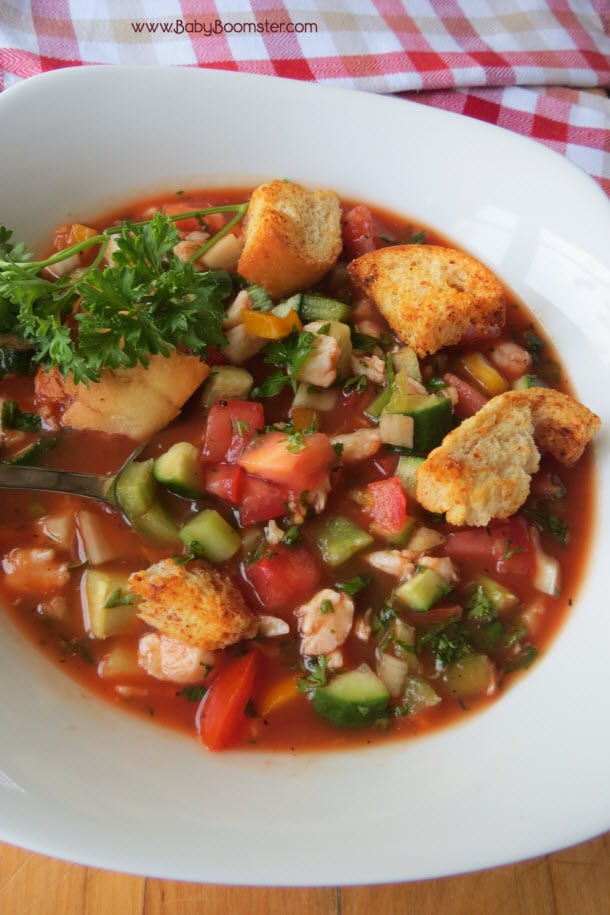 Chunky Crab Gazpacho Soup
This delicious gazpacho can be made vegetarian/vegan and gluten-free. It's a delicious summer and party dish.
Ingredients
1

cup

chopped celery

1/2

bunch of Parsley

chopped

1/4

cup

of red wine vinegar

32

oz

of vegetable juice

like V8 or natural vegetable juice found at a conscious grocery food store

1

cup

of chopped tomatoes

ripe

1/2

cup

each of yellow and green bell pepper

for color

3

cloves

of garlic minced

1

large cucumber

or 2 Persian cucumbers chopped

1

cup

of vegetable broth

salt and pepper to taste

1/3

tsp

of red pepper flakes

juice of 2 lemons

grated peel of 1 lemon

1

lb

crab meat

fresh or canned (leave out for vegetarian)

croutons

optional – leave out for gluten-free
Instructions
In a large bowl add all the ingredients except for the crab meat and croutons. If you prefer it smooth, pulverize these ingredients in a blender. Chill well before serving. When ready to serve, fold in the crabmeat and garnish with croutons and parsley sprigs.
Notes
Feel free to add hot sauce to it if you wish for extra heat.
Soup is one of the best ways to get the nutrition you need without excess calories, but it's sometimes too hot to eat in summer. That's why I love making gazpacho! It's a cold soup, is refreshing and blended with colorful vegetables. You can make it smooth and blended like traditional gazpacho or leave it chunky.
I'm not a fan of fake Krab. I don't know who invented it but it's God awful. If you can't find fresh crab look for a good canned brand. That way you don't have to crack it. Just make sure to check the label to make sure it doesn't contain excess salt or preservatives. Crown Prince has excellent wild-caught natural crab in cans. Even better, catch your own. It's good exercise.
What's your favorite way to eat fresh crab? Please leave a comment below.