Don't feel guilty about eating something a little decadent once in a while like my scrumptious no-flour chocolate almond torte recipe featured below. You can't spend your life depriving yourself of life's simple pleasures.
Enjoy this recipe without guilt!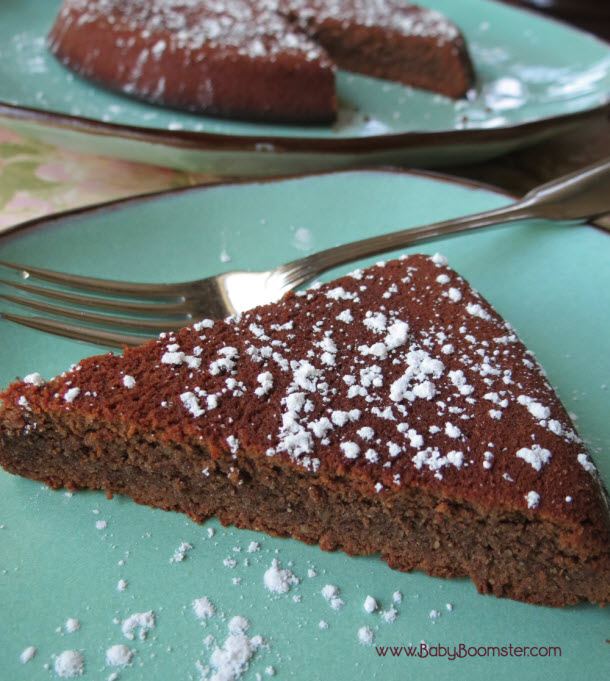 Chocolate Almond Torte
A decadent dessert recipe that has health benefits too. Don't feel guilty!
Ingredients
4

eggs

at room temperature

1

cup

raw almonds

1

cup

of sugar

1/2

cup

of unsweetened cocoa

1-2

Tbsp

of Triple Sec or other orange-flavored liqueur

optional

powdered sugar

butter
Instructions
Preheat the oven to 375 degrees

In a food processor or blender, beat the eggs until they are light and foamy (about 1 minute)

Add the almonds and process until they are finely ground.

Add the sugar and then cocoa (1 Tbsp at a time until well blended)

Add the Triple Sec.

Butter a 9″ pie or cake pan and pour the torte mixture into it.

Place it on the middle rack of the oven and bake for 25-35 minutes or until the torte comes away from the sides of the pan.

Let it cool for 10 minutes

Turn onto a serving plate and dust with powdered sugar.
I used organic cocoa powder, organic sugar, and raw nutritious almonds to make this chocolate almond torte.  You'll love it with a nice hot cup of coffee or cocoa.
I'm not a huge baker, but what I love about this recipe is that it's so easy to make. All you need is a food processor or blender to blend the ingredients. Pour it into a pan and bake. There's very little mess involved and anyone you serve it to will be impressed with its elegant sophisticated appearance and divine taste. Since it doesn't contain flour, it's also gluten-free.
Just 1 tablespoon of unsweetened cocoa powder contains 3 to 9 percent of the recommended daily intake of iron, manganese, magnesium, and zinc and will help improve your immune system. It's also filled with powerful antioxidants that will help relieve inflammation, improve blood flow, and lower blood pressure.
Almonds are packed with over 20 Flavonoids and are an excellent source of Vitamin E. They help prevent cardiovascular disease and diabetes by lessening the increase in cholesterol-damaging free radicals that accompanies large elevations in blood sugar.
Do you love chocolate? What are your favorite chocolate recipes? Please leave a comment below.