As the pandemic continues to rage on despite some people trying to sweep it under the rug, we Baby Boomers are adjusting to the new world we are living in. And, it certainly hasn't been easy.
There are plenty of things to worry about these days whether it's the extreme unrest that has taken over our cities, financial insecurity, divisive politics, being stuck at home, and, of course, catching the virus.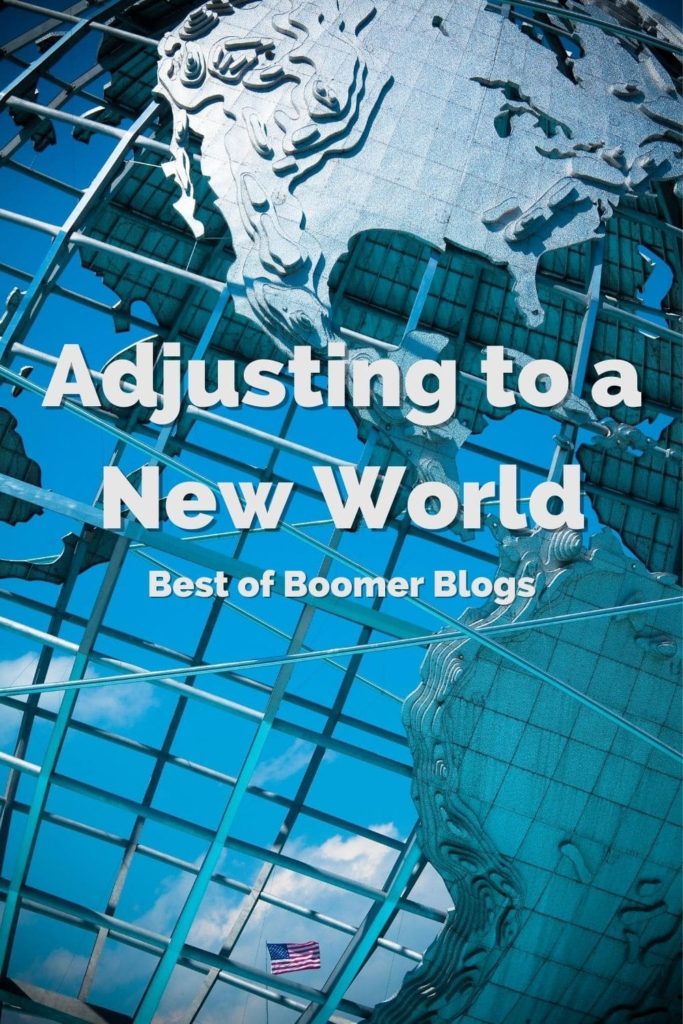 What are generations worrying about in this new world?
Tom at Sightings Over Sixty reports this week on a survey just out from Edward Jones and Age Wave.about how COVID is affecting our lives. One conclusion:: We retired people have one problem, while our children have another. To find out more about it check out The Health and Wealth Gap.
I can't imagine what it must be like for all the millions of young people who are out of work with rents, mortgages, and families to take care of. And it is affecting all class structures. Even Tiffany T is having a hard time getting a job. I'm sure she'll survive, but the homeless population is growing every day.
But, let's talk sports
It seems like forever ago that we were concerned with things other than pandemics and politics. Our concerns used to be very different. Today, Carol Cassara tackles a topic that concerned her in the months before Covid, and that is the cost of tackle football to players old and young in "Why we should ban tackle football."
America's favorite pastimes have taken a hit during the pandemic with games being canceled because of sick players or because they are using their platforms to protest injustice. But maybe this is a good time to rethink some of our sports.
Are you traveling for real and in your imagination?
After months in quarantine, Meryl Baer of Beach Boomer Bulletin hit the road, her travel bug dormant too long. First Cape Cod to visit family, then on to Boothbay Harbor, Maine, where she enjoyed sunny days, sparkling waters, and lobster rolls. She summarizes the trip in this week's post A Covid Kind of Trip
But if you're not ready to go out on the road don't worry . . .
These days, you don't need a passport to explore any nation on the planet. As Laurie Stone of Musings, Rants & Scribbles has discovered, there's an array of globally produced fare on television, especially through Netflix and Amazon. And unlike movies, these multi-episode series allow you to pull up a chair and stay awhile. Here are some fascinating places she's "visited" lately…
I have to admit. I've been visiting some tropical locations myself lately . . . on TV.
How to adjust to limited contact mentally
The stress Baby Boomers are experiencing due to this pandemic is real. It's easy to get depressed, feel like your days are being wasted, or jittery as to what is coming next.
Jennifer, of Unfold and Begin, wants to know how do you start and end your day? Is it with anger or sadness or happiness or gratitude? Let her show you how she starts it with gratitude.
Great advice. Let be thankful we are healthy and strong enough to get through this.
The key to surviving the virus is to strengthen your immune system
If you're not healthy, to begin with, you really have to be careful in this new world of weirdness. That starts with eating healthy food and getting plenty of exercise. But, sometimes we need a little extra help. I wrote about 3 immunity-boosting supplements you may want to try as well as a delicious recipe for Chinese Longevity Soup.
Can you believe summer is almost over?
On The Survive and Thrive Boomer Guide, Rita R. Robison, consumer and personal finance journalist, writes about what to look for at Labor Day sales. Start early, and look for bargains on appliances, clothes, mattresses, and grills.
Sounds like a cue to do some shopping!
What topics are you thinking about in this new world we're experiencing right now? Have you ever experienced anything like it in your lifetime? Please leave a comment below.