As we all know berries are ridiculously good for you and filled with anti-aging antioxidants. They're even better mixed in with a little bubbly. That's why I created this yummy champagne berry ambrosia that only takes minutes to make.
Enjoy this recipe and have a BERRY wonderful day!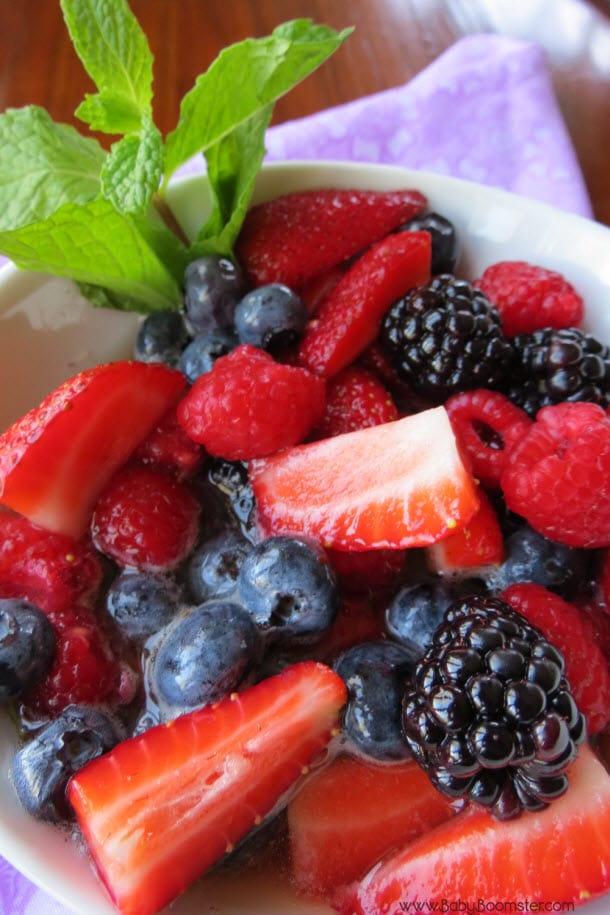 Ambrosia with Berries and Champagne
An easy and anti-aging dessert made with champagne. Who could resist?
Ingredients
1

Tbsp

of honey

2

Tbsp

of lemon juice

2

Tbsp

of orange juice

2

large sprigs of fresh spearmint

4

cups

of mixed berries (strawberries

blueberries, raspberries, blackberries or whatever is available – If using frozen, thaw first

1

cup

of chilled champagne or sparkling apple cider
Instructions
In a small saucepan, combine the honey, lemon juice, orange juice, and mint.

Stir over low heat until the honey is melted. (about 1 minute)

Take off the burner and let the mixture steep for about 5 minutes

Remove the mint

In a large bowl, gently combine the berries and honey mixture

Chill for 15 minutes or up to 1 hour

Dish out into individual serving bowls and pour a little champagne or sparkling cider over the berries.

Garnish with a mint sprig
It's perfect at the end of a meal, to eat as a snack, or at a Sunday brunch.  There's no refined sugar.  The sauce is made with a small amount of honey, orange and lemon juice,  champagne, or sparkling cider.  If berries are available, eat them every day because they're heart-healthy. If they aren't, frozen work fine too. Strawberries are considered to be "the queen of fruits," especially in Asia.
One of the healthiest berries are black raspberries because they are the most nutrient dense. Blackberries and marionberries tie for second. But all berries are great from blueberries to boysenberries. It's a good idea to add more berries to your diet as you age.
History of Ambrosia
Ambrosia means delicious or fragrant. It was also known in Greek mythology as the magical fruit of the Gods. But it also became a popular potluck dish, especially in the South. Once fruits became more available in the 1800s, recipes for it began appearing in cookbooks. In many cases, it's made to be creamy made with whipped cream, tapioca, or coconut milk. But simple is usually better and much healthier.
If you like this berry ambrosia recipe and love champagne, try my green melon and champagne soup as well.
What's your favorite way to enjoy champagne? Please leave a comment and let us know.