I love making the Baby Beet and Quinoa salad featured below. It's not only beautiful to look at but amazingly nutritious as well. The Ancient Romans used beets as an aphrodisiac. They contain the mineral Boron, which is related to the production of human sex hormones. Beets also purify your blood, naturally cleanse and detoxify your body.
Enjoy this Baby Beet and Quinoa Salad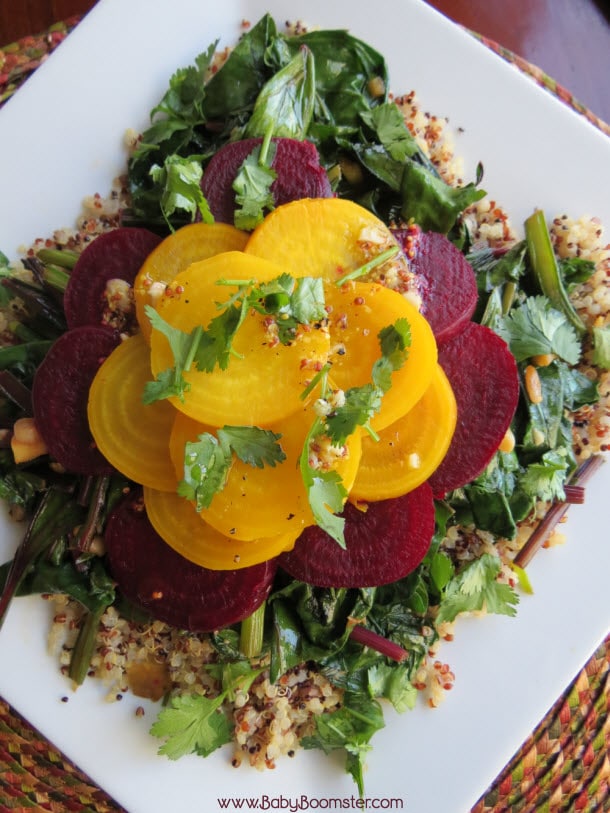 Baby Beet and Quinoa Salad
Red beets and quinoa make a colorful as well as nutritious salad.
Ingredients
2-4

Small beets

yellow and red depending on their size (save the leaves and stalks)

salt

1

cup

Quinoa

2

cups

water

1

Tbsp

chopped chives

4

scallions

green onions sliced thin

1/2

tsp

fresh ginger

peeled and minced

2

cloves

garlic peeled and minced

2

Tbsp

soy sauce

get low sodium

cilantro fresh chopped

can substitute parsley

2-3

Tbsp

extra virgin olive oil

1/2

lemon squeezed

1/2

tsp

coarse Dijon mustard

1

clove

garlic peeled and minced

salt and pepper
Instructions
Beets
Cut the stalks off the beets. Rinse with water. Place in a saucepan covered with water and bring to a boil, Simmer until tender. (about 15 minutes) When done, rinse with cold water to cool. Rub the skins off and cut into thin circles or cube.
Quinoa
Rinse quinoa and drain. Bring 2 cups of water to a boil in a small saucepan. Add the quinoa, lower the heat to simmer, cover for about 15 minutes or until the water is absorbed. When done, set aside.
Beet Leaves and Stalks
Tear or cut the beet leaves and stalks into bite-sized pieces.

Heat 1-2 Tbsp of extra virgin olive oil in a skillet or stir-fry pan.

Add the beet leaves, stalks, chives, scallions, ginger, and garlic and stir-fry for about 2 minutes until the leaves wilt.

Add the soy sauce and mix into the vegetable mixture for 1 minute.
Assemble the Salad
In either a large flat dish or individual salad plates, cover the bottom of the plate with the cooked quinoa.

Put the stir-fried vegetable mixture on top of the quinoa

Arrange the beets decoratively on top.

Garnish with chopped cilantro
Garlic Vinaigrette Salad Dressing
In a jar or small bowl add 1 part extra virgin olive oil to 3 parts lemon juice

Add minced garlic, mustard, salt, and pepper to taste

Drizzle over the salad
Most people cut off the leaves and stems and throw them away. However, they're equally nutritious and have a piquant taste. I included them in the recipe.
A beet fact, if you didn't already know.
Don't be alarmed if you go to the bathroom and think you're bleeding to death. It's just the red color of the beet that's traveled through your digestive system. The reason I mentioned this is because my son was juicing with beets and almost had a heart attack when he went to pee.
Have an acid stomach?
Try this test. Eat red beets or drink beet juice. If your urine turns pink, you have low stomach acid. If it's clear, your stomach is acidic. See a doctor right away if your urine is blood red. It could be a sign of hemochromatosis. (meaning you have too much iron in your body)
What's your favorite way to eat beets? Please leave a comment below.