Protecting yourself from an active shooter is not something we ever want to think about but we need to know what to do if it happens. No one guessed a health department building in San Bernardino would have a shooting but it did. Surprisingly, the majority aren't terrorist-related.
Most shootings are carried out by white males 18-late '20s who have anger issues. The shooters at the San Bernardino attack were an exception in that they were Muslim and one was female. However, almost all mass shootings in the U.S. have been domestic.
At an event I attended, our speaker was Capt. Stacy Gerlich, of the Los Angeles Fire Department. Her topic was how to deal with an active shooter as they've become more commonplace these days. No one is immune and it's critical to know what to do.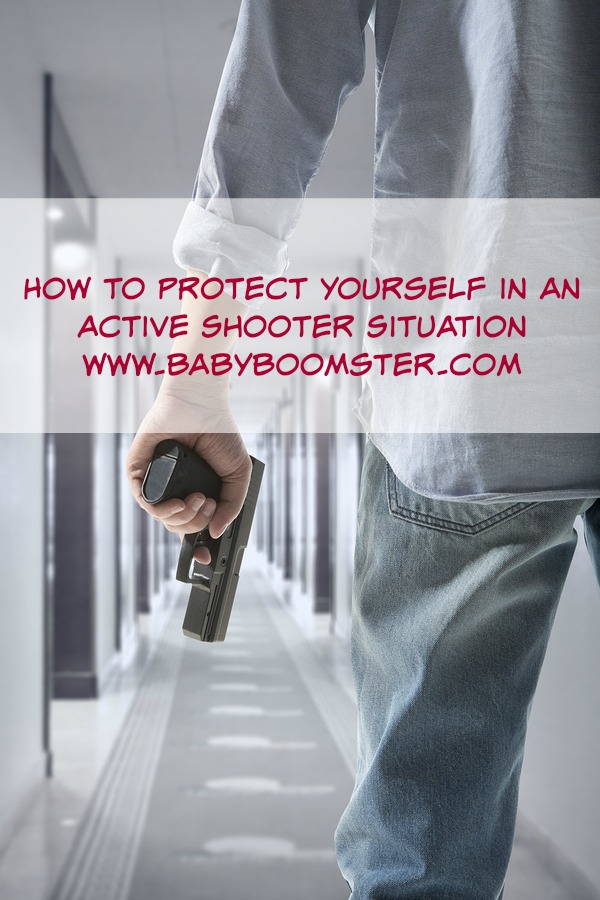 The first thing Capt. Gerlich asked us is if we knew how many exits were in our meeting room. The room was silent. There were 80 women sitting in the banquet hall of a plush country club and we didn't think to look.
Whenever you enter a room or building, mentally take note of all the exit doors, stairways, and other means of escape.
Did you know that a Costco store only has 2 main exits? One to go in and one to go out. But, there are exit doors with alarms throughout the building. Don't be afraid to use them if you feel threatened even if you know the alarm will go off.
When someone starts shooting you have three options:
Escape – if there's a way to get away, don't hesitate, and run for it.
Hide – if you can't get away find a place to hide. In Costco, you might want to run behind the butcher counter. It will give you access to weapons (knives, slicers) if needed. Try to find a place that will give you more time.
Fight – as a last resort, fight back. Throw things if you have to. Grab a fire extinguisher if it's is in sight and try to blind the shooter. Once he's disabled, people can pile on top and disarm him. Kick him in the groin and knock him down if you can.
Turn off your smartphone
You may be tempted to alert 911, call your loved ones or shoot a video that will go viral on the news. Resist the urge. If your phone rings or the shooter hears your voice, he will shoot you. If you aren't near the shooter and you call 911 DON'T TALK. The dispatcher will trace the call.
The important thing is to know where you are in relation to the shooter. (a commenter below mentioned that your phone may sound an alarm in response to the shooting. – one person was shot in a shooting because her phone sounded an alarm.) Turn your phone off completely.
Listen to law enforcement.
If an officer tells you to run out the door, DO IT IMMEDIATELY. You'll be asked to raise your hands and spread your fingers. Don't resist. They need you to do this to make sure you're not the shooter. Most of them look exactly like everyone else. This isn't the time to reach for your phone to tweet or update your Facebook status.
Playing dead
How long can you hold your breath? If you're over 50 and your blood pressure is going through the roof because you're panicking, do you think you can lie still without breathing? Chances are, probably not.
Note: One woman in the room knew a victim of the San Bernardino shooting who survived because she DID play dead. She was hurt and the shooter kicked her around, but he thought she was gone and she survived. She was close to the shooter and didn't have another choice. She was critically hurt and had a long recovery ahead. However, in most cases, she would have been shot.
If you have any chance to escape DO THAT FIRST. It's situational. It's important to have a sense of what is happening and react accordingly.
Helping a disabled person
If there is someone capable of getting a wheelchair-bound person out, and there are stairs, it's best to pick them up and carry them. (Adrenaline can do wonders as far as strength) In Los Angeles, there are floor wardens in office buildings who are there to make sure the disabled can escape.
An active shooter in a high rise
If you are in a high-rise building elevator make sure to look at the evacuation signs. Know where all the stairways and fire escapes are located.
Barricading a door
If you're hiding behind a door put everything you can in front of it so it will be hard for the shooter to get in. Shut off the lights. Move objects in the room to create obstacles. Pick up tables and stand them up on end, move chairs and objects so they're in the way. (A commenter below mentioned that you shouldn't let anyone in who says they're with law enforcement because it may be the shooter. Rescuers will find you after the shooter is caught or killed.)
It's all about body count
The objective of a mass shooter is the body count. They want to take out as many people as they can. The shooter in Norway killed 67 people. Shooters are out to beat the highest number. They fantasize about getting out alive, practice, and plan, but don't expect to survive. It's sick, but that's what's happening.
Where shootings happen
The highest percentage of shootings take place in schools. Ever since Columbine, schools have implemented active shooter training. It's real and it's going to continue to happen. In the case of San Bernardino, the shooter was a health inspector. He had access to the building blueprints in his car.
Who are the first responders?
The police and fire department will usually be on the scene within 5 minutes. However, the people who are in the midst of where the shooting takes place are the first responders. Do what you can but stay safe until they arrive.
Shootings in confined spaces
If you're on an airplane, subway, or bus, with a shooter or terrorist, your only option is to FIGHT. Try to sit in or near the exit aisle. Carry a pen you can use to stab someone in the ceratoid artery.
Protecting yourself in other situations
Be aware of unattended bags. SEE SOMETHING, SAY SOMETHING. If you spot a suspicious bag or package move away from it immediately. Don't stand over it as you call 911 saying "Yes, I'm looking into the package right now." (Believe it or not, people do this all the time.)
If a person is following you in a car DO NOT drive home. Go straight to a police or fire station. It's a good idea not to rely on Google Maps or WASE. Carry an old-fashioned paper map that has police, fire stations and hospitals circled in red. If you aren't near a station go to a busy and well-lit area like a supermarket.
Be prepared at home and on the road for any emergency
Carry an emergency preparedness kit in your car that includes water and comfortable shoes in case you need to walk or run. Put your car kit in a backpack so it's easy to carry.
Please watch this active shooter video
I hope you'll never have to deal with an active shooter situation but know what to do just in case. Hopefully, the government will institute reasonable gun reform to avoid these situations.
Be prepared for any situation. Carry pepper spray in your purse, (not at airports) or a stun gun.
Do you have any tips to add? Please leave a comment below.