There are many recipes for yams but this Thanksgiving Yam and Cashew Peach Bake is one of my favorites. It's also a fabulous party dish for any occasion and will make you a potluck superstar! There's something about the combination of yams, peaches, and cashews that are "to die for!"
Enjoy this Thanksgiving Yam and Cashew Peach Bake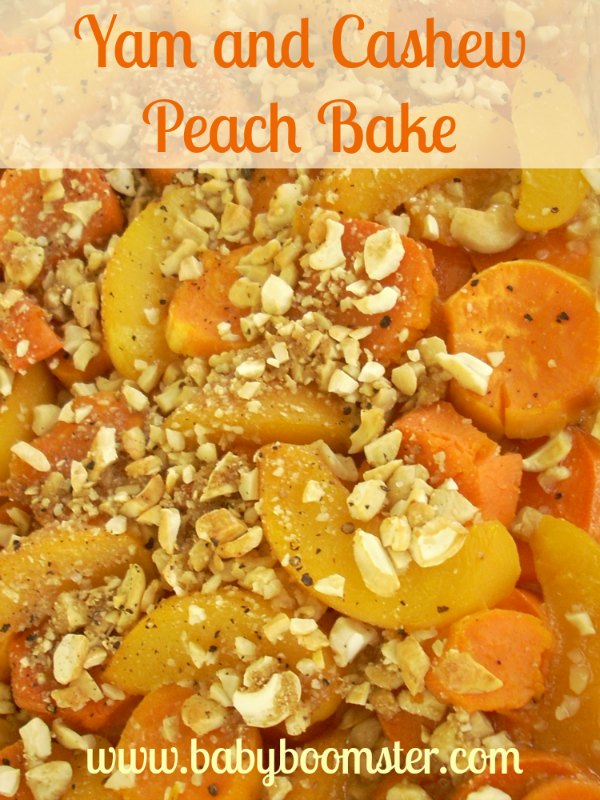 Thanksgiving Yam and Cashew Peach Bake
Yummy yummy and good for the tummy food. Great for Thanksgiving or any other occasion.
Ingredients
1/2

cup

brown sugar

1/2

cup

cashews unsalted

broken up

2

lbs

yams 4 or 5 medium-sized

6

peach halves from a jar

sliced reserve the juice) I found 1/2 peaches in white grape juice

3

Tbsps

butter

1/2

tsp

ginger ground
Instructions
Bake the yams with skins on for 40 minutes at 350 degrees.

Remove while still a little firm in the center. Peel and slice the yams. (I also included a sweet potato or two because, honestly, I couldn't tell the difference.)

Mix the brown sugar, cashews, and ginger in a bowl and set aside

In a 10″ x 6″ x 2″ baking dish, layer half the yams, half the peaches and half the ginger/cashew/sugar mixture. Then repeat using the remainder of each.

Pour about 1/2 cup of the reserved peach liquid over the yam mixture, dot with butter and season with a little salt and pepper.

Bake covered for 30 minutes at 350 degrees, then remove the cover and bake for another 30 minutes.
When my kids were attending a coop pre-school in Hollywood, during the early '90s, we were fortunate that many of the parents involved were amazing cooks. One year, we put together a recipe book to sell at our annual fundraiser. A mom named Penny contributed this Thanksgiving yam recipe and everyone loved it.
I haven't seen Penny since our kids graduated from that school and we moved across town. Thankfully, I saved our little recipe book. Every time I open it, I remember all the fun times we had going on field trips, walking to the Hollywood Bowl, the El Capitan Theater, creating art, wearing costumes, and making tons of friends.
For more Thanksgiving recipes please click here.
What's your favorite way to fix yams? Please leave a comment below.