Have you ever dreamed about acting on stage? To tread the boards emoting Shakespeare or kick up your heels in a musical? You may have been an active member of your drama club in high school, but then reality set in and you ended up working a regular 9-5. Well, it turns out more and more Baby Boomers are living out their fantasies performing in Senior Theatre and having a blast doing it.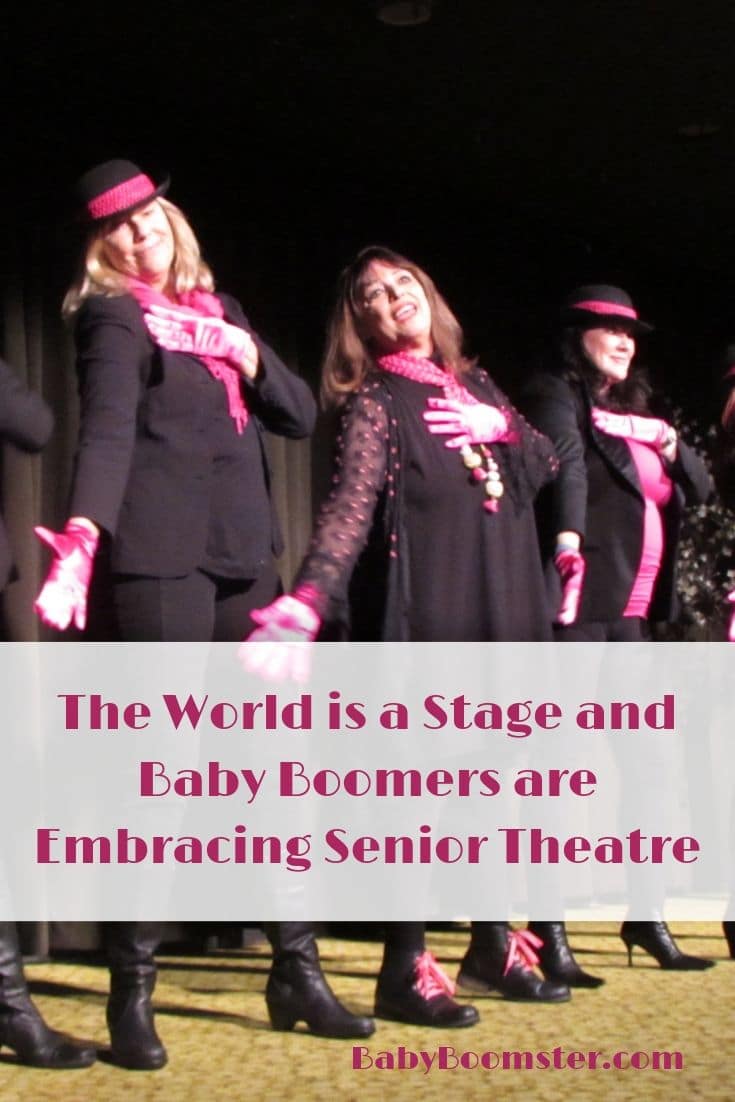 ArtAge Senior Theatre Resource Center
I spoke to Bonnie L. Vorenberg, who is President of the ArtAge Senior Theatre Resource Center. They offer an entire catalog of plays, books, and resources for seniors who want to try out their acting chops. The company has been in existence for 22 years, but Bonnie has been involved in Senior Theatre for over 40 years.
About Bonnie
As a young woman, Bonnie worked in Medford, OR as a high school drama teacher. But after four years, she moved to Eugene where she became a Graduate Student in the University of Oregon Theatre Department. As part of her thesis, she directed an all-woman Senior Theatre and immediately knew she had to continue working with older adults.
Once the thesis was finished, it became one of the first on the topic of Senior Theatre. She then moved to Portland and taught classes that included Senior Theatre and senior dance. Eventually, she formed the Oregon Senior Theatre which won national grants and took several national tours.
Her business
She participated in a Senior Theatre conference where she got the idea to make Senior Theatre resources available. She wrote a book called Senior Theatre Connections which did very well, won awards, and became the inspiration for the Senior Theatre Resource Center. Bonnie sparked the interest of other playwrights and authors who asked her to promote their artistic work. What started with one book has now evolved into over 400 pieces in the collection which includes everything from short, easy sketches to full-length musicals.
Meeting the needs of older performers
Her company, known as the central clearinghouse for Senior Theatre, was born out of her passion to create more opportunities for older adults to explore theatre. In addition to plays and sketches, they provide support and advice in all areas of play production including funding, marketing, casting, management, and workshops.
Theatre changes seniors' lives
One of my friends moved to Laguna Woods, which is a large retirement complex in Orange County. She's been having a ball doing non-stop plays, musical performances, and even appears on the community's comedy web series. Laguna Woods is exactly the type of market that takes full advantage of Bonnie's services.
Modern scenarios
The focus of the ArtAge Senior Theatre Resource Center is to provide materials, mainly comedies, that feature feisty characters in up-to-date situations. The goal is to educate audiences with positive aging stories that highlight what it's like to grow older today.
Bring on the ladies
The Center focuses on women with many roles for older actresses. Let's face it, we all know there aren't a whole lot of roles for women over 50, and if there are, they're usually played by a 20-year old with spray-on gray hair. In most Senior Theatre groups, Bonnie says, "If you have ten members, at least nine will be women. If you're lucky, there might be two men." Plays and sketches in the catalog often feature women as leads. Large numbers of women actively participate as playwrights, actors, and directors. One female director who is 97-years old still produces two shows a year. Theatre helps older women find their voice.
Read the Cohen Aging and Creativity Study
Example of plays
Living Large depicts a group of older women who move to a Holiday Inn because it's cheaper than living in a retirement community.
Hotel Lobbyist features a woman who flees a retirement community and ties herself to a chair in the lobby of a Holiday Inn.
Some themes include love, technology, and other fun topics.
A Zoomful of Senior Actors
Due to the COVID-19 pandemic, the theatre has taken a big hit. But, Art-Age is still making it happen by taking their work online through a series of training, webinars, and performances. Read their Press Release Here.
Here are some participants acting on Zoom! Click on the image to view it full-size in a gallery.
Ageless: 11 Short Plays Celebrating Seniors
Senior Theatre Resource Center has announced a new book of award-winning shows available for purchase now!
In a year when theatres were hit hard, a new book of short plays celebrating seniors is getting attention. Why? Because each one is a compelling, well-written story, about being older in the modern world told in about 10 minutes.
The plays, award winners from the Still Crazy After All These Years Festival, explore how relationships endure and change over time, from a 50-year crush turning into a reunion hookup, to returning a crayon after 50 years. Others look at the complexities of marriage, from an empty-nester husband who dresses like a rabbit, to a woman seeking to jazz things up in the bedroom. The settings span the globe from a New Zealand bunker to an art gallery. With small casts, the shows feature active, engaged seniors. Useful both for in person and online performances, the plays are popular with audiences of all ages.
Whether about rediscovering yourself, rekindling old relationships, or starting new ones, these plays are guaranteed to lift spirits. They will entertain and speak to everybody who seeks to live life fully, at any age.
ArtAge Senior Theatre Resource Center promotes Senior Theatre by making it easy for older actors to find and perform pieces that meet their needs. The collection of 400+ Senior Theatre plays, books and materials, is the gold standard in the field, a treasure trove of bright, lively shows featuring older people in their best and most humane light.
Book Stats: 108 pages, 8½ x 11"; ISBN: 9781734432800
Click here for the AGELESS webpage on www.seniortheatre.com
You should try Senior Theatre! For ideas, resources, and help, please be sure to visit Bonnie's website.
This page was last updated 10/2021.