Remember when your hair used to be soft, shiny, and bouncy like in a Miss Clairol commercial? But after decades of coloring, sitting in the sun, blow-drying, ratting, teasing, globs of Dippity Do, and suffering through menopause it's become dull, dry, and lifeless. Well, it doesn't have to be like that. Here are 5 tips on how to repair damaged hair and bring back its luster for women over 50.
1. Stay wet and wild
Hair health comes from within and the most important thing you can do is stay hydrated. Think of your hair as if it were a potted plant. Without enough water, it will wilt and die.
2. Nourish it with foods that contain biotin to repair damaged hair
Biotin, which is a water-soluble B-complex vitamin, will strengthen your hair, nails, and improve your complexion.
Eggs are an excellent source of biotin. However, If you only eat egg whites, you may find yourself with a biotin deficiency. The solution is to eat whole eggs because they're a perfect form of protein and will give you the biotin you need.
Eating fatty fish like salmon is another good way to consume biotin. Add it to your diet at least twice a week to repair damaged hair and bring back its natural oils.
Other natural sources of biotin include nuts, sunflower seeds, legumes, cauliflower, bananas, avocado, whole grains, milk, and red meat. (especially organ meat)
If you don't think you are getting enough you can take a supplement. But, if you hate swallowing capsules, try it in gummy form. After a while, your hair, skin, and nails will begin to look amazing.
3. Treat your hair regularly
After shampooing, apply a dime-sized portion of Argan oil and work it into your ends or use it as a hot oil treatment.
If your hair is thinning, use hair products that are formulated to encourage new growth.
4. Quit abusing your hair
Don't wash it every day. Give it a few of days in between shampoos to rebuild its natural oils.
Go easy with your blow dryer and curling iron or stop using it altogether. Try to get your hair cut so it will drip dry without styling. If you must use a blow dryer, set it to a cooler temperature.
Avoid using hairspray, mousse, or other stiffening products because they'll dry out your hair and make it look dull.
If you aren't ready to go gray, consider using non-toxic hair color products. Madison Reed has an outstanding line of products that do not contain ammonia, resorcinol, parabens, phthalates, gluten & PPD. Read my review here. They also have a wonderful gloss you can apply between hair color appointments to revive your color job and give it some shine.
5. Use a good hairbrush
The Agave Healing Oil Smooth and Shine Paddle Brush is a perfect detangler. You can add a little oil to your hair and brush it through for more shine. It's made of bamboo with Nano-ionic mineral-infused bristles.

Hopefully, you'll use some of these tips to repair damaged hair so your locks will come back to life again even though you're over 50. At least it couldn't hurt.
Enjoy these "vintage" hair commercials.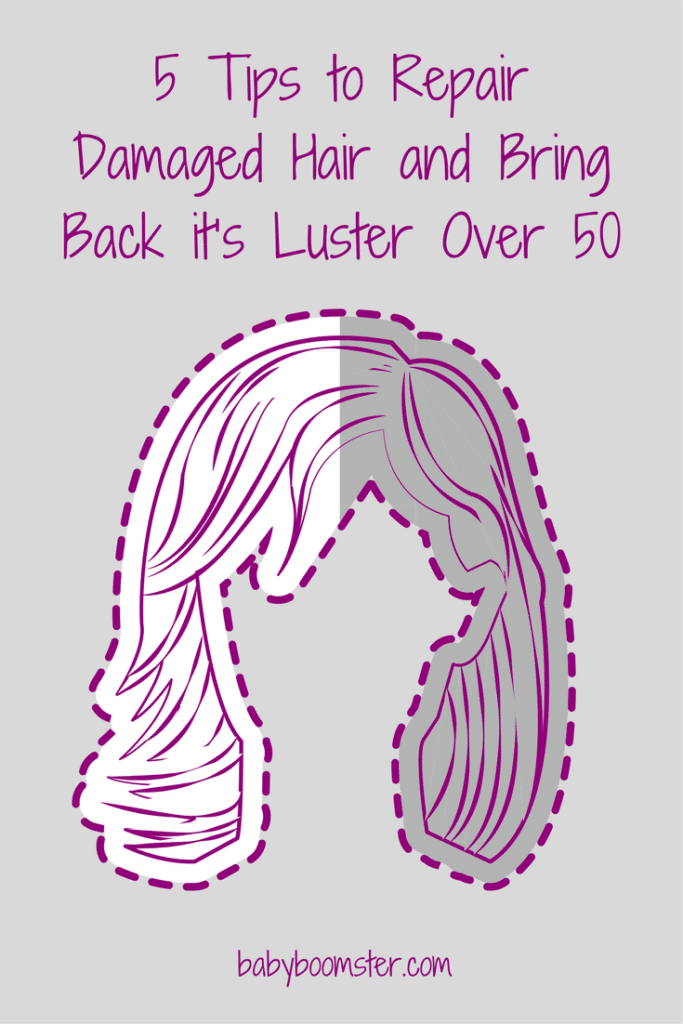 Save this image on Pinterest for later.

How do you keep your hair in shape over 50? Please leave a comment below.