As women age, many of us struggle with the question, "Should I go gray or keep dying my hair?" It's a very individual decision. Now that we've experienced being locked down in a global pandemic unable to go to a beauty salon for hair color services, many women have learned to dyr their own hair at home.
This post was originally published 7/2016 and updated 2/2021.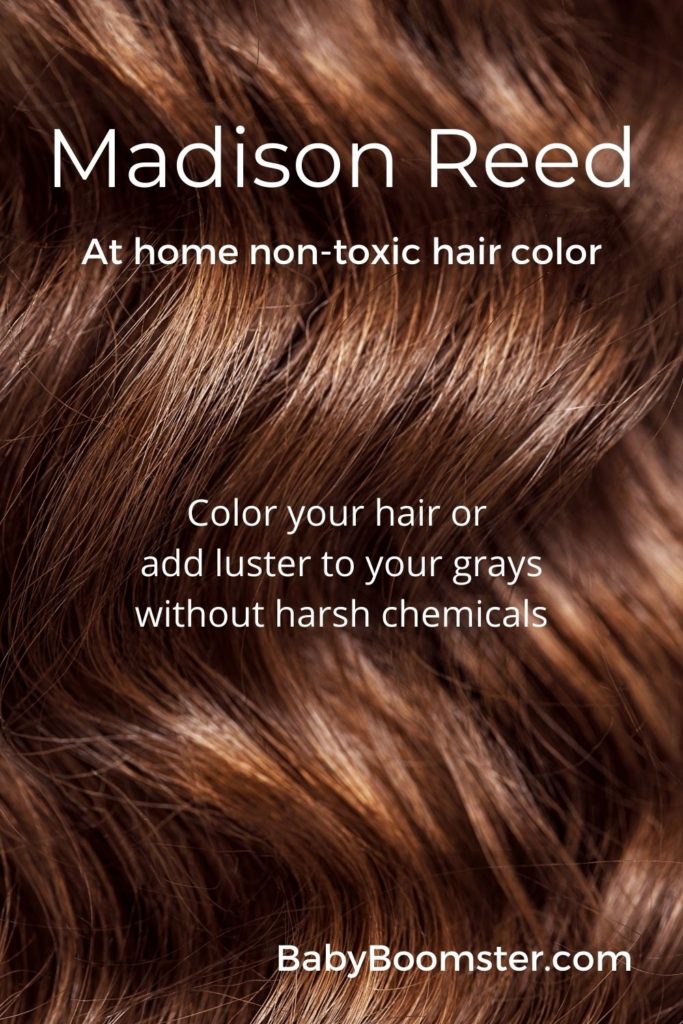 But what if you could use a non-toxic at home hair color product?
It's a little scary to think about the chemicals we dye and spray our hair with. How do they affect us in the long run? Do they cause cancer or other health issues? We really don't know. But if there is an alternative that is non-toxic and works, isn't that a better solution?
Madison Reed's hair color products may be just what you're looking for. Their formulas don't contain harsh ingredients like most standard hair color products. You'll never find ammonia, resorcinol, or parabens in any of their products and they're PPD-free.
You won't get knocked over by strong fumes, feel itchy, or fry your hair. That's because Madison Reed uses natural ingredients like Argan Oil, Keratin, and Ginseng Root that protect and fortify your hair.
Visit the Madison Reed website – and make sure to take their hair color quiz to determine what shade will work best for you. It will ask you questions like:
What type of hair do you have? (straight, wavy, curly or coiled)
What length is your hair?
How much gray do you have?
Is your hair color resistant to gray?
Has it been previously treated?
How often does it need to be colored?
What is your current color?
Do you want to go lighter, darker or stay the same?
After you click submit, you'll be directed to a page that will suggest the best color options.
Mine was Positano Black. Anything having to do with Positano sounds fabulous to me.
This video shows you how to cover up stubborn grays.
I've also been using Madison Reed's Color Protecting Shampoo and Conditioner. I have fine hair that has a tendency to get dry. After I wash it, my hair feels soft and luminous.  The shampoo/conditioner duo locks in the color and has UV protection, which is important if you spend time in the sun.  I'm definitely going to order more.
If you want to revive your hair color in between coloring, Madison Reed has a color reviving gloss that enhances the color and makes it look like you just dyed it.
Root Reboot Color Activator
Another way to cover up your gray roots is to use Madison Reed's Root Reboot. The color Activator has a sponge tip applicator to help you avoid spills. Just dab it on your roots and in 10 minutes you're done.
There are 6 universal hair color choices to choose from and each kit comes with liquid color, color activator, 2 pairs of gloves, a cleansing wipe, samples of shampoo and conditioner, and instructions.
Watch this video to see how easy it is!
Gray hair care
For those with gray hair, get tips from Madison Reed on how to care for your hair by clicking here.
Please click here to find out more about Madison Reed products.
Do you color your own hair? Are non-toxic ingredients in your beauty products important to you? Please leave a comment below.