I made this pumpkin soup with apple and bourbon recipe for Halloween using some of the sweet baby pumpkins I received in my farm box delivery.
I hope you enjoy this Pumpkin Soup with Apple and Bourbon Recipe!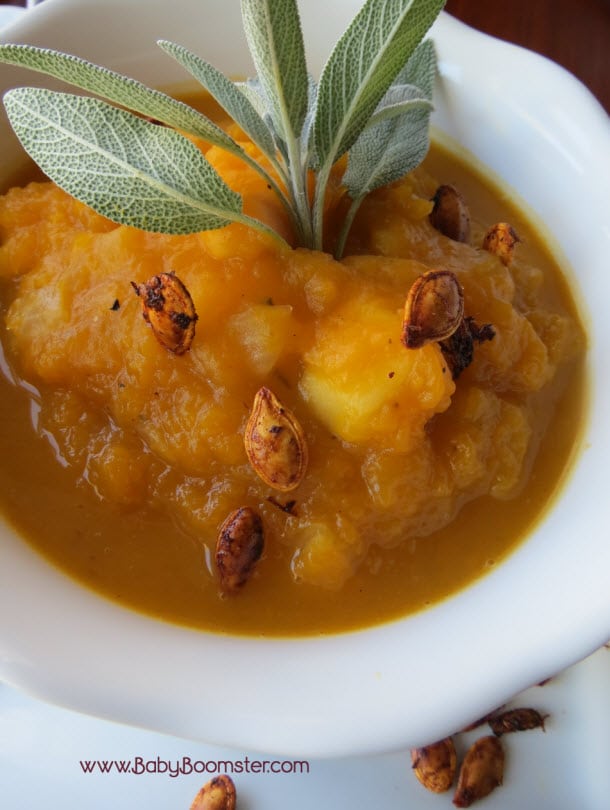 Pumpkin Soup with Apple and Bourbon
Perfect for autumn, enjoy this sublime soup made with pumpkin and apples and mixed with a little bourbon.
Ingredients
2

small pumpkins or you can use 2 -3 cans of pumpkin puree

3

Tbsps

extra virgin olive oil

1

onion chopped

2

apples

peeled, cut into slices and then cut into small chunks

chicken or vegetable broth – about 32 oz

1/4

cup

of honey

1/2

tsp

of grated nutmeg

1

Tbsp

fresh sage chopped

1/4

cup

of bourbon

Sea salt and Pepper to taste
Instructions
Pumpkin
Preheat the oven to 350 degrees

Split the pumpkins in half (it helps if you chop the top of first) with a sharp knife

Scoop out the seeds and save to roast for later

coat the bottom of a large baking pan with 2 Tbsp extra virgin olive oil

Place the pumpkin halves face down on the baking pan

Bake for 45 minutes

When the pumpkins are done and cooled, scoop out the meat and save it. Discard the skin

(if you don't want to roast the pumpkins, you can use canned pumpkin puree instead)
Soup
In a skillet, heat the remaining 1 Tbsp of olive oil on medium heat

add the chopped onions and saute until they are soft. About 5 minutes. Set aside

Place the pumpkin a large saucepan or Dutch oven over medium heat

Add the apples, sauteed onions, nutmeg, sage, honey, and bourbon

Add the broth until you get the consistency you like. If you like it thicker, add less.

Add salt and pepper to taste

Simmer the soup until the apples are soft. (about 10 minutes)

Garnish individual bowls with some of the pumpkin seeds you may have roasted and serve.
Notes
To roast, the pumpkin seeds preheat the oven to 350 degrees – Remove most of the pumpkin meat from the seeds but leave a little for flavor. Mix the seeds with 2 tbsp of melted butter (or extra virgin olive oil) and add any spices you like such as pepper, salt, herbs, etc. Spread the seeds out on a sheet pan. Roast the seeds for about 45 minutes.
How to roast a pumpkin to make pumpkin soup
Pumpkin is a superfood and healthy in so many ways.
This was the first time I ever roasted a pumpkin. It's actually pretty easy, especially because I used small "sugar" pumpkins. All you do is chop the tops off, split them down the middle, scoop out the seeds, (save them to roast for later) lay them on a greased or oiled baking pan and bake the halves for about 45 minutes.
Click on the images below to view full-size.
If you don't want to go through this process, or if your pumpkins were traumatized by a witch, then use canned organic pumpkin puree instead.
I love chunky soup, but you can always put the ingredients into a food processor and blend them for a smoother soup. I poured a little bourbon into the mix because it adds a subtle oak and caramel flavor to the soup.  This is optional, of course.  I had some leftovers from making my Whiskey Glazed Salmon recipe, which is to die for!
Do you like pumpkin soup? Please leave a comment below.