If you're not satisfied with your current Medicare Advantage plan, you should make sure to replace it with a policy that suits your health and budget needs. The best way to do this is by exploring ways to narrow down your coverage options.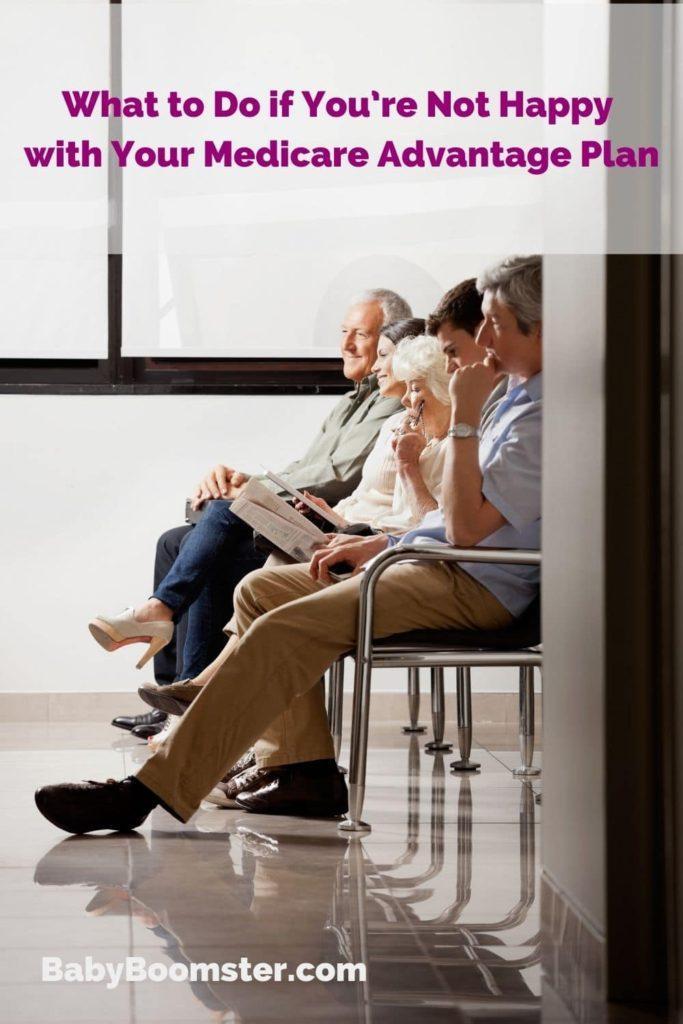 Mark Your Calendar for These Enrollment Periods
There are certain enrollment periods that cater to Medicare Advantage beneficiaries. Every fall, you can make changes to your current coverage during the Annual Enrollment Period (AEP). You can make multiple changes, but the final modification takes effect on January 1 of the following year.
From October 15 to December 7 each year, you have the option to drop, switch or cancel your current Medicare Advantage or Part D standalone prescription drug plan.

You then have another enrollment window to make changes to your Advantage coverage. The Medicare Advantage Open Enrollment Period runs from January 1 through March 31.
This enrollment period allows beneficiaries to make a single change. During this window, you can swap your current Medicare Advantage plan for another or leave your Advantage plan and return to Original. Medicare. Additionally, if you drop your Advantage plan during this enrollment period, you have the option of adding a Part D prescription drug plan to cover your medications and avoid future penalties.
Know What You Want from Your Coverage
Every fall, beneficiaries should review their current plans and compare them with other policies in their ZIP Code. Advantage plans can change their costs and coverage every January. If your plan will be changing, you'll receive a notice in the mail in September, listing the planned changes.
Medicare Advantage is a great option for people who want more flexibility and benefits. These plans generally include coverage for routine dental care, vision, hearing aids, gym memberships, prescriptions drugs, and more.
While Advantage plans come with a number of benefits, individuals leave their plans for several reasons. Some common reasons why people leave Medicare Advantage plans include:
Restricted networks of doctors
Dissatisfaction with dental coverage
High out-of-pocket costs
In the months leading up to the Annual Enrollment Period, ask yourself if you'd be satisfied staying with your plan for another year.
Research Star Ratings
Medicare uses a 5-star rating system to measure plan quality and compare performance for Part D drug plans and Medicare Advantage plans. This method is meant to help beneficiaries find the best and most affordable plans available in their area. Ratings can be found using Medicare's plan finder tool.
The Centers for Medicare & Medicaid Services (CMS) rates Medicare Advantage plans on performance in five categories:
Plan customer service experience
Plan responsiveness and care
How well the plan manages chronic (long-term) conditions
Keeping beneficiaries healthy, through screenings, tests, and vaccines
Complaints from beneficiaries, including problems leaving plans and receiving services
When doing your research on Advantage policies, avoid plans with fewer than three stars to replace your pre-existing plan.
Consider a Medigap Plan
Medicare Supplement (Medigap) plans "fill in the gaps" (also known as cost-sharing) not covered by Original Medicare. While Medicare Part A and Part B pay for 80% of costs, each Medigap plan covers the 20% coinsurance they leave. These supplemental plans are sold through private insurance companies.
While monthly premiums are higher than those for Medicare Advantage plans, Medicare Supplements can actually save you money in the long run. Yet, you should keep in mind that you'll still need to pay your Part B premium in addition to your Medigap or Advantage premium.
There are several differences when it comes to coverage for Advantage plans and Medicare Supplement policies. Medigap doesn't include the network restrictions that Medicare Advantage comes with. Additionally, it offers travel coverage that Advantage plans lack and you don't need referrals for doctor visits.
Please understand that you can't have both types of coverage simultaneously. If you have Medicare Advantage but want Medigap, you'll need to disenroll from your plan during one of the applicable enrollment periods.
Also important is that the Annual Enrollment Period has nothing to do with Medigap. You can sign up for Medigap at any time, but you may be subject to health questions and need to go through medical underwriting.
Ensure Continued Coverage for Your Medications
If you're currently taking prescriptions, here's where it may get confusing. If you drop your Advantage plan, you'll need to enroll in a Part D plan. Original Medicare doesn't include prescription drug coverage, so you'll need to purchase a Part D policy.
Waiting too long to enroll in prescription drug coverage, or having gaps in coverage, could result in late penalties. You'll be responsible for paying the penalty in addition to your Part D premium.
Conclusion
Educating yourself on your coverage options and how each one works is key. Whether you choose a different Advantage plan or stick with Original Medicare (with or without Medigap and/or Part D) is a personal choice. Coverage isn't one-size-fits-all, so knowing what you want and what's available to you is important.