One thing I love to do on Memorial Day Weekend is to hang out at the Valley Greek Festival in Northridge, California. The sounds of Greek music fill the air as dancers and San Fernando Valley locals kick up their heels in joy as they dance. This time, the Festival staff offered an event I couldn't pass up. They did a cooking demonstration on how to roast Greek-Style Leg of Lamb and followed it up with a lamb dinner, complete with peas, artichokes, feta, Kalamata olives, roasted potatoes, and a filo dough triangle filled with yummy Greek cheese.
Enjoy this recipe for Roast Greek-Style Leg of Lamb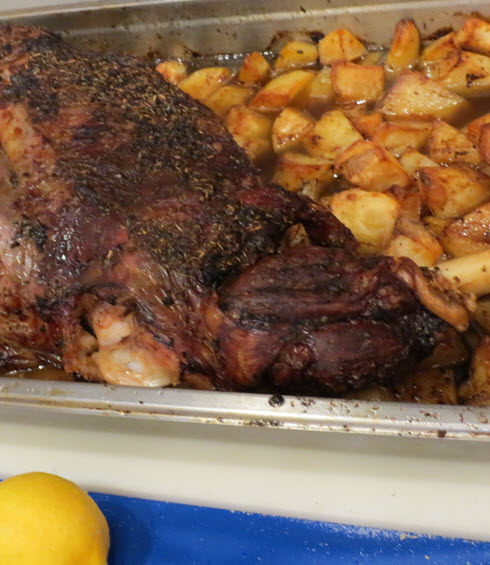 Roasted Greek Leg of Lamb
Roast leg of lamb is a traditional Greek dish. You will love this recipe if you are a lamb fan.
Ingredients
12

lb

leg of lamb

if less, reduce cooking time

1-2

large lemons

Extra virgin olive oil – Try Greek

Salt

Garlic powder

Oregano

preferably Greek – fresh or dry

Minced garlic

Pepper

Baby yellow potatoes cut in half
Instructions
Pre-heat the oven to 325-350 degrees (with convection use the lower number)

Squeeze lemon juice all over the leg of lamb

Pour a little olive oil over the leg of lamb and rub in.

Sprinkle the leg of lamb with salt and garlic powder

Sprinkle generously with pepper

Sprinkle with oregano

Sprinkle with minced garlic.

Turn the leg of lamb over and repeat with seasonings on the other side.

Put the lamb into a roasting pan, uncovered and roast for approximately 4 hours or until the inside temperature of the lamb reaches 145 degrees.

After 2 hours of cooking add the potatoes and arrange them around the lamb. If needed add a small amount of water.

When the lamb is done, take it out and let it sit for 1/2 hour before carving

To carve, first, remove the shank bone.

Follow the remaining bone with a sharp carving knife to remove the lamb from the bone. Then slice crossways.
Notes
If desired, you can add rosemary stalks around the lamb. Serve with a fresh green salad and red wine
About the lamb
Roast leg of lamb is a traditional dish in Greece and is often served at festivals. I had never roasted a leg of lamb before, but that's partly because I didn't know how to roast it correctly.
According to one of the Valley Festival's chefs, Andrew Eliopoulos, who did the cooking demo, California lamb is the best lamb you can get. California lambs eat alfalfa and clover grass similar to dandelion. This makes the meat more nutritious and gives it an outstanding flavor.
He said "California alfalfa is the best in the world due to the climate. It's shipped to horse racing thoroughbreds all over the United States because of its superior quality. Most California lamb meat is organic. Ever since 1990, ranchers have stopped sending their animals to feedlots to be fattened up and aren't treating the animals with hormones. If California lamb is not available, the next best comes from Colorado."
Facts about this recipe
In the recipe above, Andrew used a 12 lb leg of lamb. Earlier in the season, a leg of lamb will average about 8 lbs.  Andrew slathered the leg with Greek olive oil.
The ingredients to season the lamb are very simple; lemon, (also grown plentifully in California) minced garlic, garlic powder, Greek oregano, salt, and pepper. Andrew insists that Greek oregano has a better taste than other varieties and gives the lamb a more authentic Greek flavor.
When asked if the fat should be trimmed before roasting, Andrew said it isn't necessary. His Greek mother would let the lamb sit for a while after cooking. "She'd run ice cubes around the leg and then take a spoon and skim off the fat. Leaving the fat on seals in the flavor."
Another interesting fact about roasting a leg of lamb is that, like chicken, it should never be pink. Cook it through and through.
He held up a bottle of mint jelly and recommends banishing that abomination from your pantry forever.
I had to guess the exact ingredient amounts for this lamb recipe because Andrew picked up the herbs and spices in his hands and sprinkled them over the lamb, covering it thoroughly.
Roasting technique
A 12 lb leg of lamb should be roasted in an oven at 325 – 350 degrees for approximately 4 hours. If you use a convection oven, then lower the temperature a little. You can also use a rotisserie. The temperature inside the lamb needs to reach 145 degrees. If you'd also like to add fresh rosemary, arrange the sprigs lightly around the lamb because it has a very strong flavor. Andrew's leg of lamb was roasted with small yellow potatoes that were cut in half and set in the roasting pan beside the leg. The pan drippings are all you need to flavor them. And do they ever! Add the potatoes during the last 2 hours of cooking.
Photos from our cooking class
Andrews marinade ingredients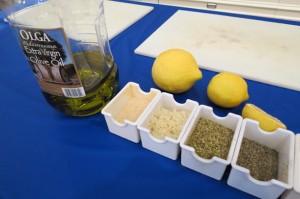 Andrew and the raw leg: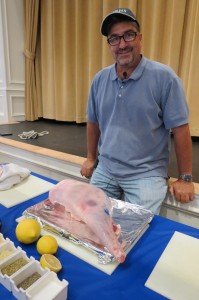 Adding fresh lemon juice – "Don't worry about dropping in the seeds. They help flavor the lamb." He used a small tool or knife to release the juice and let it drip over the lamb.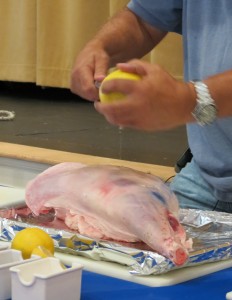 Pour Greek olive oil over the lamb and then rub it in.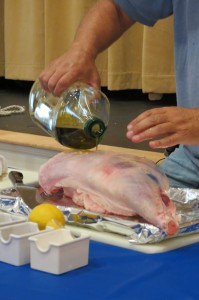 Add salt and garlic powder. Andrew was generous with both.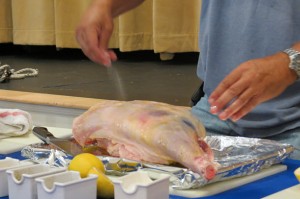 Add plenty of pepper: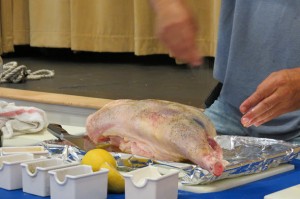 Add the Greek oregano: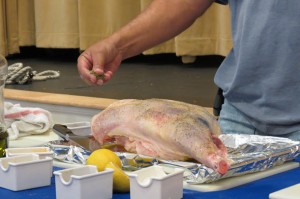 Add the minced garlic on top: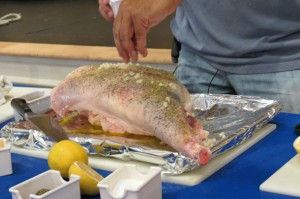 Repeat on both sides
The roasted leg of lamb out of the oven with crispy roasted potatoes:
The pan drippings with the potatoes: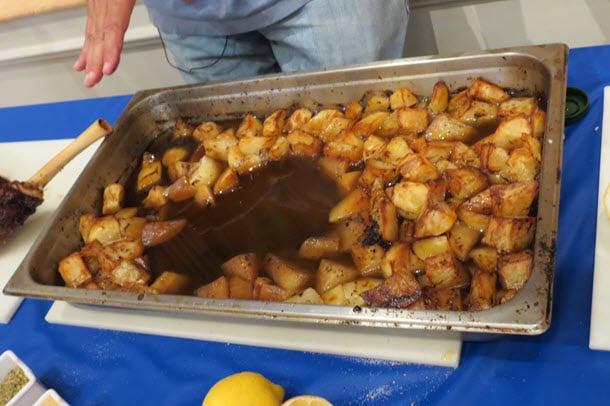 Carving the lamb:
Andrew first cut off the lamb shank bone – He said this part is delicious to eat and is the first to be eaten in his house.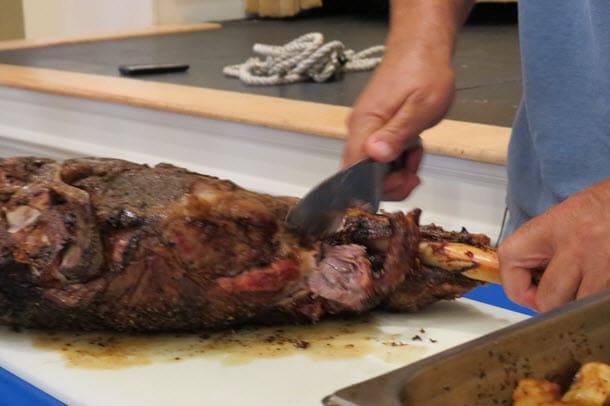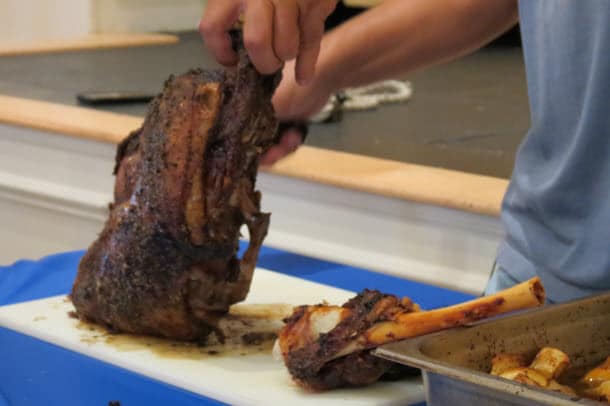 With a sharp carving knife, follow the bone and remove the meat from it: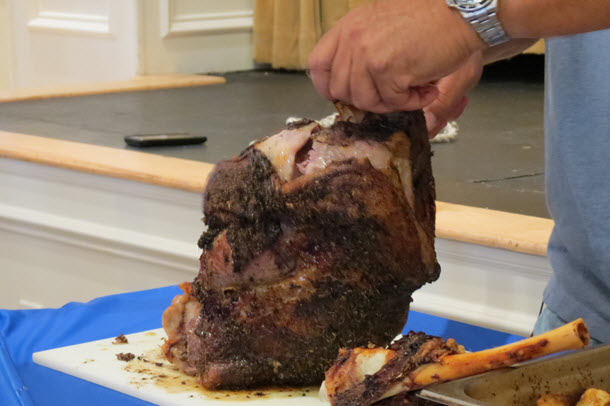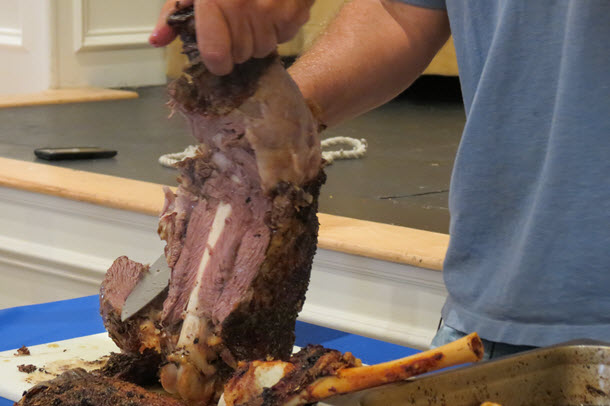 Slice the meat cross-ways. It's so juicy!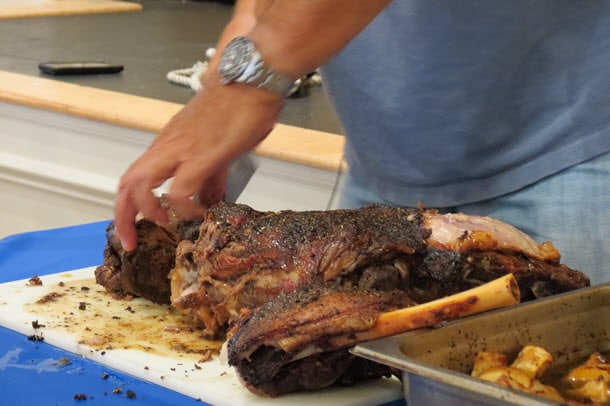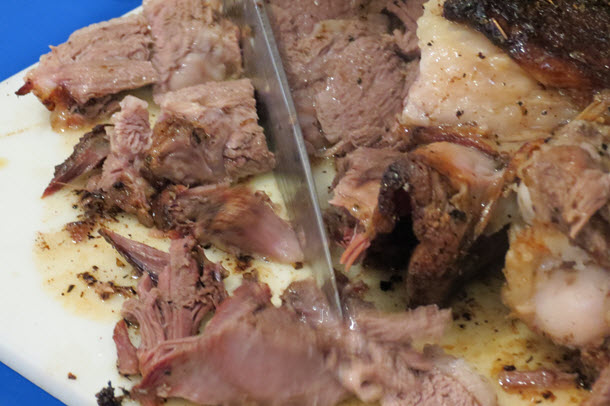 Greek Festival volunteers serving up samples before the actual dinner: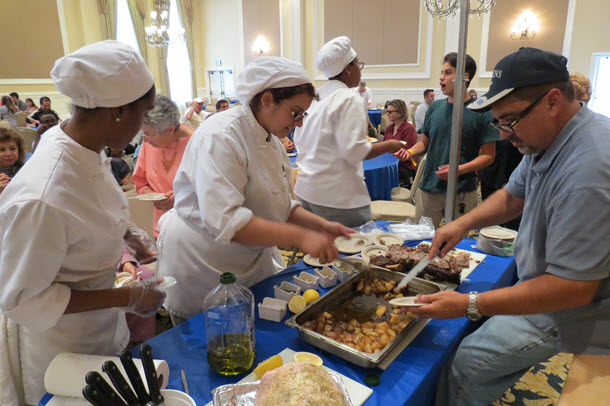 I suggest you put on some Greek music, pour a little Greek wine, and enjoy this wonderful dish. Many thanks to Andrew Eliopoulos for his fabulous cooking demonstration and knowledge of how to cook and serve roast leg of lamb Greek style. Also to the Valley Greek Festival and the volunteer members of the St. Nicholas Greek Orthodox Church in Northridge, California for spreading joy and serving excellent food to the San Fernando Valley and Los Angeles community. I'll be back for more.
The Greek Festival
The St. Nicholas Greek Orthodox church courtyard is packed with delicious Greek food booths, vendor tents, a kiddie area, beer, and wine stands, and eating tables.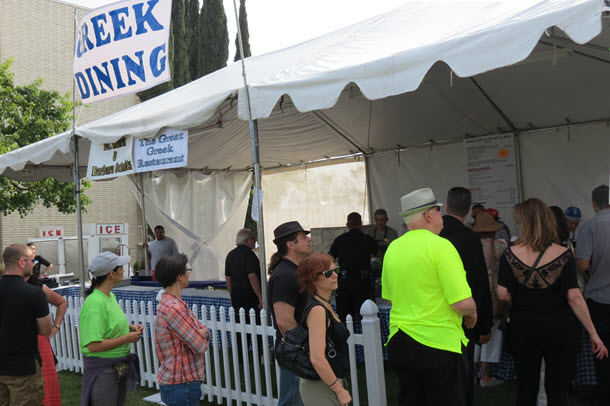 What's your favorite local Festival? Please leave a comment below: