We attended a TV Academy event, hosted by The Food Network.  The guest speakers were Guy Fieri, of Diners, Drive-Ins, and Dives, (Hulu) and Bob Tuschman, the CEO of The Food Network.  I've seen Diners, Drive-Ins, and Dives several times and thought Guy was cool, but after seeing him in person I'm in love!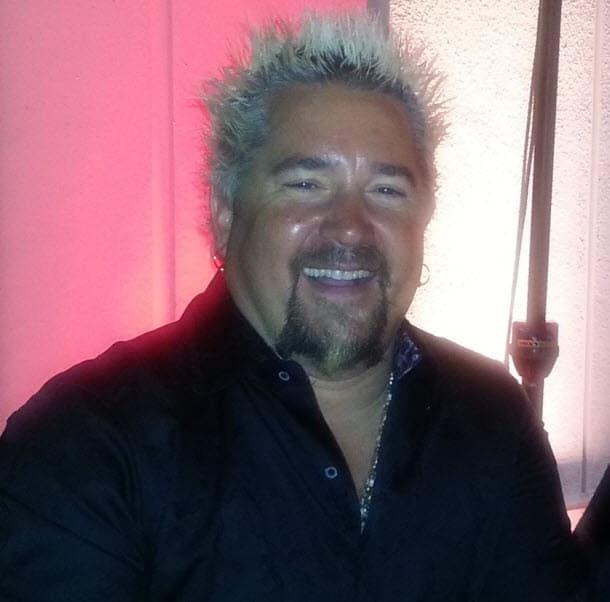 Guy is such an authentic, caring individual. You may not guess it just looking at him with his spiked hair and tattoos, but he's a dedicated family man with a passion for helping people. He always strives to be positive. In 2010, he founded a non-profit foundation called CDK – Cooking with Kids. Its mission is to teach kids to cook, educate them on how to eat nutritious food, and encourage them to live a healthy lifestyle.
He talked about how his mom and dad were . . .(a deliberate pause) . . . hippies. . . who embraced macrobiotic cooking. As a kid, he ate bulgur wheat, brown rice, greens, and a little fish. He said he's been "food-centric" all his life. One day, when he was 11 years old, Guy decided he wanted to try to cook his family a meal.
He went to the grocery store by himself and bought some rib-eye steaks. He cooked up the steaks along with pasta and tomato sauce. Unfortunately, he didn't know he was supposed to cook the pasta and tomato sauce separately and cooked them all together. His pasta was a flop, but his dad told him the steak was the best he'd ever tasted. After that, he knew he was going to be a cook and when he was older, studied cooking abroad in France as an exchange student.
I imagine that his dad missed the taste of a nice juicy steak and was probably elated that his son cooked it for him.
Guy loves being a chef because cooking and serving food is a way to make people happy.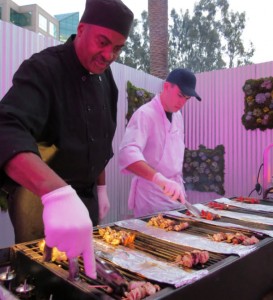 Although Diner's, Drivin's, and Dives focuses on "greasy spoons" and Guy's often seen biting into ridiculously large juicy burgers or munching on deep-fried garlic fries, he seeks out restaurants that serve the freshest food and ingredients. He truly believes that we all need to be part of a Food Revolution to change the American processed food diet and go back to fresh healthy eating. He sees this trend emerging as more and more people are getting sick and tired of getting sick from eating junk food.
Guy Fieri says that food is a common denominator that brings people together.
Everyone gets hungry, even the pickiest eater, and we all have to eat. Being able to cook and enjoy a meal with others is one of the best ways to connect with, and encourage social interaction between people.
He encourages everyone to experiment with food and to try not to make the same dish over and over. Instead, ease out of your comfort zone and go wild with unusual ingredients and new recipes. Make mealtime a social event by inviting family and friends to join you. Have meaningful conversations over your meals rather than sitting in front of a droning TV. Unless, of course, you're watching the Food Network. LOL
What impressed me about Guy Fieri is that he's a very dedicated family man. His family always comes first. He's a busy entrepreneur, who owns 8 restaurants and produces 5 TV shows, but goes out of his way to make time for his family. He lives in Santa Rosa, up in Northern California, and had a warehouse near his house built into a huge grocery store set for the show Guy's Grocery Games so he didn't have to work far from home.
He mentioned that at first he never entertained the idea of being a TV star. His friends badgered him to audition. He only did it to get them off his back. Out of 10,000 contestants, he was the big winner of the next Food Network Show host. Bob Tuschman said that Guy stood out so much above the rest they had to find ways to make the contest look fair. In the end, the public chose him by a landslide.
One of the audience members at the TV Academy event asked him how he maintained his weight after eating all those big sloppy burgers. Guy said he tries to practice moderation. At one particular restaurant he filmed at in Los Angeles, he had trouble tearing himself away from a taco that was amazing, In general, though, he doesn't overeat and makes sure to exercise.
Guy is also a huge supporter of law enforcement and active military. He has often visited bases in the Persian Gulf, Guantanamo Bay, and Hawaii, as a guest of the U.S. Navy. He entertains the troops and inspires military culinary specialists with instruction and inspiration.
With all the competitive and often nasty reality TV shows out there, it's refreshing to see a TV Star like Guy Fieri making a positive and valuable difference in the world, by not only offering encouragement to small business entrepreneurs (restaurant owners) but also by inspiring kids to take cooking classes and live well.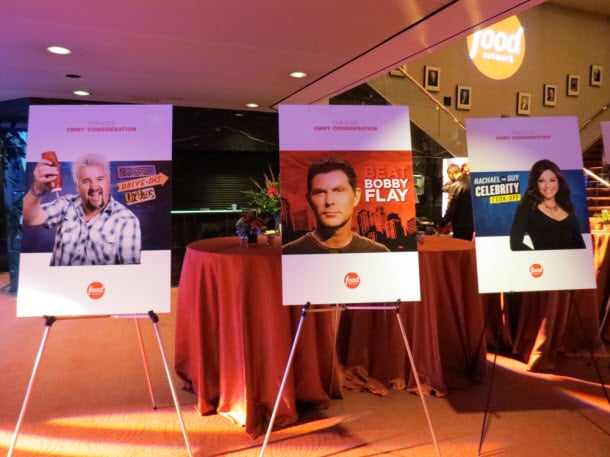 After Guy and Bob's presentation and Q & A, The Food Network laid out a HUGE spread for us that was to die for. I was so stuffed I almost exploded. We ate from several delicious food stations that had long lines (600 in attendance) and waiters walked around passing out appetizers. Check out the shake bar menu. As you can imagine there were many happy and tipsy partygoers.
Who's your favorite TV chef and what makes him or her stand out for you? Please leave a comment below.