Latkas are Tradition! Tradition! (as she sings Fiddler on the Roof) during Hanukah. Those luscious and sour cream- apple sauce topped potato pancakes are hard to pass up. However, sometimes it's better to break with tradition if you're fighting a weight battle. The problem with most traditional latke recipes is that they're high in calories. Some are even fried in rendered chicken fat. As an alternative, try my Sweet Potato and Vegetable Latkas recipe. It's lighter and more nutritious and even more scrumptious.
Enjoy this sweet potato and vegetable latka recipe!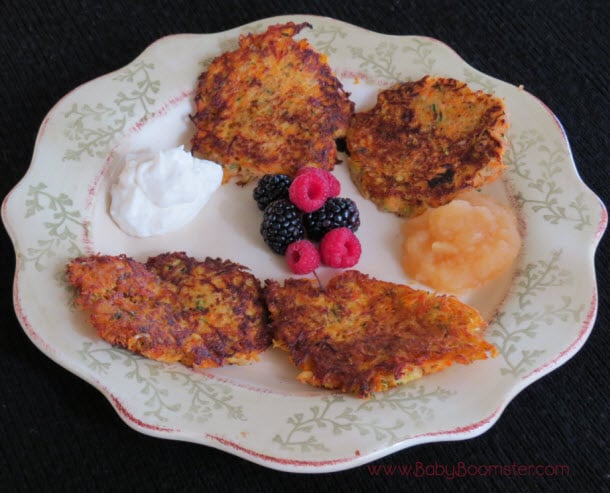 Sweet Potato and Vegetable Latkas
A departure from traditional latkas but still delicious and perfect for the holidays.
Ingredients
1

potato

any type or a variety of baby potatoes

1

medium sweet potato or yam

1

turnip

1

small zucchini

1

medium carrot

1

Tbsp

flour

1

Tsp

thyme fresh or dried

1

Tsp

Oregano fresh or dried

salt and pepper to taste
Instructions
Grate the potato, sweet potato, turnip, zucchini, carrot and onion into a bowl. I personally prefer to hand grate them using the smaller grate size rather than put them in a processor because I find it has a better consistency but using a processor is fine too.

Take portions of the mixture (about a cup or so) and place them on a long piece of paper towel. roll and squeeze to get the moisture out. (this is especially important when using other vegetables other than potatoes) Place the mixture back in the bowl after it's been patted down.

Add the two eggs, flour, herbs (you can be creative with these) salt, and pepper. Stir until blended.

Heat a skillet on high or medium high with 1-2 Tbsp of grapeseed oil until it is hot.

Scoop a large spoonful of veggie mixture and flatten into a pancake. Cook until brown on each side.

When the latkes are finished frying place them in a dish lined with paper towels to soak up extra oil.

Add grapeseed oil as needed and finish frying up the mixture.

Serve with sour cream, plain yogurt, and/or applesauce.
I'm the kind of person who loves smothering my latkes with sour cream. If you're like me, try low-fat Greek yogurt instead. It's healthier and still tastes great. If you're more of an apple sauce person, use unsweetened and natural applesauce rather than a brand that has sugar added. Sometimes it's the little foodie tweaks that make all the difference.
You may also want to experiment with the vegetables in the batter. Instead of using zucchini and turnips, try leeks, cauliflower, rutabagas, beets, or even apples.
Just a couple of notes:
I like using grapeseed oil to fry my latkes because it has a high smoke point and is loaded with anti-oxidants. It has a light, nutty taste and is low in saturated fat.
I used a variety of colored potatoes that I had in my pantry for this Sweet Potato and Vegetable Latka recipe. Yukon gold is one of my favorites because they're naturally buttery.
L'Chaim!
How do you like to make your latkas? Please leave a comment below.