Caprese Salad or Insalata Caprese, as it's known in Italy is typically made with fresh tomatoes, mozzarella cheese, fresh basil, and olive oil.  However, there are many variations.  You might want to add chopped fresh garlic, Balsamic vinegar, or other herbs.
Enjoy this recipe!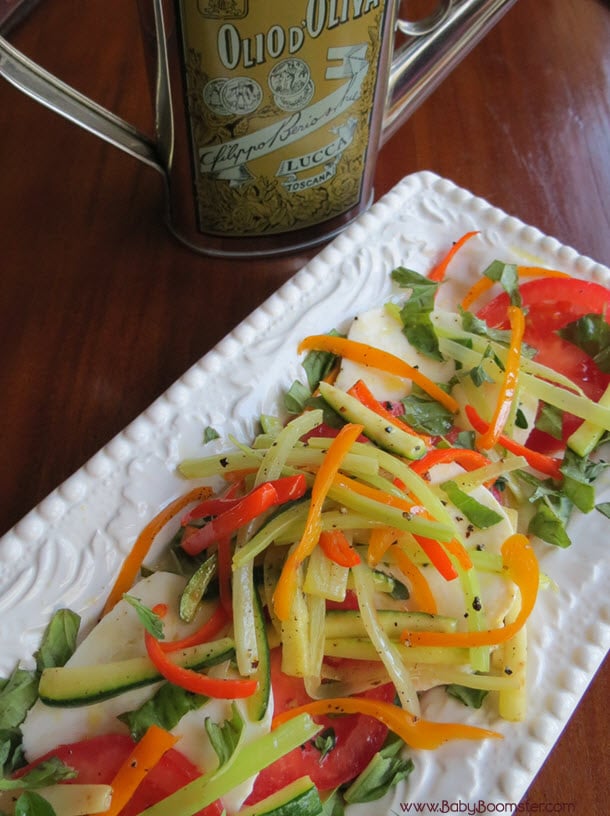 Insalata Caprese – Caprese Salad with Vegetables and Herbs
A colorful and herb filled variation of Caprese Salad.
Ingredients
1 1/2

Tbsp

of extra virgin olive oil

1

Stalk of celery julienned

sliced thinly

1

bell pepper or 2 baby bell peppers julienned

sliced thinly

1

small zucchini julienned

sliced thinly

2

med-large size ripe tomatoes

sliced1 thinly

9

oz

Fresh Mozzarella cheese

sliced thin

Leaves

of basil

oregano, and thyme (to taste)

sea salt

ground pepper
Instructions
Heat the extra virgin olive oil in a medium-large saute pan.

Gently saute the celery for about 30 seconds

Add the bell peppers for another 30 seconds

Lastly, add the zucchini for another 30 seconds.

Take the pan off the heat.

Salt and pepper the vegetables to taste

Arrange the tomatoes and cheese slices in a salad plate or a serving dish.

Top the tomatoes and cheese with the sauteed vegetables.

Sprinkle the top with the basil, oregano and thyme leaves.
During summer, there's nothing better than fresh ripe tomatoes picked directly from the vine. If you have room to grow them yourself, that's all the better. If not, seek out farmer's markets as they often have vine-ripened varieties in season. Most tomatoes sold at grocery stores are picked before they're ripe and aren't nearly as tasty.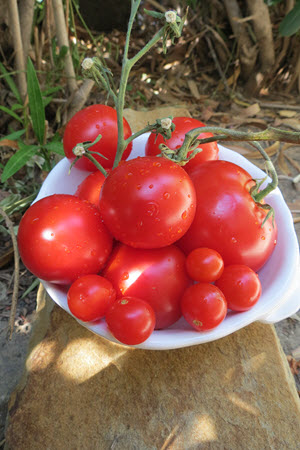 For this Caprese Salad variation, I sautéed and julienned zucchini, bell peppers, celery, and seasoned it with fresh thyme, oregano, and basil.
Use quality olive oil for the best flavor.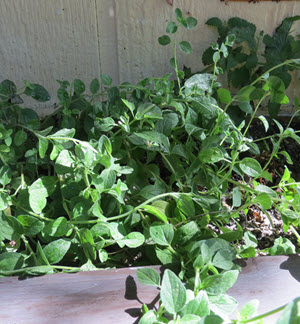 History of Caprese Salad
Caprese salad came to be after WWI in Italy in the early 1920s. A local bricklayer on the island of Capri in Italy wanted to be patriotic and would make sandwiches made with tomato, mozzarella, and basil which are the same colors as the Italian flag. The Hotel Quisisana on Capri also claimed credit for it and served it on their menu.
The salad didn't make much of an impact at first until Kin Farouk asked a waiter for a light snack in the 1950s. He was served a Caprese sandwich. He liked it so much it gained popularity and became a staple on the island of Capri. Try it with bufala mozzarella to make it even more special.
This post was updated 9/2021.
How do you make your Caprese Salad? Please leave a comment below