I love butternut squash, in particular, because it has such a mellow and sweet taste. It's wonderful in stews, soups, or served simply as a side dish. In the Butternut Squash Stew recipe below, you can substitute butternut squash for any other squash you prefer including zucchini.
Enjoy this recipe for Butternut Squash Stew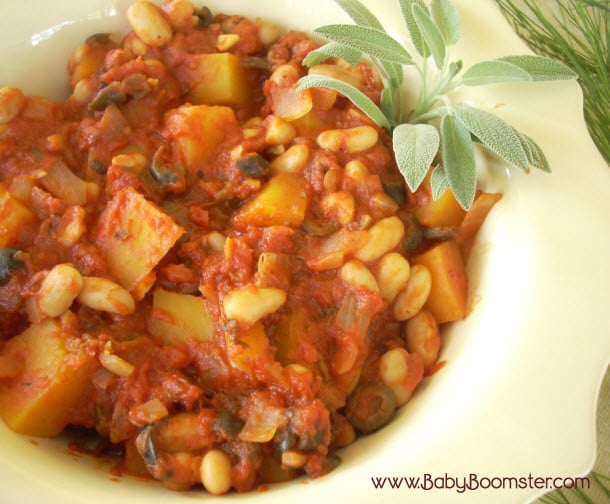 Butternut Squash Stew Recipe – Vegetarian
Delicious comfort food is perfect for Fall
Ingredients
1

Tbsp

extra virgin olive oil

1/2

cup

onion chopped

2

cloves

garlic chopped

1 1/2

lbs

Butternut squash peeled

seeded and cut into 1″ cubes

1

cup

tomato sauce or marinara

1/3

cup

vegetable broth

4-6

Black olives pitted and sliced in half

1

tsp

sage fresh

chopped

pinch

nutmeg ground or grated

dash hot pepper sauce

1

cup

cannellini beans

white kidney cooked, rinsed and drained

salt and pepper to taste
Instructions
In a large, heavy saucepan, over medium heat, heat the oil and saute the onions and garlic for about 2 minutes or until soft.

Add the Squash, tomato sauce, vegetable broth, olives, sage, nutmeg, and hot pepper sauce. Cover and simmer for about 25 minutes, or until the squash is tender.

Add the beans, salt and pepper and simmer for about 2 minutes until the beans are heated.

This stew tastes even better the next day and will keep in the refrigerator for up to 3 days.
Keep in mind that fall squash out-powers their summer cousins in nutrients. This is the type of dish that would be served in a village in Italy. It's full-bodied, nourishing, and colorful.
I cooked the vegetables in a small amount of olive oil and simmered the beans in natural vegetable broth. The garlic, sage, and tiny drops of hot pepper will flavor it beautifully.
Serve this stew in a beautiful soup tureen with a nice piece of crusty artisan bread, or a crisp dinner salad.
Butternut Squash is low fat, high in fiber, and heart-friendly. It's high in antioxidants, beta-carotene, and is anti-inflammatory. If you're suffering from rheumatoid arthritis, asthma, or want to prevent certain cancers, you may want to consider eating more squash.
What's your favorite fall vegetable and how do you like to cook it? Please leave a comment below.